Conference Centers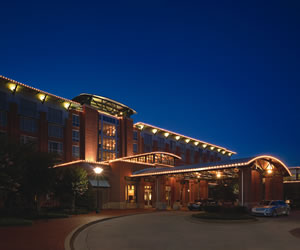 Deluged with competition from other types of hotels and meeting facilities, conference centers have faced big challenges in recent years, even given the fact that they tend not to raise the perception issues that less-business-oriented properties do.
Now, however, industry executives say that conference centers are starting to see an upswing in business, partly sparked by a more flexible attitude toward group packaging.
"Conference centers are seeing a pretty good recovery, and 2011 should be the corner-turner," says Dave Arnold, CEO-East for Colliers PKF Consulting, which produces an annual conference center trends report in partnership with the International Association of Conference Centers (IACC).
Gains and Losses
According to Arnold, conference centers saw an uptick in leisure and corporate transient business starting early in 2010, followed by increased meetings business in the third quarter. However, the gains were primarily in occupancy, not ADR (average daily rate).
"Rates remain a problem. Very few properties have been able to get a recovery in rates," Arnold says, adding that training meetings, which accounted for 47 percent of business at IACC-member properties in 2009, have been slow to recover.
Consequently, planners will still find plenty of value at conference centers.
"Everybody's dealing," Arnold says. "Conference centers have become more flexible with their CMP [complete meeting package], which is their foundation. There's more negotiating."
Rebates to the master account, free extra inclusions and a la carte dining have now become imbedded in special CMP offers. Not many years ago, the big question was whether or not a facility would even give a rebate if the group dined off-site.
The conference center sector's challenge has been maintaining high IACC-mandated standards and high cost structures aimed at producing the perfect distraction-free meeting while competing in today's environment.
The irony is that many other types of properties are copying conference center-style services, most notably in packaging. And it's happening in an environment of even shorter lead times and growing conference planner expectations, especially regarding free and increased broadband access and more flexible menus and dining choices.
Produced last summer, Colliers PKF's most recent annual North America conference center survey found that conferences filled only 63.9 percent of occupied rooms in 2009, down from 72.2 percent in 2008, with centers filling in remaining occupied rooms with transient business. Profit and revenue declines exceeded those of transient properties.
Conference centers with accommodations suffered smaller 2009 declines in ADR than other types of hotels—down 8.2 percent compared with drops of 12.5 percent for resorts and 13.1 percent for full-service hotels. However, their occupancies plummeted by over 13 percent, compared with drops of 8.8 percent for resort hotels and 6.5 percent for full-service hotels.
Of the four center categories—executive, corporate, resort, and university/college—university/college performed the best.
Competitive Climate
Nancy Cook, director of national accounts for EMCVenues, a meetings management and services company, notes that more hotels are competing with conference centers by offering meeting packages. At the same time, she finds that conference centers are growing more flexible with their own packaging.
"The SMERF market is gravitating toward packages and so many hotels now offer customized packages," she says. "Conference centers are being more flexible. I think the days of conference centers' one-size-fits-all packages are gone, although, of course, the perception is still there."
Cook adds that conference centers would be wise to employ more effective marketing strategies "emphasizing their value and flexibility."
Fred Leuthold, director of sales and marketing at Glen Cove Mansion Hotel & Conference Center in Long Island, N.Y., agrees that conference centers are growing more flexible when it comes to meeting the individual demands of customers.
"The CMP is fading to more customized meeting packages, and technology requirements are increasing," he says, adding that "the booking pace is still behind 2010 due to short-term booking patterns."
Chuck Salem, president of Unique Venues, a site selection firm representing more than 800 meetings facilities, many of them on college campuses and some of them IACC members, also notes a more competitive climate for conference centers.
"Professional sports arenas have been increasing their marketing," he says. "More universities are getting aggressive, especially with deals for the soft last two weeks of May and the first two weeks of June. They are all looking for new sources of revenue."
On the positive side, he says there is an increase in the number of corporate customers looking for low-profile meeting sites such as conference centers at universities.
"We always did well with nonprofits, but we've seen tremendous growth in corporate business," he says. "Leads have gone through the roof. It's all about perception. The attitude has been pretty much, 'if you have to meet, do it quietly, with no frills'. There is no indication this will level off. It's the new normal."
Returning Business
Although facing more competition, many conference center operators say business is coming back, while also noting that bookings remain short-term and planners are still price-sensitive.
"It's a competitive environment with a lot more [properties going] after meetings," says Hal Powell, regional vice president for Benchmark Hospitality International, which manages 10 IACC-member conference centers around the country. "We had a moderate level of revenue growth in 2010, primarily due to occupancy. Our group pace is up and we're seeing the return of meetings we haven't seen in a while."
Eric Whitson, IACC marketing committee chair and sales and marketing director at the National Conference Center in Dulles, Va., site of the upcoming IACC-Americas annual conference March 23-25, says that bookings for training meetings—which account for 75 percent of his property's business—are showing signs of strong recovery.
Demand for day-use conference centers is also on the rise, according to Kristin Kurie, president of The Wilderman Group, a hospitality consulting company that manages Richmond Hill City Center, a new conference center outside Savannah, Ga.
"With a greater degree of scrutiny after the AIG Effect, we are seeing day centers growing in popularity and an interest by smaller municipalities wanting to develop them. They serve a niche in communities," she says.
While business is up, lead times appear to be growing shorter than ever and some meetings are smaller and closer to home.
According to Karen Pendleton, director of sales and marketing at Wyndham Peachtree Conference Center in Atlanta, the booking window, already short, decreased last year to anywhere from 30 to 45 days.
"Business in 2010 was flat, but we anticipate a slight increase in 2011," she says. "We see a steady increase in requests for team building, and we're focusing on marketing in our own backyard rather than a national push. That's where our business came from last year."
At Benchmark's Chaminade Resort & Spa in Santa Cruz, Calif., Director of Sales Sherrie Huneke notes that "corporate groups bookings are very short term, tend to be smaller in size and are contracting conservatively to avoid any possible attrition penalties."
More than 90 percent of Chaminade's corporate bookings, which account for 70 percent of business, include purchase of the CMP. However, groups will find flexibility.
"We are happy to customize to accommodate a group's specific needs, which may include offering a plated dinner in lieu of the buffet at no additional surcharge," Huneke says. "Groups are asking for complimentary and faster broadband Internet in all meeting space and guest rooms, and in 2010 we added another WAN circuit to support larger groups."
Julie Berry, director of sales and marketing at Benchmark's Eaglewood Resort & Spa in Chicago, reports that meetings business "improved considerably" last year over 2009, but also notes some changes.
"We experienced very short-term bookings even for large programs, and meeting planners were much more accurate in their attendance counts," she says. "Many groups are on their own for dinner so we have to be creative in enticing them to stay on property."
Richard Pauley, director of sales and marketing at Benchmark's Chattanoogan Hotel & Conference Center in Chattanooga, Tenn., believes that social media and technology innovations have made it easier for planners to book with shorter lead times.
"Contract negotiations with our clients have also become increasingly common as we see them looking to save money," he says. "We have seen an increase in our groups streamlining their meetings, concentrating less on frills and social networking, and reducing the number of meeting days to cut costs."
Tony Bartlett has been writing for travel industry publications for over 20 years.