Inaugural IMEX America: A Resounding Success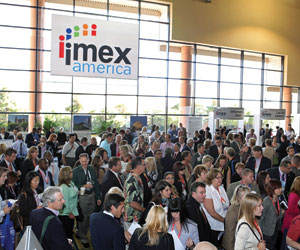 The first edition of IMEX America took Las Vegas by storm last month, drawing thousands of attendees and exhibitors to the Sands Expo and Convention Center and adjacent Venetian and Palazzo Oct. 11-13. With roughly 2,000 hosted buyers and 1,867 exhibitors­—800 from the U.S. and the rest from 140 countries around the world—the show added a dynamic new model to the meetings, conventions and incentives market in the U.S.
Designed after the award-winning annual IMEX in Frankfurt, Germany, IMEX America paired prequalified, hosted buyers with exhibitors and featured high-quality professional development and collaborative networking programs, including the MPI MeetDifferent Day of Education and Innovation.
The approach was extremely well received, according to Ray Bloom, IMEX group chairman, who said the show surpassed its original target of 1,500 hosted buyers.
"Our global and U.S. exhibitors and buyers have responded with great interest and enthusiasm to the IMEX America hosted buyer model, with the result that over 20,000 individual appointments had already been made between buyers and exhibitors before the show doors opened," Bloom said at a press conference on the opening day of the show, adding that with group appointments, the total increased to more than 30,000.
Bruce MacMillan, president and CEO of MPI, IMEX America's strategic partner and premier education provider, expressed enthusiasm for the show's superb turnout.
"You don't see an American trade show here, you see a global event," MacMillan said.
Bloom said the success of the first show had been everything the partners had hoped for.
"IMEX America and MPI both agree we've found a formula for success, and we now intend to build on it," he said.
John Caparella, president and COO of The Venetian, The Palazzo and the Sands Expo, said Vegas was the ideal stage for the inaugural IMEX America—the largest trade show and biggest hosted buyer event for the U.S. meetings, conventions and incentives market.
"You're in the city of cities when it comes to hosting meetings and conventions," Caparella said, citing the destination's solid infrastructure and endless entertainment options.
Roger Dow, president and CEO of the U.S. Travel Association, provided an update of the "Meetings Mean Business" campaign the association launched to address Washington, D.C., political rhetoric that was putting the meetings industry at risk. Dow said the campaign has vastly improved the perspective of how important the meetings industry is to the U.S. economy.
The second annual IMEX America is scheduled to take place in Las Vegas Oct. 9-11, 2012.