Profile: Harris Rosen, President & CEO, Rosen Hotels & Resorts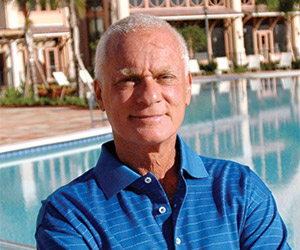 The term "self-made man" could've been coined to describe Harris Rosen, president & CEO of Rosen Hotels & Resorts. One could also throw in a pinch of Horatio Alger-style lifting oneself up by his own bootstraps and a measure of hard work capturing the American Dream.
Rosen's journey to hospitality industry success began in the 1960s, after he left the Army and angled himself into an entry-level position at Manhattan's famed Waldorf Astoria hotel.
"We refer to it as the 'Waldorf Hysteria,'" Rosen jokes. "I started out there as a file clerk, because they said that was the only job they had. That turned out to be a wonderful beginning because I got to file all of the new jobs, and if there was a job I wanted, I didn't file it."
Rosen soon made his way into the sales department, with the heady responsibility of setting up chairs for meetings, but it gave him an in with the director of sales, who later gave him a job as a salesperson. His selling success resulted in an invite to participate in Hilton's management training program.
When it came time to strike out on his own, he took perhaps the biggest risk of his business career by plopping down a relatively small down payment and assuming a more than $2 million loan to purchase his first property, now Orlando's Rosen Inn International.
At first, Rosen thought he had made a terrible mistake by divulging to the seller—who was eager to unload the property in the midst of the crippling mid-1970s oil embargo—how much money he had in the bank.
"I naively thought it was a test of some kind, and that he would be able to find out, so I told him I had $20,000," Rosen says. "So he extended his hand and I shook it, and he said, 'We have a deal.'"
Rosen now owned a property with an occupancy rate well below 50 percent in a market where the average room rate was $13 per night—in the middle of the oil embargo.
To drive business, he lowered the rate to between $7 and $8 and aggressively courted the Northeast motorcoach market, who bit on the deal. The rest, as they say, is history.
The Rosen Empire now includes seven Central Florida properties, including two on either side of the Orlando Convention Center that he managed to open early in his career by first helping get a referendum on the ballot to construct the convention center—Orlando was considered merely a family leisure market at the time—and then convincing a reluctant representative of landowner Martin Marietta to eschew the "big box" brands and sell to the relatively unknown Rosen.
Orlando has since become one of the top three convention markets in the U.S., and the big brands have joined him.
Besides all of the success over the past 40 years, one of the most fascinating things about Rosen is the fact that he still maintains the same office in a nondescript former hotel room at his original property. You'd think he would at least upgrade to a pool-view room after some 40 years!
Another seemingly contradictory aspect of Rosen's brand of self-sufficiency is his unflinching dedication to his employees. Anyone who works for him for three years is guaranteed a free public college education for their children, and the employee themselves can go to college for free after five years on the job.
Rosen also struck back against the company's health insurance provider by building his own clinic. The result is his employees pay only $750 per year for health care ($2,200 for a family of any size), and are considered "on the clock" when they go for treatments. He calculates that he has saved $250 million in the 25 years since.
Rosen is bullish that a person with a dream can still make their fortune, even though the path may be a bit different these days.
"That's the American Dream, isn't it?" Rosen asks. "It's perhaps shifted a bit from the traditional pathway to wealth—real estate— to tech, but real estate...I think still provides wonderful opportunities for people to be successful. So I certainly haven't given up on the American Dream. It's still alive and well."