Wisconsin's vibrant metro is an all-around charmer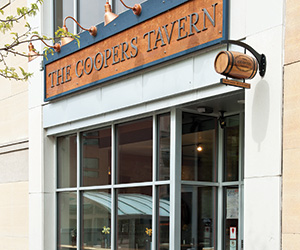 Groups gathering in Madison, a city well equipped for meetings business, won't run out of things to do when business has concluded. Entertaining options such as intriguing cultural offerings and fun attractions, a tempting dining scene, shopping opportunities and nightlife will fill every day of the group's stay.
Built on an isthmus between the glacial lakes Monona and Mendota, Madison also offers natural beauty that attendees will appreciate when they're out and about.
Following is a sample day's itinerary to showcase what a group might expect when convening in this lovely Midwest college town.
Rise and Shine
In the morning hours from about 7 a.m. to noon, planners may like to mingle a morning session with a great cup of coffee and an activity to get the blood pumping.
At the University of Wisconsin-Madison's Arboretum (www.uwarboretum.org), attendees can start the day "on the right foot," according to Erica Rykal, spokeswoman for the Greater Madison CVB.
"Bring your group out for some fresh air and exercise to begin the day," she says of hiking the various trails within the Arboretum's 1,200 acres that border the southern half of Lake Wingra.
Morning is also a great time to visit the 1917 Wisconsin State Capitol (www.tours.wisconsin.gov), the only capitol to be built on an isthmus with the only granite dome in the U.S.
The interior of the 284-foot-high capitol, according to Rykal, contains 43 varieties of stone from around the world, decorative murals, glass mosaics and hand-carved furniture. Tours running about 55 minutes are available for groups of 10 or more people with reservations.
"Make sure to stop by the sixth-floor museum and observation deck, which is open during nicer weather, for spectacular views of the entire city," Rykal adds.
The popular Dane County Farmers' Market (www.dcfm.org), a go-to source for local chefs keen on preparing the freshest dishes, is a must-visit option for groups, especially during the warmer months when it's held outdoors.
"Visiting the Dane County Farmers' Market is a great morning activity to give your group a taste of Madison's farm-to-table dining scene, as they may spot chefs picking up items for their restaurants," Rykal says. "Locals rave about Stella's Spicy Cheese Bread. Grab a loaf of that or your favorite breakfast treat and sit on the lawn of the Wisconsin State Capitol for a snack and some great people-watching."
Right before a lunch outing, groups might check into a wellness class at Monona Terrace Community and Convention Center for a recharge. The variety of free programs includes yoga, meditation and T'ai Chi.
Making Midday Memories
It's probably a good idea to start the afternoon hours, lasting from noon to 5 p.m., with a delicious lunch at a local eatery.
Two possibilities are The Old Fashioned (www.theoldfashioned.com), which serves traditional Wisconsin fare in a tavern-style setting and has space upstairs for private parties, and Cento (www.centomadison.com), where specialties include handmade pastas, and Chef Michael Pruett can create a special menu for groups of seven to 125 people.
"Or let attendees choose what they please by eating from one of Madison's many food carts," Rykal says, adding that Madison recently made USA Today's list of Best Cities for Food Trucks.
PageBreak
After a nice meal, attendees will enjoy stretching their legs on State Street, where they can browse the shops for gifts and knickknacks to take home.
"State Street is a great place to meander," Rykal says, explaining that street musicians and outdoor cafes make it one of the liveliest streets in the city.
Vitense Golfland offers an equal playing field for those in the group who aren't so hot on a real golf course.
"Fuel your group's competitive side with indoor and outdoor miniature golf," Rykal says, adding that the attraction also boasts batting cages, an indoor arcade, a climbing wall and meeting space for an afternoon session after some networking fun.
"You can't visit Madison without taking time to enjoy one of our greatest assets, our lakes," Rykal adds, citing Brittingham Boats as one popular local outfitter offering canoe, kayak and stand-up paddleboard rentals.
Toward the end of the afternoon, a pre-dinner reception can be arranged at popular local venues including HotelRED.
"After a long day of talking business and exploring Madison, let your group unwind before dinner with a reception at this hip boutique hotel," Rykal says. "Enjoy craft cocktails, craft beer and delicious appetizers at The Wise, the urban bistro located in the hotel. If the weather is nice, attendees can also kick back in the outdoor lounge."
Night Moves
The evening hours cover 5 p.m. to about 11 p.m. and may involve a meal on land or water.
The Coopers Tavern, located across the street from the Wisconsin State Capitol, offers a unique second-floor space that is reserved for groups of up to 100 guests.
"Attendees will be treated to delicious rustic food—think sweet potato chili and locally sourced beef sliders—while enjoying spectacular views of the Capitol Building," Rykal says, adding that Betty Lou Cruises offers private charters on both lakes Mendota and Monona that can be customized to meet a group's needs, including several menu options, from the Wisconsin Supper Club menu, featuring clam chowder, broiled shrimp and sliced top sirloin, to the Fiesta menu, complete with margaritas and build-your-own fajitas. "An evening cruise is a great way for your group to see Madison's beautiful skyline from a unique perspective."
After dinner, Hop Head Beer Tours offers groups a glimpse into the booming craft beer scene in Madison and Dane County via a fun and educational outing.
At the very end of the day, from the latter part of May through the beginning of August, groups can check out a Madison Mallards baseball game.
"This is an incredibly popular summertime activity that is appropriate for all ages and different sizes of groups," Rykal says, adding that there are several different group outing areas within the stadium, with full catering available. "You can expect high-quality entertainment from the start of the first pitch to the bottom of the ninth inning."
And what better way to end a day than sharing a few laughs with colleagues at an improv show with Monkey Business Institute, a 22-member improv group that puts on weekly shows for both an all-ages and adults-only crowd.
"Along with their regularly scheduled performances, Monkey Business Institute can put on a private show for your convention crowd" Rykal says. "Shows can be customized to entertain your group in the best way possible, whether that means including some adult humor or highlighting a specific theme or person during the show."
Regular Meetings Focus contributor Carolyn Blackburn, an avid Oregon Ducks football fan, appreciates the Madison Mallards' choice of mascot.