Group bonding gets wild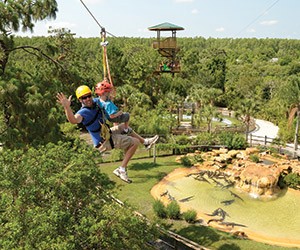 Can alligators, dog sledding and muddy obstacle courses help bring your team closer together?
Yes they can.
If you want to break away from traditional teambuilding activities to add adventure with a definite "wow factor" to your program, there are a plethora of dynamic options.
Gators Below
Gatorland, in Kissimmee, Fla., near Orlando, invites a few good friends to accompany your group on its Screamin' Gator Zip Line experience. Attendees climb up to seven platforms that rise as high as 1,200 feet with dozens of live alligators and crocodiles below.
Typically, teams of 12 to 15 participants engage in the activity.
"It's the ultimate adventure bonding experience," says Bridgette Porto-Venturelli, Gatorland's senior sales director. "Some people are gung-ho while other members of the team need lots of encouragement from teammates."
Teambuilding at Gatorland can also include alligator encounters, behind-the-scenes tours and animal interaction.
Arctic Survival
For those who want to improve their group's ability to deal with uncertainty and a rapidly changing environment, how about a few days in the frozen tundra?
Incorporating activities like dog sledding, snowshoe relays, a fire-starter challenge and ice climbing, this teambuilding program by Toronto-based Executive Oasis International allows participants to thrive and grow in harsh conditions.
Available at a wide variety of locations such as Mont-Tremblant and Banff and Lake Louise in Canada, and Germany, Switzerland and Sweden in Europe, the two-and-half to three-day program builds team spirit, develops cohesion between geographically dispersed teams and enhances the team's ability to deal with uncertainty.
"We use harsh winter conditions as a metaphor for when your business is frozen and you're seeking new ways and methods to expand your markets and refocus to seize opportunities in a competitive environment," says Anne Thornley-Brown, president of Executive Oasis International.
Checkered Flags
Ladies and gentlemen, start your engines!
Miles Ahead, a performance motoring school in Indianapolis, offers a memorable driving teambuilding experience at the historic Indianapolis Motor Speedway.
Participants navigate the new 2.6-mile Grand Prix of Indianapolis IndyCar road course in high-performance Mini Coopers. Racing up to speeds of 130 mph, drivers learn skid control, precision braking, how to compromise corners, and other elements.
"There are two participants to a car and there's a great amount of trust and bonding that takes place," says Miles Ahead co-owner Ted Woerner. "Our instructors are internationally acclaimed drivers and everyone works together to achieve maximum performance."
Following the half-day program, groups can meet in suites that have fantastic views of the speedway.
"Our corporate guests are wowed by the experience and leave inspired and re-energized with their fellow team members," Woerner says.
Super Sailing
Groups that sail the open waters will quickly discover the art of building a cohesive team.
"Sailing together on competition boats is the ultimate form of teambuilding," says Warren Allan, director of sales for AC Sailing SF and Next Level Sailing Chicago. "People must work in sync on many different tasks and skills to move at a desirable speed."
In San Francisco, groups of up to 20 can sail on the 84-foot USA 76 for a teambuilding program. Teams can challenge each other in a race against the clock on the 115-foot sailboat that was used by the Oracle Racing team in preparation for the 2003 America's Cup.
On Lake Michigan off of Chicago, groups of up to 40 can race against each other on separate famous America's Cup yachts, Stars and Stripes and Abracadabra (20 people on each vessel).
"It's an exciting and memorable experience with exceptional teambuilding elements that are transferable to everyday business practices," Allan says.
PageBreak
Beach Boot Camp
Don't worry, this Navy SEAL boot camp experience is not designed to send home the weakest participants.
"It's a fun fitness program where people develop cohesiveness and the understanding of how to put team before self," says Ron Lee, co-owner of Skydiving Innovations (S.I.) Teambuilding in Bonita, Calif.
A staff of active and retired Navy SEALs and U.S. Military Special Operations instructors direct participants through physically challenging activities such as log push-ups, commando crawling and runs along the beach.
"We consider the group's demographics and specific teambuilding goals," Lee says. "Our focus is not on testing physical limits, but on creating a team atmosphere to help each individual succeed."
The programs are one-and-a-half to three hours in length and can be executed at beaches in Oceanside, Calif., on San Diego's North Shore or other locations such as Los Angeles, Palm Springs and San Francisco.
Muddy Obstacles
Slimy mud is just one obstacle participants encounter in Tough Mudder events. The 10- to 12-mile courses also offer other offbeat doings like traversing through a ring of fire, rope climbing over high walls and sliding through icy water.
"Corporate teams are expected to overcome and work toward both individual and company-wide goals," says Jodi Kovacs, marketing communications associate for Tough Mudder. "It offers a unique experience where teams work together to push their own limits, learn to solve problems, overcome obstacles and get to know each other in ways like never before."
Teams must band together to get through the grueling mud- run obstacle course and cross the finish line together. The benefits include camaraderie, leadership development, group problem solving and mental toughness in difficult situations.
Whitewater Challenge
The whitewater rapids on the Genesee River in Letchworth State Park in western New York are the venue for Adventure Calls Outfitters' Adventure Based Learning Experiences (A.B.L.E) teambuilding program.
"A.B.L.E. was designed to address problems that range from interpersonal conflict to lateral thinking skills to time management and everything in-between," says Kevin Kretschmer, owner of Adventure Calls Outfitters in Le Roy, N.Y.
Groups from eight to 200 can be accommodated for the A.B.L.E. rafting excursion program, which takes about 2.5 hours at a leisurely pace. The program includes extra stops for teambuilding activities and lunch in a beautiful gorge setting.
EDWARD SCHMIDT JR. loves teambuilding programs with race cars and sailboats.
UPCOMING FREE WEBINAR
Innovate and Educate With Your CSR Program
With John Chen | www.meetingstoday.com/webinars
Wednesday, July 15, 2015 | 1:00 p.m. EDT