As the Embargo Thaws, Is Cuba Ready for Meetings?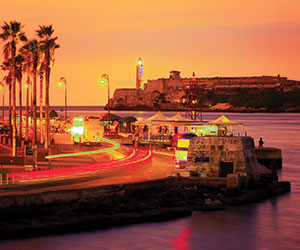 No doubt about it, Cuba offers plenty to fill an enticing travel brochure, along with the "forbidden fruit" mystique of visiting a Cold War adversary that's been off-limits to all but select U.S. travelers for more than half a century.
In the wake of the Obama Administration's decision to open an embassy in Havana and allow the Cubans to open an embassy in Washington, D.C., and strong hints that the current onerous travel restrictions will soon be eased, U.S. airlines, hotels, tour companies, cruise lines and incentive houses are champing at the bit to truly open up this "new" destination to American tourists and groups, but how ready is the island to host U.S.-based business groups?
Once the beautiful Caribbean island playground of notables like Frank Sinatra, Mickey Mantle, John Wayne, Marlon Brando and, of course, Ernest Hemingway, Cuba boasts stunning coastal and mountain beauty, and an unpolished retro architectural feel straight from the late 1950s, albeit much of it seems unimproved since the 1960 embargo took hold. Add to this a sizzling Afro-Cuban vibe in nightspots like Havana's vintage Tropicana, where Flamenco dancers do a dozen costume changes each show.
It's an environment that is at once eerily familiar and fundamentally different than the cultural experience found in the U.S., and South Florida in particular.
And there's lots more art in Old Havana, which is ground zero for any Cuba group experience. A UNESCO World Heritage Site, it has 900 historical buildings that were built between 1500 and 1800, all in less than a square mile. Arched windows and colonnades accent buildings that display Spanish and Moorish influences to form an eclectic mix of Cuban Baroque and Neoclassical architecture. Centuries of Cuban/Spanish and American history shroud the island.
See also the colorful, moving car show, with ingeniously restored, parts-embargo-beating 1950s-era cars cruising the streets of the capital and its famed Malecon hugging the shore of the Caribbean Sea.
"Havana is not only unique in the Caribbean, but also in the world," says Scott Andrews, president of Cuba Incentive Travel Associates, a Houston-based incentive planning company that offers DMC services for Cuba. "Canadians and Europeans have been going to Cuba for some time, just to experience the culture as it is now.
"After all, Havana was the Las Vegas of the Caribbean before there was Vegas as we know it today," he continues. "Just step into the famous Hotel Nacional or the Tropicana club and you can feel the history."
Andrews' company concentrates on city programs, offering a full schedule of tours or people-to-people encounters for groups. Interaction with students and older Cubans who recall revolutionary history from a Fidel Castro perspective are common options for American groups.
Under present guidelines, American visitors can't do golf or soak up the rays along a beach with a mojito and cigar in hand. Instead, they must visit with an approved travel purpose, like education and/or an approved humanitarian project.
The locals are welcoming and eager to interact with the visitors from up north, Andrews says, and there's great local food available in paladares, the privately owned restaurants that compete with their relatively drab state-owned counterparts and offer the best bet for high-quality, authentic Cuban cuisine.
Easy access to Cuba is also a draw for Americans, Andrews says, and because it's only a little less than 250 miles to Havana from Miami, it requires less air fare expense than farther-flung tropical options.
Ready for Meetings?
Since the U.S. government began to loosen Cuban travel restrictions on Americans last December, other stateside group travel suppliers have been hitting Cuban turf to check out its readiness for American business groups.
"We took a group down there earlier this year to look at it from a corporate and meetings incentive standpoint," says Rhea Stagner, Maritz Travel Company's division vice president of supplier relations and sourcing. "We traveled from one end of the island to the other, and though we have some well-traveled clients asking for Cuba, we are not marketing Cuba at this time."
Cuba can be good for a small, private group of, say, 20 people," she adds, "but it's far from being ready for the American incentive program standards expected by the large groups we serve. People may be interested in personal travel to Cuba, but aren't yet willing to take a business group to the island."
PageBreak
For one thing, American groups expect their cell phones to work just 90 miles offshore— the distance between the U.S. and Cuba at its closest—but they don't, she says. Also, Internet is available only in hotels. The banking system is also limited—credit cards from U.S.-based companies are still considered an "embargo-busting" activity­—so everything must be paid for in cash.
"There are 30 to 40 hotels but no American brands among them, and there is almost no system to handle groups," Stagner says. "Service levels American business people expect are almost non-existent.
"Large, international hoteliers tell us they are watching Cuba with interest," she adds, "but have no plans now to begin development. In Havana especially, the infrastructure is crumbling and it would require a huge expense to build. The Cuban government is working to improve it, but lots of time is needed. Right now, we are thinking about Cuba beyond 2016."
Phelps R. Hope, senior vice president, meetings and expositions for association management and meeting planning firm Kellen Company, echoes Stagner.
"Cuba wouldn't exactly be starting from scratch when it comes to improving its on-the-ground hospitality," Hope says, "but it has a long way to go if it wants to compete with the likes of Jamaica, Puerto Rico or Mexico."
Havana's Jose Marti International Airport is considered fairly modern and comfortable, he says, but there are concerns about safety infrastructure there and at other island airports.
"Many of the country's runways and taxiways are in need of restoration," Hope offers, "and that means new signage, better lighting, pavement repairs and other improvements to come into compliance with international standards."
Airport infrastructure isn't the only concern about taking groups to Cuba at this time, he adds. The government has indicated more than three-quarters of Havana's roads are in poor condition and need "complex" repairs.
"You can't host a successful event if attendees are stuck on the side of the road changing a tire," Hope quips.
The Cruise Option
Business groups with their eyes on Cuba may consider the cruise ship option for 2016 meeting and incentive programs, says Carnival Cruise Lines' Roger Frizzell, senior vice president and chief communications officer.
In April, Carnival's new "impact travel" Fathom brand will begin sailing from Miami to the Dominican Republic. Passengers will spend much of their time ashore engaged in voluntourism activities such as teaching conversational English to young people, making clay water filters and planting trees.
Pending expected Cuban government approval of its proposal, Fathom's 710-passenger Adonia next May will begin alternating sail weeks between the Dominican Republic and Cuba.
"We are selling Cuba to business groups because it's ideal," Frizzell says. "Groups can meet, eat and play onboard but hop off and go on the island during the day. The cultural exchanges will be different for Cuba, and they will change as we learn how community leaders might want our groups to give back and U.S. regulations relax more."
Carnival's long-term plans for Cuba include more ships, he adds.
"There's an ease, convenience, affordability and value that cruising offers groups who want Cuba," Frizzell says. "We are about opening up the mystique that is Cuba for those who want to get there before it changes."
While some industry suppliers develop strategies for marketing Cuba as a business destination for Americans in the future, most are in a wait-and-see mode.
"It will be an exciting transition to watch Cuba from a meetings perspective," Kellen Company's Hope says. "Cuba will almost certainly seize on this opportunity to bring in new tourism and meetings money. The questions right now involve what degree of difficulty visitors will face when they get there."