Northern Indiana 'Suits Up' With Sports and Activities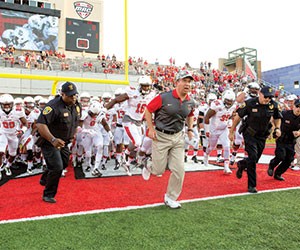 Tis the season—that is, football season—for tailgate parties, fantasy lineups, donning the colors and numbers of your favorite players, and hoping with every throw of the pigskin that your team lands in a bowl game.
As the home to Notre Dame, Purdue University and Ball State University, Northern Indiana is one of the most spirited college football regions in the country. At this time of year especially, groups meeting in the area—including South Bend, Lafayette, Muncie and Fort Wayne—will enjoy an almost tangible excitement.
While a college football game might be the most fun and memorable sporting event for visiting attendees here, there are other options for planners to consider if they would like to add a sports outing to the meeting's itinerary.
From cheering in the crowd at a Minor League Baseball game to getting in on the action during a disc golf or trampoline dodge ball tournament, following are some great ideas for groups pursuing a sporty activity in Northern Indiana.
South Bend
Advance planning is necessary to acquire group tickets to a Notre Dame football game, and still, those tickets may prove elusive.
But according to Meghan Huff, sports sales manager for Visit South Bend/Mishawaka, group tickets are possible, and in addition, attendees report also enjoying the Notre Dame campus and football stadium tours.
During baseball season, groups can check out either a Notre Dame game or one featuring the South Bend Cubs, a Minor League Baseball team affiliated with MLB's Chicago Cubs.
Huff adds that groups can also book Four Winds Field, the home of the South Bend Cubs, for special events.
"Not only can you rent out their entire facility for functions but they have a performance center that includes batting cages for your group to try out, along with a banquet space," she says.
In nearby Granger, The Golf Club Granger offers an indoor HD golf simulator experience that allows "play" on famous courses from around the world, as well as an on-site restaurant and bar.
"You pick which golf course you would like to play—digitally— and play amongst the group in an enclosed/private space," Huff says.
A more active golf experience can be arranged at one of three different disc golf courses in the South Bend/Mishawaka area.
Planners are encouraged to work with Visit South Bend/Mishawaka and the local parks department to facilitate a disc golf tournament for the group, including a cookout after play.
Groups who would prefer a waterborne pursuit can consider some time on the East Race Waterway, which runs through South Bend's downtown.
According to Huff, it's the first manmade white-water rafting course constructed in North America.
"The East Race is run through the South Bend Parks & Recreation department and they can assist in organizing group outings," she says. "I have gone down the East Race several times and it never gets old. You can switch between four- to five-person rafts and two-person rafts, depending on the challenge or group."
And back at Notre Dame, groups can arrange a sporting event on the ice at the college's Compton Family Ice Arena.
"The facility allows group outings in broomball, curling and open skate," Huff says. "Broomball is a great activity for the entire group to do at the same time."
In nearby Michigan City, the Blue Chip Casino, Hotel & Spa can arrange group golf packages in Northwest Indiana.
Fort Wayne
When a planner contacts Visit Fort Wayne regarding sports activities, there is no shortage of fun suggestions, according to John Felts, marketing and communications specialist at Visit Fort Wayne.
For starters, groups can take in a baseball game at Parkview Field, which is located in the heart of downtown Fort Wayne and is home to the Fort Wayne TinCaps, the Minor League Baseball affiliate of MLB's San Diego Padres.
"The TinCaps are very welcoming to groups, including featuring a 'Welcome to Fort Wayne' message on the scoreboard during the game," Felts says, adding the ballpark is located just steps away from the Grand Wayne Convention Center and two full-service hotels.
For groups seeking an active outdoor adventure, Fort Wayne Outfitters & Bike Depot offers many recreational activities.
PageBreak
"A group can rent canoes and kayaks to explore our city by rivers, or rent bikes to travel on 81 miles of trails," Felts says.
Groups can also host a tournament at a local golf course, Felts adds. Among those that welcome group play are Cherry Hill Golf Club and Autumn Ridge Golf Club.
Lafayette/West Lafayette
In the Lafayette/West Lafayette area, "few things offer as much ready-made group fun and excitement as attending a Purdue athletics event," says Ashley Gregory, group tours and meeting manager for Visit Lafayette–West Lafayette.
She says there is something for everyone, as group tickets are available for football, volleyball and basketball games.
Also offered through Purdue University is the Boiler Challenge Program, which offers high- and low-challenge ropes courses that accommodate groups of eight to 100 people.
"The program is specifically designed to teach participants more about their own skills and those of their group members, and about how those strengths can be best combined to reach a common goal," Gregory says.
She adds that while the course is open year-round, weather sometimes dictates groups take it indoors. To that end, Purdue has a portable challenge program that's customizable for groups of different sizes with different needs.
"The Boiler Challenge is for everyone and all-inclusive—physical abilities need not be an issue," Gregory says. "The staff can tailor a program to accommodate most any physical disability."
Customizable teambuilding activities, including airborne dodge ball, are also on tap at Elite Air Trampoline Park.
"Who wouldn't love to let off a little steam by giving their co-workers a guilt-free walloping?" Gregory asks, adding Bazooka Ball is a gentler alternative to paintball. "Instead of shooting tiny balls of paint at each other, which leaves your clothes stained and your skin welted, you shoot spongy, gentle airsoft balls at each other while bouncing around on trampolines."
Muncie
Football games at Muncie-based Scheumann Stadium are always a hit with groups.
According to Shonda L. Kane, marketing and sales manager for the Muncie Visitors Bureau, the home of Ball State University football has a private framed tent and partitioned area that is available to accommodate groups.
Meeting attendees feel welcome at the stadium, which will recognize a group's presence on the video board. A personalized visit by Charlie Cardinal, the team's mascot, photo opportunities on the field and delicious food options also add to the memorable experience awaiting groups here.
Beyond the football field, Cardinal Greenway, a miles-long recreational trail, accommodates group bicycling and walking outings, and offers events throughout the year including scavenger hunts and races.