Macau combines glossy glitz with cultural traditions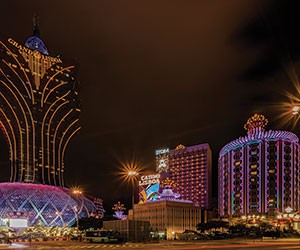 Arriving in Macau for the first time in over 20 years, I had no idea what to expect. In that time, the destination had been transformed from a sleepy Portuguese colony usually visited as a day trip from Hong Kong into China's Special Administrative Region of Macau and the world's foremost gaming mecca. Did some of the old Macanese culture survive, I wondered, or was Macau now just a Las Vegas clone set in the South China Sea?
On the way from the airport, it certainly seemed like the latter. As the massive Venetian Macao, which looks just like its counterpart in Las Vegas only bigger, came into view, it was easy to think we had actually taken a wrong turn and landed in Nevada. This feeling only intensified as we drove further along the Cotai Strip, a piece of reclaimed land joining the islands of Coloane and Taipa that has almost overnight become the setting for a glittering array of mega casino resorts.
Cotai Building Boom
A key difference between Macau and Las Vegas, however, is that while hotel development has slowed considerably in Vegas, it is very much in full swing in Macau. Construction cranes and towers in various stages of completion are everywhere.
Cotai's most recent addition, Studio City, debuted in October. Its Golden Eye, Asia's highest Ferris wheel, straddles two Art Deco-style towers containing 1,600 rooms. The entertainment-themed resort also includes an amusement park featuring characters from Looney Tunes and DC Comics, a magic theater and a fully operational TV broadcast studio.
A few months earlier, Marriott International opened the JW Marriott Hotel Macau and The Ritz-Carlton, Macau, both located in the Galaxy Macau, a shopping, entertainment and dining resort complex that already includes two other hotels, the Hotel Okura Macau and the Banyan Tree Macau.
The 1,015-room JW Marriott includes a 30,000-square-foot ballroom and multiple restaurants, while the 250-room Ritz-Carlton, located on the top floors of the Marriott structure, offers a luxury spa and 9,500 square feet of meeting space. While both hotels have their own pool areas, each also has access to Galaxy Macau's 800,000-square-foot Grand Resort Deck, which has the world's largest wave pool, a river rapids attraction and a 350-ton white-sand beach.
Much more development is on the way. Set to open next spring, the 1,700-room Wynn Macau will boast two spas and 21,500 square feet of meeting space. It will also have a dazzling array of water and architectural features, including the eight-acre Performance Lake, which will present water and fire shows, and an aquarium wall behind the registration desk.
Currently under construction by Sands China Ltd., the 3,000-room Parisian Macao has faced delays, but is now expected to debut next summer. Like its counterpart in Las Vegas, the $2.7 billion property will feature a half-scale replica of the Eiffel Tower as well as extensive meeting, shopping, dining and entertainment facilities.
MGM China recently topped off construction of the MGM Cotai, a 1,500-room hotel that will have a luxury spa, conference facilities and multiple dining and shopping options when it opens in late 2016. A highlight will be a soccer-field-size entertainment theater with 23 LED walls presenting a production called The Spectacle Show.
Another ambitious project underway is the Lisboa Palace, which will include three towers with design elements by Donatella Versace and Karl Lagerfeld. The 2,500-room property is scheduled to open in late 2017.
Coming this month is the expansion of the Sands Cotai Central, the resort complex where the Sheraton Grand Macao Hotel, Cotai Central; Conrad Macao, Cotai Central; and Holiday Inn Macao are located. Scheduled to open Dec. 17, the St. Regis Macao, Cotai Central will feature 400 guest rooms, a spa, two pools, 3,500 square feet of meeting space and a 1,600-seat entertainment theater.
Nice for MICE
The Sheraton Grand Macao Hotel, Cotai Central, which opened in 2012, was my home base during a four-day FAM tour of Macau last year. With nearly 4,000 rooms spread over two towers called Sky and Earth, it is not only the largest hotel in Macau, but the largest Sheraton in the world. A destination within itself, the Sheraton offers a full-service spa, three outdoor pools with adjoining event space, multiple restaurants and 152,000 square feet of meeting space, plus access to an additional 55,000 square feet within the Sands Cotai Central complex.
MICE business is a major focus of the Sheraton, which has hosted over 6,000 events since its opening, including a recent international conference for IBM, according to Sherwin Lucas, assistant director of events. While most of the hotel's business comes from within Asia, North America is a growing market, he says.
"Out of North America, we are getting a majority of our business from the IT, direct-selling and communications sectors," Lucas says. "We are actively promoting Macau as an up-and-coming MICE destination with the Macau Government Tourist Office (MGTO) and our Starwood sales offices in the U.S."
That MICE business is a growing priority in Macau is evidenced by new initiatives from the Macau Government Tourist Office and Macao Economic Services. International meetings and trade fairs drawing at least 200 attendees from five or more countries are eligible for marketing materials as well as subsidies on accommodations, food and beverage and other benefits. Other programs offer subsidies for incentive programs and corporate meetings.
What with the coming infrastructure, as well as what it already offers, Macau has a lot of meetings and convention space to fill. Major venues include the Venetian Macao, where nearly 1.2 million square feet of meeting space includes a 70,000-square-foot ballroom and 15,000-seat arena, and the Macau Tower Convention & Entertainment Centre, which includes a Grand Hall seating up to 1,000 people.
World Heritage Center
But as much as the Cotai Strip resembles the Las Vegas Strip, I was happy to find that vestiges of Old Macau, with its unique blend of Chinese and Portuguese cultures, are easy to find and still very much intact.
In a tranquil garden across from the Venetian, the Taipa Houses-Museum is a cluster of 19th century pistachio-colored Portuguese-style houses, originally the homes of wealthy merchants, which offer changing art exhibitions. Just beyond are the winding streets of Taipa Village, lined with temples and small shops selling Macanese snacks like almond cakes and durian ice cream.
Across the bridge from Cotai, the historic district of mainland Macau has been designated a UNESCO World Heritage Center, with good reason. Areas such as Senado Square, with its black-and-white mosaic tile streets and pastel-colored colonial buildings, are reminiscent of Lisbon. So is Macau's most famous landmark, the evocative Ruins of St. Paul's Cathedral, a carved facade dating from 1602.
There are also sites attesting to Macau's Chinese heritage, among them A-Ma Temple, a multitiered temple with red pavilions, prayer halls and caves carved into a hillside above the harbor, and The Mandarin's House, the labyrinthine, 60-room tile and stone residence of Zheng Guanying, a literary master of the late Qing dynasty.
An excursion to Coloane, an island of yellow stucco houses and sunny beaches, showed yet another side of Macau. After stopping at Lord Stow's Bakery, where we sampled custard tarts straight from the oven, we proceeded up a steep, winding hill draped with bougainvillea to Pousada de Coloane. The charming inn was our venue for a culinary workshop where we tasted Portuguese wines and prepared a Macanese-style lunch of chickpea salad and coconut curry chicken.
Departing Macau, I realized that while the place had changed even more than I could have imagined, it was not just a Vegas clone. A storied past and dynamic present had formed an intriguing destination and put it on the world stage.