Shattering Conventions: Unleash the Furry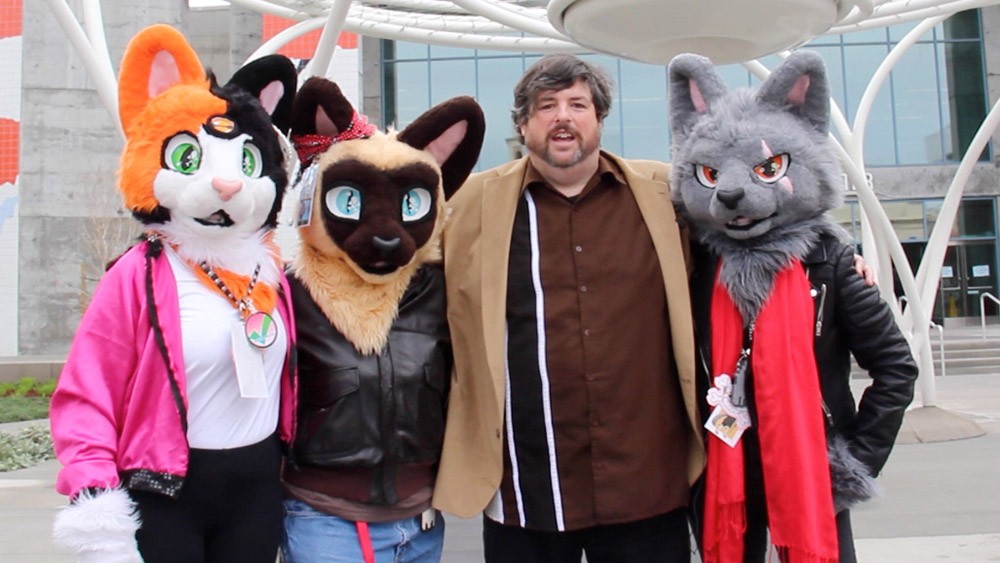 Being at the Furry con all seems so normal when you just put on the fur suit.
The furries start to fill the massive ballroom at the San Jose Convention Center. There are wolves, foxes, birds of prey, tigers and adorable kittens.
Some have chosen furs of greys and browns—the colors of their inspirations in the wild. Others come in dayglow blue and neon green.
This is the staging room for the Fursuit Parade at Further Confusion, one of the largest furry conventions in the country. Furries—some of them wear animal suits and others are just really into them—have been gathering here since 1999.
The convention attracted a then record-breaking 3,560 attendees in 2014.
"Midwest FurFest just drew 5,600 furries a couple weekends back," Webberly Rattenkraft tells me proudly. Webberly, an escaped lab rat with a number clipped through his ear, is serving as my animal spirit guide through Further Confusion. He has brought me an XXXL polar bear suit so I can march in the parade. The polar bear's name is Carmichael, I'm told.
I put on the polar bear suit to make sure it fits. I'm relieved when it does. I'm also glad that it's a cold winter day. It gets hot in that thing.
"EMTs will be standing by," a FurCon media spokesman says as he walks by.
Finally, the call goes out to gather at the front of the room. The parade is about to begin. I put on mask. I am no longer Bob Calhoun. I am now Carmichael the Polar Bear.
I peer through the mouth hole. All I can see in my limited field of vision are horns, antlers and tufts of multicolored, synthetic fur.
As we start to move, I have to make sure not to step on anyone's tail.
I emerge from the ballroom to see crowds of people lining the walls of the convention center, most of them with their cellphones at the ready capturing video and still pictures of this procession of mascots without sports teams.
[3 Meetings Horror Stories: An Event Arrest, a Mad Magician and a Celebrity Mix-Up]
A cluster of husky dudes starts chanting for Carmichael as I pass by. I didn't realize my ursine avatar had fans. I strike some Hulk Hogan-like bodybuilder poses.
Carmichael's fans cheer wildly.
We march into the Marriott. Some little kids stretch out their hands for me to high-five them like I'm the hero at a pro wrestling show. As I stop to slap the kids' hands, a fox or maybe a wolf, crashes into me. "Newbie," Webberly explains. The other beastie nods knowingly.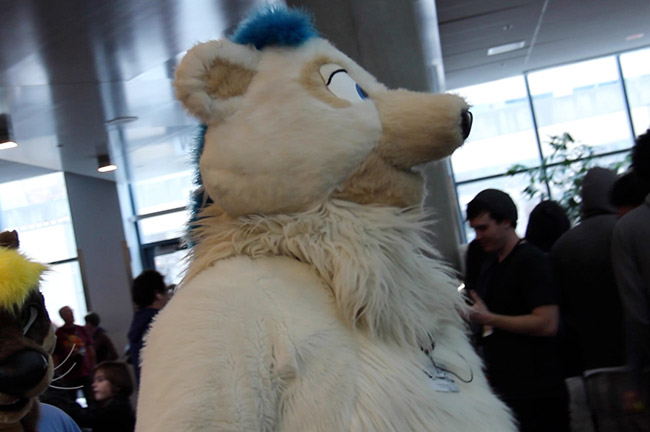 Bob Calhoun Dressed Up As Carmichael the Polar Bear
The heat of wearing the full costume finally starts to get to me as we round another corner and make our way back to the main stage room. I foolishly lift up the mask, gasping for air.
"Don't break the illusion," Webberly scolds. "Not out here."
I'm now like a magician who just revealed how he performed a trick. I feel bad, but the infraction is quickly forgotten.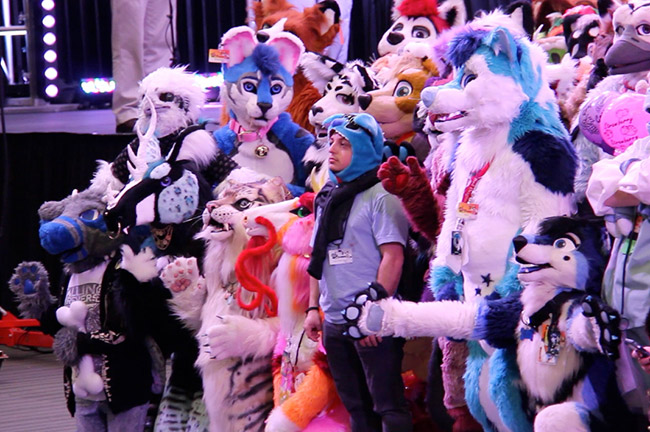 Various Members of the Furry Community at Further Confusion
We make it back to where we started, like salmon swimming upstream. I pull off the oversized bear head with its oversized, unblinking eyes. I pull as much air from the climate-controlled ballroom into my lungs as I can as sweat streams down my face.
I wore the full suit for maybe 25 to 30 minutes and I am dying, but there are furries here that are pulling all-nighters in these outfits.
These furries are more than just mascots. They are athletes.
Every month in "Shattering Conventions," author Bob Calhoun crashes a new tradeshow, convention or conference looking for a way to fit in—even when he doesn't always belong.
Calhoun is the author of "Shattering Conventions: Commerce, Cosplay and Conflict on the Expo Floor." You can follow him on Twitter at @bob_calhoun.