Delish: Jose Andres' Bazaar Meat in Vegas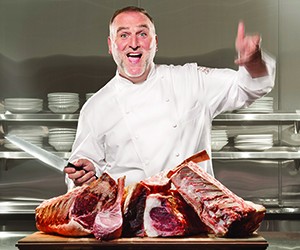 With some of the world's best chefs coming out of the Iberian Peninsula—starting with Ferran Adria, revered for his "deconstructivist" style of gastronomy—and a steady stream of followers turning the tables upside down when it comes to inventive dishes, Spanish cuisine is one of the hottest around nowadays, and Vegas is in on the action.
Spanish celebrity chef Jose Andres spearheads Bazaar Meat at the SLS Las Vegas Hotel and Casino on the Strip, and the experience is nothing short of sublime.
During a recent visit, we savored everything from cotton candy foie gras and liquid green olives to suckling pig and A5 Kobe rib eye, not to mention some of the coolest cocktails in town. How about an LN2 Don't Be A Lemon, prepared tableside with Bacardi Superior rum, elderflower liqueur, lemon and grapefruit juice, tarragon, pomegranate, orange bitters and liquid nitrogen?
The minute you walk into Bazaar Meat, the aromas engulf your senses, and you immediately notice the classic Josper, a combination wood grill and oven that is unique to Spain. Andres believes they provide the perfect way of cooking meat and fish to hold the juices and impart the flavor, so he had them shipped over from Spain. It's just one of the things that makes Bazaar Meat like no other dining establishment in Vegas, or anywhere for that matter.
"As the name suggests, we create something completely unique here, and we are completely different than a steakhouse in Vegas," said David Thomas, corporate executive chef at Bazaar Meat. "The concept of Bazaar Meat draws a lot of influence from Jose's homeland of Spain, and we are ingredient-driven, so depending on what is the best at the time, we will source meat, fish (which Jose refers to as the meat of the sea) and other products from as close as California and as far away as Japan and the Galician coast of Spain."
The restaurant sets itself apart menu-wise with items such as suckling pig from Spain, Kobe beef from Japan (Bazaar Meat is one of only nine restaurants in the U.S. certified to buy Kobe directly from Japan) and the sourcing of older, mature animals, which is very common in Europe because of the rich flavor profile. Andres partners with a purveyor in Northern California to source animals up to 10 years old.
Meanwhile, the restaurant has an interesting 27-liter wine program, in which fine domestic and Spanish wines are bottled in a 27-liter glass vessel and served through a tap system.
Playing on every sense, the ambience is also visually stunning. The large dining room and several smaller private areas were designed by Phillipe Starck and feature an elegantly warm and inviting turn-of-20th-the-century huntsmen vibe, with earth tones and playful animal concepts in the seating, chandeliers and other decor.
"The ambience helps evoke an amazing feeling that is enhanced by fire and smoke, then you sit down in a unique chair and everywhere you look there's a different lamp or curtain," Thomas said. "It's sensory overload everywhere."
Bazaar Meat is a wonderful choice for group dining and special events. The space can accommodate groups as small as 10 or as large as 500.
"With a large dining room and several private spaces, the restaurant lends itself to activating several areas," Thomas said. "We specialize in creating menus and experiences around group preferences, no matter how grand the concept. We like to do interaction with chefs, so tableside tartare or foie gras cotton candy machines are unique options, as well as cochinillo, which is a whole suckling pig that we cook, present to your group and cut right in front of you. We also do roving craft cocktail carts."
With so many innovative, mouthwatering options, it truly is a dream bazaar.