Inland Mississippi adds creative flair to events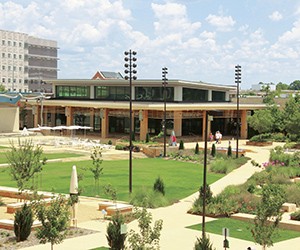 Music, museums, theater performances and more make up the colorful palette of Inland Mississippi's arts offerings.
From a popular art walk in Hattiesburg to a hands-on painting class in Greenwood, planners will find many arts activities throughout the region to inspire a meeting agenda.
Jackson
Jackson is home to several art galleries, the Arts Center of Mississippi and the Mississippi Museum of Art, which houses both temporary and ongoing exhibits, including "The Mississippi Story."  
"The Mississippi Museum of Art can also be used as a great off-site venue with an artistic backdrop," said Yolanda Clay-Moore, public relations manager at the Jackson CVB.
Groups can also explore the Mississippi Blues Trail, which outlines some of Jackson's musical contributions, and visit Malaco Records, which Clay-Moore said is known as the last soul music company.
"They house a grand collection of music, from songs to movie soundtracks," she added. "A tour is an option, and everyone loves to go inside the studio and pretend to be their favorite artist."  
If the group is in town on a Monday night, they can head over to Hal & Mal's, a favorite local eatery where the Central Mississippi Blues Society hosts Blue Monday featuring live blues music.
Clay-Moore also recommended the Iron Horse Grill, a terrific place for music and food with an upstairs museum featuring life-like statues of Mississippi recording artists that groups can tour.
Vicksburg
The Vicksburg National Military Park, considered a must-see for any visitor to Vicksburg, is also known as the premier outdoor art park of the South, according to Ashley Gatian, sales manager for the Vicksburg CVB.
"The park is filled with outdoor art valued between $4 and $5 billion," she said. "There are several Tiffany bronze busts and pieces in the park that will catch any art enthusiast's interest."
Tour options for groups include a standard history tour and a tour with an emphasis on the park's monuments as art pieces.
At Vicksburg Theatre Guild, Mississippi's oldest chartered community theater, groups can get tickets to see "Gold in the Hills," an old-time melodrama that's listed as the longest running show in the Guinness Book of World Records.
"This always makes for a fun group outing," said Gatian, who added that the theater offers group discounts.
For a hands-on experience, the Southern Cultural Heritage Foundation hosts team-bonding painting classes from which participants can take home what they create.
"Take the group on an outing where they can channel their inner Picasso," Gatian said.
Hattiesburg
The Historic Hattiesburg Downtown Association hosts annual Art Walks each spring and fall, during which dozens of local artists present their visual art on storefront sidewalks and in Hattiesburg's downtown art galleries. 
"Hattiesburg is widely known for its arts vibe, which is brought to life in numerous ways at the annual fall and spring Art Walks," said Raven Brooks, group sales manager for Visit Hattiesburg. "Live music and local culinary flavor meet the handcrafted work of artisans through paintings, sculptures and jewelry." 
Brooks added that a variety of restaurants, pubs and art venues offer groups the opportunity for receptions, art talks and tours during this time.    
At the historic Saenger Theater, which was originally built to show movies when they were still "talkies," groups can arrange an on-stage dinner and a private tour, during which they'll learn some fun tidbits.
"The theater's original movie projector is on site, on which the last movie played was The Exorcist," Brooks said. "Following the playing of that movie, the projector did not work again. This local urban legend has been told for decades." 
Groups meeting in the Hattiesburg area during the first few weeks in June can check out Festival South events, including Music of Africa Brass at the Historic Eureka School.
"It's an experience like no other," Brooks said. "Attendees learn about the unique music of West Africa and its influence on American music and culture scene." 
PageBreak
Greenwood
Among the top arts experiences in Greenwood is a visit to the Museum of the Mississippi Delta, where according to Danielle Morgan, executive director of the Greenwood CVB, Mississippi artwork combines with local, military and agricultural history and an impressive collection of Native American artifacts to create a museum that has something for everyone.
"This is where your discovery of the Delta begins," she said. "This is a great activity for a group, and it's a museum that can be explored without needing a whole day. They also have meeting space."
Groups might also enjoy an outing at Painting with Friends, which offers instructor-led art classes.
"It's all about getting social and having a great time while you create your own unique masterpiece that you take home at the end of the class," said Morgan, who added supplies—canvas, easel, paint, brushes, apron—are included. "It's a great group activity that will foster camaraderie through creativity."
Groups are encouraged to bring snacks and beverages to share during the class. The third annual Art & Soul festival, which will take place this October, is another experience that mingles art and food. The two-day event is hosted by ArtPlace Mississippi and features artists, musicians and chefs from across the state.  
Also in Greenwood is Turnrow Book Co., an independent bookstore that has a little gallery upstairs called Turnrow Gallery, which showcases Southern folk and fine art, and Greenwood Little Theatre, which stages a variety of performances throughout the year.
Meridian
In Meridian, the arts scene is heavy on music and performing arts.
The Jimmie Rodgers Museum explores the life of the "father of country music" and elsewhere in Meridian groups will find several markers of the Mississippi Blues Trail.
The city also touts the Meridian Symphony Orchestra (MSO) for those groups that prefer classical music. Performances of pieces by Dvorak and Beethoven are scheduled for this month and May, respectively.
The MSO performs at the Mississippi State University Riley Center, where the lineup of performances also includes rock and jazz concerts, dance recitals, musicals and plays. The center also has conference facilities to accommodate meetings and other group events.