Hotelier Harris Rosen Shares His Success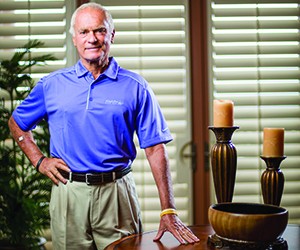 For Orlando hospitality industry icon Harris Rosen, charity may have begun at home, when he shocked the business world some 25 years ago by offering his employees a low-cost healthcare program—later building his own medical clinic—and free college tuition for them and their families. But since then, his philanthropic heart has expanded through Orlando and beyond via an impressive number of humanitarian programs that have made a massive difference to those in need.
A veritable rags-to-riches story, Rosen started from humble beginnings, joining the Army and attending Cornell University's acclaimed hospitality school before angling into an entry-level job with New York's Waldorf Astoria hotel, where his youthful bravado talked him into a sales position and soon after entry into Hilton's management training program. An independent thinker and firebrand from his start in the hospitality industry, Rosen famously worked for Disney but soon found the corporate environment there a tad too stifling for his independent attitude.
After starting his ownership portfolio with a two-story Quality Inn—now the Rosen Inn International, where his humble office occupies a former guest room—Rosen Hotels & Resorts now counts seven major properties in Orlando, including two attached to the Orange County Convention Center.
But for a person with the integrity of Rosen, success comes with the responsibility to give back.
"It really happened about 25 years ago when I was in the final stages of designing our fifth property and sixth property, and dreaming about a seventh property, which would be a resort," he said. "It just occurred to me that it was really time for me to say, 'Thank you, God,' for all of the blessings I've received, and to start thinking about offering a helping hand to those that needed a helping hand. It's not something everyone can do, because if you have a family, that's your first priority, but if you've been blessed, why not do a lot?"
Beginning with healthcare and free college tuition programs for his employees, whom he refers to as associates—"We're not a company with an employer and employees. We are a family with associates."—Rosen has since branched out to assisting underserved Orlando communities and providing relief to Haiti, where many of his associates hail from. (See "Rosen Relief" sidebar)
This high level of giving has translated into one of the lowest employee turnover rates in the industry, which Rosen feels is in part due to the benefits his company provides.
"Management philosophy and philanthropic philosophy really coincide," he said.
But business sense aside, the real reason for his charitable efforts is much less complicated and much more pure.
"We do it for very simple reasons—because it's the right thing to do, and because we love America," said Rosen, whose mother's family came from Austria-Hungary and his dad's from Ukraine. "I've had wonderful opportunities, and here I am today. We are so grateful and appreciative that all we're trying to do is say, 'Thank you for being born here and all of the blessings over the years.' It's really not that complicated."
His work helping the underserved Orlando communities of Tangelo Park and Parramore provides educational resources that give youth a critical first step on the ladder of success.
"We hear a lot about income inequality, and it does exist, and it's expected to exist in an entrepreneurial society," Rosen said. "What we cannot, as a wonderful nation, tolerate is educational inequality, so in an underserved community, you have people that would do well in college but can't afford it. That's unacceptable. And when they leave college they have no debt, and I would like to see that throughout America."
Rosen calculated that for every dollar his company has invested in Tangelo Park, the community gets back $7.
"If we could find wealthy individuals throughout America that would be willing to create a Tangelo or Parramore program," he said, "we could change America one underserved community at a time."