Rosen Relief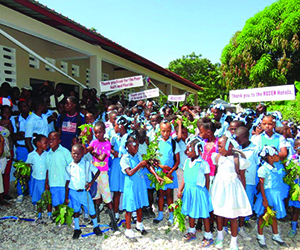 Harris Rosen has leveraged his hard-earned success to compile a prolific list of charitable efforts. Following are some highlights.
Tangelo Park Program
For the past 25 years, Rosen has spearheaded the Tangelo Park Program to help this underserved community in Orlando. This spring will also be his 10th year hosting and paying for Cornell University (his alma mater) students to spend their Alternative Spring Break in Orlando. He hosts them at Rosen Shingle Creek while they volunteer for the Tangelo Park Program, as well as mentor students, attend board meetings and participate in other activities. It's Rosen's hope that when these students are in a position to give back, they remember this program and these youth and contribute in their own ways. Rosen has won many awards for his Tangelo Park initiative, including one in 2006 from the US Dream Academy, given to him by Oprah Winfrey.
Parramore Program
The Tangelo Park Program has made an incredible impact on this community, so much so that Rosen committed to dedicate his time and resources to a second similar, but five times larger, program in the Parramore district near downtown Orlando. The program includes 24 preschool classrooms where he is paying the annual salaries for 48 teachers and aides and an administrator to oversee the program. This is part of a school that is being built and will open this August. Last spring Rosen awarded his first 14 scholarships to students to start the initiative.
Haiti Initiatives
Rosen has long supported those in Haiti, including hosting a gala several years ago that raised more than $300,000, enough to fund 200 water filtration devices. The company continuously sends supplies and most recently opened a new elementary school. An interesting irony is that the concrete block school happened to open two weeks prior to Hurricane Matthew, which devastated the community. The school ended up supplying shelter for 300 people, survived intact and continued to supply shelter for several more weeks. Rosen recently announced he will be paying to rebuild the 100 homes destroyed in Les Cayes, the community in which the school is located.
Japan
Rosen is Orlando's consulate to Japan. He also supplied $100,000 to the country after its 2011 earthquake and is receiving the Order of the Rising Sun Gold and Silver Rays, one of the highest-ranking civilian honors awarded to those from other countries, for supporting the student exchange program between Orlando and its sister city of Urayasu, as well as his donation.
Rosen College of Hospitality Management at UCF
In 2004, the University of Central Florida opened as a result of Rosen's donation of 20 acres at the foot of Rosen Shingle Creek and $10 million. Rosen still provides more than $1 million annually in scholarships to the college, which has grown from several hundred students when it opened to more than 3,000 today. The school was ranked as one of the top five hospitality schools in the world by CEO magazine.
Employees
Rosen provides low-cost healthcare to his associates (employees) through a self-funded healthcare program he's had in place for 25 years. In addition, after three years with the company, associates receive free college for their children. After five years, the associate receives free college. The company funds annual health fairs, carnivals and a Christmas event for associates and families. Associates who work with Rosen on his Haiti initiatives are provided transportation by the company to personally deliver donations to ensure they make it to the recipients.
Other Charity Endeavors
Rosen also funds an Everglades Expedition to bring awareness to the endangered area, and sponsors numerous galas, walks and other events in Orlando, along with the Rosen Jewish Community Center. He also has been recognized for his support of various green initiatives.