Gone Golfing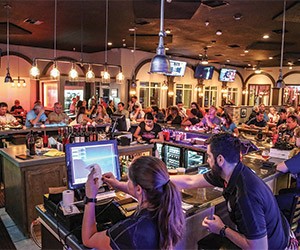 Creative additions to tournament play take on new meaning at Shingle Creek Golf Club at the AAA Four Diamond Rosen Shingle Creek in Orlando. This 18-hole championship course sports a recent redesign courtesy of Arnold Palmer Design Company and a new engaging way for teams to challenge the links with the help of on-site Brad Brewer Golf Academy.
At Mission Inn Resort & Club in Howey-In-The-Hills, the Adventure Learning Center teambuilding course has everything from ziplining to climbing walls. Groups can also play on Florida's oldest golf course, El Campeon, known for its steep hills, or the sweeping fairways of the Las Colinas Course. Both are 18-hole championship courses that have earned their share of accolades. With advance notice, the golf shop can customize prizes, golf balls and apparel with a company logo.
At Streamsong Resort, the Streamsong Challenge melds golf, bass fishing, sporting clays and archery. Teams face off against each other on one of Streamsong's iconic golf courses with 18-hole best-ball and other competitions. In addition, teams battle for the greatest combined weight in bass fishing, and the best accuracy on its picturesque sporting clays course.
Orlando's Villas of Grand Cypress offers meeting-goers a "Big Break" on the resort's 45 holes of Jack Nicklaus Signature Design golf. Designed to strengthen morale and build rapport, teams are split up and paired with a seasoned instructor from the Villa's award-winning Grand Cypress Academy of Golf. Each team is coached and ultimately scored on skills that include long drives, straight drives, bunker shots and putting.
Groups staying at the private, 70-room Arnold Palmer's Bay Hill Club & Lodge in Orlando love to play on the same course as one of the greatest golfers in history. But even non-golfers can enjoy the club's teambuilding events such as evening putt-putt contests alongside an evening cocktail party. The Lodge also organizes contests where guests chip out to the floating "green" that sits in the middle of the club's Olympic-size pool. Companies offering closest-to-the-pin prizes can go straight to the pro shop for logoed golf balls, hats, shirts or A Golfer's Life book by Arnold Palmer.
At Reunion Resort in Kissimmee, FootGolf offers a unique way to experience the resort's award-winning Watson Course, a Tom Watson Signature Design. FootGolf, in which players kick the ball instead of using clubs, follows the basic model of golf, with a tee box, a green, bunkers, hazards, a similar scorecard and nine or 18 holes.