Hitting the Pavement at Paradise Point Resort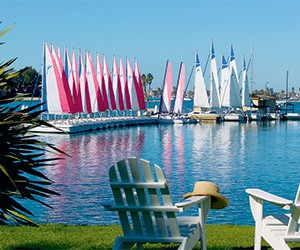 San Diego's Paradise Point Resort & Spa is taking advantage of is location on Mission Bay—a recreational aquatic park that offers 27 miles of shoreline—and its nearly year-round moderate weather with the new Wellness in the Workplace Package.
The property launched the program, which merges meetings and wellness, through a partnership with Road Runner Sports and includes an assessment, custom pair of shoes and a group 5K, followed by breakfast.
The package starts with having a running or walking analysis along with a custom 3D foot and arch image and measurement. After everyone is outfitted with their custom pair of kicks, the group heads out for a run or walk along Mission Bay and ends with a refuel breakfast, such as a build-your-own acai bowl or build-your-own smoothie bar.
Attendees are then ready for a productive day of meetings at the 462-room property's 80,000 square feet of indoor and outdoor space, which includes 32 meeting and banquet rooms and eight executive boardrooms.
"Paradise Point's location is ideal for all kinds of wellness options," Lindsey Amador, director of sales at marketing at Paradise Point said in reference to the property's 44 acres of bayfront land. "We have multiple outdoor terraces, decks and lawns perfect for outdoor breakouts, yoga sessions, paddle boarding and kayaking."