Masters of Disaster: Planners Share Hurricane Stories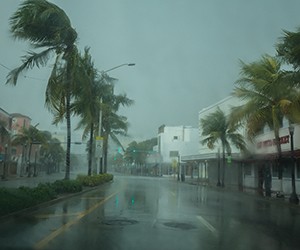 Late August and September 2017 will go down in infamy as months full of disasters that wreaked havoc on North America, from wildfires ravaging the western U.S. and massive earthquakes that rocked Mexico to two Category 5 hurricanes plowing into the Gulf Coast, with more seemingly on the way at press time.
While no one can plan for all of the contingencies that may impact meetings that have been planned months and sometimes years in advance, planners can arm themselves with concrete tactics to help ward off a truly catastrophic result, before, during and after disaster comes calling.
Planner Disaster Stories
In early September, Hurricane Irma was set to cut a path of destruction not only through the Caribbean, where many islands were catastrophically affected, but also the annual meeting of the National Association of Insurance and Financial Advisors (NAIFA), set to be executed in Orlando Sept. 8-10, with some pre-events Sept. 6 and 7, by Diane Ramos, the association's director–meetings, professional development and education.
NAIFA expected some 1,300 attendees from throughout the U.S. at its annual, which is an essential part of the 128-year-old organization because its bylaws demand a two-thirds vote for required official business to be enacted. Ramos was on the ground in Orlando when Irma came calling.
"Our CEO is from Orlando, so on his phone he had alerts," Ramos said. "So the Thursday prior to Labor Day he sends a message, 'Hey, there's a hurricane that's kind of brewing.' I said, 'You're kidding me—I've got 1,001 things to do!'
"Do we have our paperwork in order—of course we do," Ramos added. "I have a copy of our contract, our insurance and our vendors' information."
At this point, the hotel was not ready to address the situation because the hurricane was still many days from landfall in Florida.
"I landed in Orlando on the afternoon of Monday the fourth," Ramos said. "When we arrived it was steamy hot and we were looking at [the hurricane forecasts]. It was far off, and it looked like it was going to bounce off. Meanwhile, they were doing some construction on the facility, so I took a photo of it and kept asking if the bar was going to be open [for the meeting]. If we're going to be on lockdown we're going to need that bar open. I sent a photo to my boss and said I don't remember when the construction of a bar was not the least of our worries!"
Then the alerts started coming in on her phone, with Florida Gov. Rick Scott announcing a state of emergency in 67 counties.
"My boss asked me if I could unofficially ask the hotel if there were other dates that would work if we had to move the meeting," Ramos said. "After the alert came out, my boss said, 'Now we can officially ask them.'"
Meeting volunteers and staff started arriving on Tuesday, Sept. 6, along with the association's general council, vice president of communications and Ramos' CEO. Ramos then sent an email to another facility asking if they had space for a meeting in November near the association's D.C. area headquarters, in case they had to gather for the required voting.
"Everybody was working on an alternate plan for what we were going to do," she said. "By the time everybody landed we didn't have time to say hello to anybody. My CEO said we're going to meet at 1 p.m., so I set up a 'war room' with tables, beverages and snacks. We had wired Internet in there and we made sure the outlets worked, because people needed to charge their phones and plug in laptops to get the Internet to receive information."
Next, the association set up a meeting with representatives of the hotel in the war room, who were reluctant to agree that there were sufficient reasons to cancel the meeting.
"I'm pulling up my laptop to get any info I can, and CNN had a story that said it was the biggest storm ever tracked, with a cone of 400 square miles, and they had no idea of where it was going to hit and what was going to happen," Ramos said. "I motioned for one of my executives to see, and took screen shots to show what I was finding at that very moment.
"The hotel said they could hold the meeting," Ramos continued. "Members were canceling, speakers were canceling. We said we cannot have this meeting, and at that point the general council was talking to the person with the hotel, and said that in the contract this is inadvisable according to force majeure. The hotel person said there is no hurricane [yet], so there is not force majeure. We said we were canceling and we're out of here."
PageBreak
Ramos said that she was fairly confident that the hotel would at least be made whole because of the rooms it would be able to fill with area residents and emergency responders, so her general council wrote a letter stating that they were formally canceling the meeting, and her vice president of communications began working on a message to alert members and other attendees, along with preparing an FAQ section on their website notifying attendees about when their registration fees would be reimbursed along with other critical information.
"At that point we knew we weren't as welcome there [in the hotel] as we were a couple of hours ago, and that they could cut off the Internet at any time, and if we call for more soda and cookies, we knew they were not going to be jumping," Ramos joked, adding that the property never did cut off their service, and very soon became aware of the immediacy of the situation when their switchboard started lighting up with people canceling their rooms.
"We had a deposit, and they were not going to waive the deposit for the attendees, so then we had a lot of people that were very mad because they were not getting back their deposit," Ramos said. "So it was a long afternoon."
In the end, though, the hotel turned out to be very reasonable, and it was all a matter of when the mitigating factors could be claimed to necessitate the cancellation of the meeting in both the eyes of the client and the facility.
"We had a dinner planned with the hotel Tuesday night, and we said 'Do you still want to talk to us,' and the hotel salesperson said, 'Yes, it's all about relationships.' By Friday the hotel had sent us an email by 5 o'clock that said they would accept our force majeure cancellation, as at that time there was a hurricane advisory and the airport was closing at 5 o'clock on Saturday."
According to Ramos, if everything works out to her association's satisfaction in regard to the cancellation of the 2017 event, it will begin the process of booking a future meeting at the property.
"We wanted to have the meeting, we were ready to have the meeting, it was just not our time to have the meeting," Ramos said, who added that she was particularly proud of her stakeholders' decision to cancel the event. "There's a time when you look at it and say, 'Is it worth the loss of life to do what we do? I give them a lot of credit for doing the right thing, even though it was the harder thing to do."
Minding the Process
Society for the Advancement of Material and Process Engineering (SAMPE) CEO Gregg Balko was scheduled to hold its 8,000-attendee The Composites and Advanced Materials Expo (CAMX) event, co-produced with another association, Sept. 12-14 in Orlando, but successfully rescheduled the meeting for Dec. 12-14, rebooking at Orlando's Orange County Convention Center.
"On the Monday [Sept. 4] we were all off on holiday, and we started to watch the storm on the news, and on the Tuesday we started having conversations and examining models, which at the time showed it going up the East Coast," Balko said. "As it got closer to Cuba we realized that the meeting wasn't going to happen, and both associations started getting calls from concerned customers. We decided internally on the Wednesday that we were going to postpone it."
After checking in with his carrier about cancellation insurance, the associations made the decision to cancel on the Thursday.
According to Balko, having a robust, proactive social media effort helped a great deal in regard to attendee and exhibitor communication.
"Social media was incredibly useful in getting the word out, in addition to our database," he said. "As soon as [the cancellation] became public the phone calls and emails stopped. We said we were looking at new dates and as soon as we got a package that was reasonable we would be back."
Moving at light speed, Balko said that the cooperation between the Orange County Convention Center and the host hotel, the Hyatt Place Orlando/Convention Center, made it easy to honor what he believed was a commitment to keep the meeting in Orlando, a destination that is also strategically important to both associations.
"We had an obligation to the city—the city had been very good to us," he said. "Yeah, we were going back there. It was never a question."
Balko believes having a good communication strategy was key, such as having status updates and a detailed FAQ section with updated times on the event's website, along with making sure to have a unified message and not simply send out emails to individuals, who can forward them on like wildfire to create the perception of chaos.
Trust, however, may be the most important commodity of all.
"You really find out how much trust you have with your customers and your staff and volunteers," he said. "You really need to trust your staff. It becomes a real illustration about how your key stakeholders respect your staff, as well as trust with your hospitality partners."
PageBreak
SmithBucklin's Take
Association management and services company SmithBucklin had a number of meetings in the affected areas, and because of the experience of its planners and executive team, along with the buying power the firm represents, its associates successfully navigated the calamities.
Sara Haukap, director, event services, for SmithBucklin, had three events in Florida in the weeks following Hurricane Irma, including one in West Palm Beach Sept. 21 and two Orlando events in mid-October and November.
The meeting happening closest to Irma, in West Palm Beach, went on as scheduled, with only the pre-meeting golf event needing to be canceled. It was replaced with a CSR activity where volunteers assembled toiletry kits for residents affected by the hurricane.
The decision to move on with the meeting was based on the outreach Haukap had with her trusted suppliers in West Palm Beach, including the Discover The Palm Beaches FL tourism bureau and the meeting venues.
"We wanted to get statements to share with the clients, so they knew we were having the necessary conversations with people on the ground," she said. "The bureau gave us updates on the airport and the streets, for moving people around, and a statement that moving forward with the event would not interfere with [relief] efforts."
The West Palm Beach meeting was expected to draw up to 1,400 people, and at press time had not suffered adversely from cancellations, according to Haukap. Her other two Florida events have also not been hit by weak-kneed attendees.
Like everyone else interviewed for this story, Haukap stressed the need to have adequate cancellation insurance.
"You need outreach to your insurance provider so you can make sure you know the trigger points before anything happens," she said, "and work with your people on the ground, as on-site inspections may not be feasible."
Anita O'Boyle, director, event services for SmithBucklin, planned the Society of Incentive Travel Executives' SITE Classic 2017 Sept. 13-16 in Los Cabos, Mexico, which had a number of people traveling from the incentive house hub of Florida (and two from Hurricane Harvey-hit Houston), and actually had three major storms impact the meeting: Lidia (which made landfall Sept. 1 about 225 miles north of Los Cabos), Norma (which approached approximately 185 miles south of Los Cabos during the meeting) and Irma.
"I've been in the business for 30 years and I've never had the weather impact me like this time," O'Boyle said. "It was certainly one for the books!"
The fact that the meeting was being attended by hospitality industry professionals who were adept at rebooking flights —along with representatives from United, American and Delta airlines!—meant that cancellations were held to a minimum.
"These guys rallied," O'Boyle said. "We had about 10 people from Florida that rebooked once the hurricane passed as soon as the airport opened, so they were on the first flights out to go to the meeting."
O'Boyle's strategies included working closely with the hotel—with which they had a force majeure clause—to provide real-time data in the rooms every day, and constantly updating the event's mobile app, along with giving her cell number out to people so they didn't randomly contact the hotels.
The only events that were affected were some fishing and snorkeling excursions, which local DMCs reinvented on the fly. According to O'Boyle, having senior staff "own" the situation was crucial.
"We had to acknowledge that this was not an optional discussion," she said. "It really needs to be owned by a senior person on the staff to engage leadership when needed, to make the call and negotiate with the hotel."
Carol McGury, vice president, event and education services for SmithBucklin, echoed that cancellation insurance is critical, as well as having a senior staff that can handle themselves calmly in an emergency.
"For each of our clients, we strongly recommend cancellation insurance—especially in hurricane season," McGury said. "It's something that's always a client's decision, but we make them put it in writing if they decline. It's important that they understand the magnitude of the potential."
Other top-level tips include to school the meeting team as to what happens if an incident does occur, and to get everything in writing as to why someone cancels.
"We have a full understanding of who does what," she said, "and if there's an 'Act of God' situation or security issue we bring a lot of third parties to help manage."
SmithBucklin also utilizes a forecasting tool so its clients know the financial ramifications for various scenarios surrounding the cancellation or postponement of an event.
"You need the best information you can have because sometimes clients will react emotionally," McGury said. "A thing like this can make or break an organization, so you want to make sure you have all of the information available."
PageBreak
Lawyerly Advice
When it comes to mitigating damages before, during and after a major disaster, caused by nature or a manmade event such as terrorism, having your legal affairs in order is critical.
"My biggest piece of advice to planners is to review and edit their force majeure clauses," said Tyra Hilliard, a speaker, professor, writer and attorney representing the meeting planning side of the industry for her law firm, Hilliard Associates.
"One of the big things is people need to put language in their force majeure clauses so they can terminate without liability before something happens," she stressed.
Hilliard will be presenting a very timely education session at IMEX America in Las Vegas Oct. 9 titled Addressing "Uh-oh" Situations in Your Contracts, covering a variety of contract issues that can torpedo a meeting.
Hilliard mentioned one client who was supposed to move into a Florida facility for a tradeshow Sept. 8, and through updates on Sept. 7 found out Hurricane Irma was supposed to hit Sept. 10. Luckily for the client, the contract had a very amenable force majeure clause, so the hotel worked with the planner to waive attrition fees if they went ahead with the meeting.
"It's better for the hotels to have some business rather than none," she surmised.
The real gray area with events such as hurricanes is the delay between when weather forecasts tracking a major storm are issued and the time when airports actually close or a state of emergency is officially declared. While everyone knew a potentially catastrophic hurricane was on its way, many planners interviewed for this story noted they got varying degrees of initial pushback from venues that were reluctant to budge before any of the above qualifying events were in place.
Event cancellation insurance is the other essential piece of the puzzle.
"Event cancellation insurance should be on the back of everyone's mind," she said. "The first thing to do is to call your insurance carrier to make sure their event cancellation insurance will cover that."
Another gray area revolves around the term "impracticable," as in circumstances that would make it excessively difficult to hold the meeting. Examples could include a large number of delegates being unable to attend because of, say, a natural disaster or other emergency resulting in having their flights canceled, or if the venue was not of sufficient readiness to adequately facilitate a meeting.
"That's where that word becomes important," Hilliard said. "Some years ago there was a Williamsburg [Va.] hotel that flooded, then reopened, and they found black mold in the walls, and the restaurant was closed. Does that negate your meeting? If it's an incentive, probably. The law is one big gray area—that's why they pay the lawyers the big bucks to argue about it, I guess!"
Hilliard recommends doing another site inspection to see if a property is ready for a meeting, and even to consider bringing along an expert who can provide professional information about the status of the facility, especially when it comes to attendee safety concerns. Perhaps even hiring an OSHA expert could be a possibility.