Indiana Gets Busy After Hours With Nightlife Options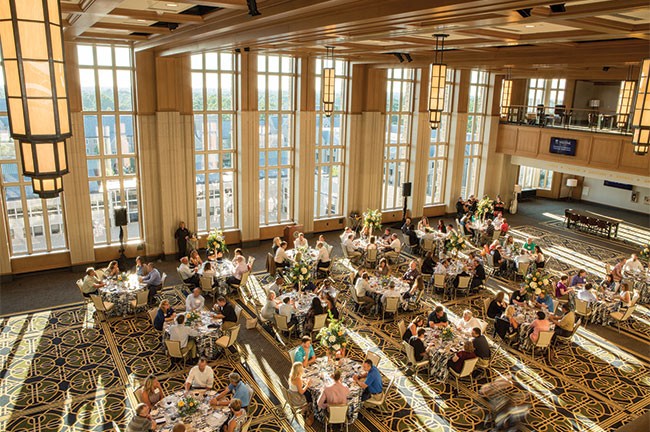 Indiana's meetings-friendly destinations are beaming with delightful nightlife activities for groups that would like to let off some steam after a day of business.
From Indianapolis to Fort Wayne to Bloomington, entertaining attractions and team-bonding opportunities, plus a great mix of restaurants, bars and breweries,  await groups that have energy to spare for some after-hours fun.
Indianapolis
In Indianapolis, a lively place when the sun sets, groups can tap into the city's award-winning craft beer portfolio, which already includes more than 26 breweries that offer tours and tastings, and is growing every day.
"Groups can simplify the tour process by partnering with Indy Brew Bus, the original Indy brewery tour willing to pick groups up at any downtown location, including hotels or the convention center, for convenient after-hours fun," said Susie Townsend, senior vice president of visitor experience for Visit Indy.
The artisan distillery scene has also taken off in Indy, and currently includes Hotel Tango, New Day Craft, Black Acre Brewing Company and Ash & Elm, which all offer private event space.
Hotel Tango, according to Townsend, is among the distilleries that offer a chic tasting room, and it also recently opened the Tinker House event space, complete with skyline views.
Indy is also recognized as a top Midwest foodie destination, with more than 80 restaurants having opened downtown over the past five years, including the new Latin-inspired Livery.
Located in the Mass Ave Arts District, a prominent dining/nightlife area, Livery is a "swanky gathering place for groups," according to Townsend.
"A restored 1890s horse stable maintains the area's heritage, but in a stylish and artistic way," she said. "The menu pairs well with an extensive tequila and mezcal selection, and a rooftop patio provides the perfect location for a private group event."
Among the city's arts offerings is The Cabaret, which is on track to open a new space in spring 2018 that will host both marquee performances and private events. A redesign of an adjacent alley into an art gallery and event space will complement the new performance space and expand reception capabilities, according to Townsend.
"No other city in the region, including Chicago, has year-round professional cabaret to the degree that Indy does," she said.
At the Indianapolis Zoo, groups can count on a terrific evening soiree, during which attendees can explore the grounds at their leisure and enjoy nibbles at food stations set up throughout the facility.
Planners can ask about the zoo's Bicentennial Pavilion, a new 40,000-square-foot covered outdoor event venue that houses macaws and accommodates group gatherings.
Northern Indiana
South Bend is a group-friendly destination where visitors can experience everything from the pageantry of a college football game to an outdoor concert along the banks of the St. Joseph River.
There are also some great nighttime diversions for interested groups to choose from, including a "breakout" teambuilding activity that  is "intense and fun," according to Mike Franz, communications and public relations manager for Visit South Bend Mishawaka.
At the Locked Up Escape Room Experience, located in Mishawaka, six to 12 participants search for clues, solve riddles and puzzles, and work together to escape a locked room in 60 minutes.
Downtown South Bend is home to Vegetable Buddies, which was a famous nightclub in the late 1970s that featured some of the best artists of rock, jazz, bluegrass and blues. It reopened in 2016 as a restaurant with menu items such as shrimp andouille fries, pulled pork smothered in barbeque sauce and apple pierogi for dessert.
PageBreak
"Music is still a big part of Vegetable Buddies, and you can dance the night away as live music fills the air," Franz said. "Attendees will be able to network and have a great time as they taste delicious food with awesome bands performing."
Groups convening in Fort Wayne can count on the Grand Wayne Convention Center (GWCC) for standout daytime and evening group events.
"GWCC is designed to transition its fully carpeted and polished terrazzo meeting spaces into perfect prime-time evening event spaces complete with on-site gourmet catering and F&B service," said Marcy McKinley, director of sales and marketing for the GWCC. "GWCC's staff is able to customize its AV and event graphics and guest amenities to complement the event's theme, providing an overall enhanced guest experience."
Located across the street from the Grand Wayne Convention Center in the heart of downtown Fort Wayne are two rooftop venues that are available for evening group events. Parkview Field Minor League Baseball stadium also offers space at its 400 Club for groups.
"Some of the best nights out in Fort Wayne are spent overlooking the city," said Kristen Guthrie, director of marketing for Visit Fort Wayne. "Whether your group chooses to relax on the roof of the historic Embassy Theatre or take in a ballgame from the roof of the 400 Club, located right in center field, they'll love seeing our great city from new heights."
Fort Wayne also has a pair of entertainment centers, Crazy Pinz and Georgetown Entertainment, which both offer more than 50,000 square feet dedicated to fun. Both are perfect for nighttime teambuilding activities such as bowling, mini golf, laser tag and more.
"The private bowling suites create a personal environment for your group, and the personal food and drink service adds a level of relaxation to the evening," Guthrie said.
Situated nearby Lafayette-West Lafayette, Wolf Park is an educational facility that studies wolf behavior and is also home to foxes, coyotes and bison. Here, groups can book a program called Howl Night, during which participants learn about these wonderful animals and are then taught how to howl so that the wolves will howl back.
"It's a fun experience, and even though I've done it many times it always gives me chills," said Ashley Gregory, director of sales for Visit Lafayette-West Lafayette. "It's amazing to hear these animals. Need a dinner location? Wolf Park's Wright Center can hold groups of up to 100 for catered meals."   
Lafayette is also home to two breakout rooms, Rugged Xscape and Mission Breakout: Lafayette, both of which encourage fun and camaraderie as the group solves puzzles and clues to get out of a themed room.
In Muncie, the Horizon Convention Center (HCC) now offers an Amazing Race-type scavenger hunt that challenges visiting groups at the end of the day.
The app guides teams through a series of hints that lead to 12 downtown locations where teams either answer a question or participate in a physical challenge/activity. The timed event concludes at the convention center.
"This was a great tool to get people into the retail shops and restaurants/bars in downtown Muncie, as well as promote teamwork and networking among conference attendees," said Laura Rowe, sales manager at HCC.
Southern Indiana
Groups meeting in Bloomington can enjoy a variety of unique after-hours experiences, including a distillery tour/spirits tasting at the award-winning Cardinal Spirits.   
"After learning about the spirits that are made in-house, attendees have a chance to enjoy a cocktail made with the spirit of their choice," said Erin Erdmann White, director of leisure marketing and media for Visit Bloomington. "Cardinal Spirits also has a kitchen, so groups can also break bread together as well."  
Another intriguing experience is awaiting groups at WonderLab Museum of Science, Health & Technology, which is available for evening rentals and conveniently located one block from the Monroe Convention Center.
"An exciting variety of permanent and temporary installations, as well as access to the beautiful outdoor garden, is sure to appeal to the 'kid' in all attendees," Erdmann White said. "Optional science demos—think dry-ice ice cream—are also available."
In Evansville there are a couple of culinary experiences to spice up the evening.
Located on West Franklin Street, a prime cultural district, Thyme in the Kitchen is a premier provider of kitchen accessories and can facilitate cooking classes as well as host private cooking events.
"Create an ideal menu that works for your group and fits the needs of your budget," said Lori Samples, director of marketing and communications for the Evansville CVB. "After everyone has mastered the art of cooking, stroll down West Franklin Street or enjoy a pub crawl to experience the area's unique bars."
Elsewhere in Evansville, in the heart of Haynie's Corner Arts District, is Mo's House, a cocktail lounge where groups can relax, take a mixology class or simply toast to a good day's work over delicious cocktail creations.