Four Hot Meditation Apps to Help Stressed-Out Planners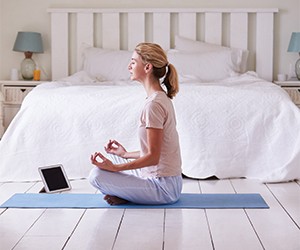 It's official—again. CareerCast just released its "Most Stressful Jobs of 2018" list, and it probably doesn't come as any big surprise that event coordinator, aka meeting planner, ranks in the top five for another consecutive year.
Thankfully for planners looking for powerful ways to cope with the insanity, meditation and mindfulness have come to the rescue big time of late—most interestingly through tech. Apps that help people make meditation, mindfulness and self-reflection a daily habit are coming out in droves. 
Taking a deep breath, focusing and learning new ways to train your brain can do wonders to alleviate stress, anxiety and insomnia, in addition to boosting productivity and improving overall well-being. 
We put several meditation and mindfulness apps to the test. Four rose to the top. 
A sense of, you guessed it, calm immediately envelops you when opening the Calm app, as dreamy images and tranquil sounds of your choice automatically play, perhaps chirping birds, falling rain or a crackling fireplace.  
Easy on the eyes and even easier to navigate, Calm has a wealth of guided meditation experiences ranging from three minutes to 25 minutes. One of the coolest options is Daily Calm, a 10-minute meditation that ends with an inspirational message about topics such as following your dreams, letting go and showing gratitude. It's a great way to automatically set yourself up for positivity first thing in the morning. 
Calm really sets itself apart with its relaxing music series and its sleep stories for adults. The tales, with titles like Sleeping Beauty, The Velveteen Rabbit and dozens more,  are designed to take you back to a simpler mental state, mixing music, sound effects and soothing voices to help you drift off into the land of zzz's—naturally.
Calm also just launched a monthly Masterclass series. The first installment, Breaking Bad Habits, features psychiatrist and addiction expert Judson Brewer, who teaches participants mindfulness techniques that effectively help quell cravings. 
Headspace, launched in 2012, was one of the first meditation apps on the market, and it just keeps getting better. Recently redesigned and as streamlined, slick and well-organized as ever, it boasts impressive features that make it ideal for any level of meditation, whether you're a beginner looking for a great teacher or an expert seeking unguided sessions.  
Its meditation "packs" offer everything from the basics to a pro series, along with sets zeroing in on topics such as health, happiness, work and performance, anger, regret and change. 
The "singles" series helps with everything from sleep and anxious moments to being more mindful when gardening and writing. Its SOS meditations are particularly helpful when you're feeling overwhelmed, burned out, flustered or losing your temper.
Headspace was co-founded by Andy Puddicombe, a former Buddhist monk who became a meditation teacher and realized the need for an easily accessible tool to help people learn how to meditate and stick to it.
Puddicome guides you through each session, with introductions that are helpful in learning to focus and understanding how to reframe your perspective.  
Insight Timer is often ranked as the top free meditation app and with good reason.
Users have access to more than 7,000 guided meditations and counting, in addition to talks focusing on dozens of topics relating to mindfulness, dealing with life's obstacles and overall self-improvement. Best of all, the sessions and talks are narrated by different teachers and experts, which adds variety to your daily practice and encourages you to dig deeper into meditation and mindfulness. 
One of the unique features of the app is a meditation timer with different bell sounds and a selection of intervals, which allows you to completely customize your meditation experience.
Meanwhile, Insight Timer features more than 1,000 background music tracks, with genres such as nature sounds, drumming, chanting and mantras, instrumental music, ambient music and sound healing. 
The sense of community and support on Insight Timer makes it a true standout, especially for those new to meditation. Upon opening the app, a map of the world appears, pinpointing the places where people are currently meditating, and the Insight Groups feature allows you to join thousands of discussions focusing on topics such as mindfulness, compassion, spirituality and relationships. 
After experiencing an on-air panic attack, ABC News correspondent Dan Harris embarked on a journey that involved mega churches, self-help gurus and brain scientists. Ultimately, he discovered the key to taming the voice inside his head: meditation. Harris humorously documented his journey in the book 10% Happier, published in 2014, and the following year, he teamed with Change Collective to launch the 10% Happier app.
Not only does the app teach you the basics of meditation and offer dozens of guided sessions, it also provides a wealth of intriguing talks and interviews with some of the most respected experts in the field. Among the many topics covered are mindfulness, forgiveness, stress and relationships.
Meanwhile, who couldn't benefit from a personal meditation coach? With 10% Happier, you have access to three via texting—a nice touch to round out the experience.