Social Media Seizes the Event Marketing Spotlight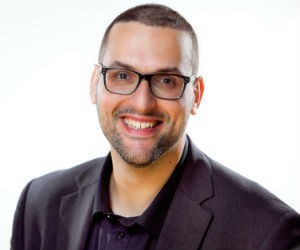 A strategic social media effort has become a foundational element for successful meeting and event promotion. It also is quickly developing into an important driver of attendance.
The comprehensive "State of the Event Industry Survey 2018" poll from Event Manager Blog, led by editor Julius Solaris, found that 73 percent of respondents responded that social media was their most effective tool for marketing events. Email marketing garnered the second spot, with 65.5 percent.
Using a website (59.6 percent) came in at third in the survey question, for which respondents were allowed to select their top three most effective event marketing tools.
"Social media seems to be the tool of choice, maybe because it's more accessible or the perception that it's cheaper," Solaris said. "A lot of people think that social is just for customer service, and the ROI is not as straightforward, but planners are saying this is our main channel now."
The EventMB survey, which served as the basis for two in-depth EventMB articles on Event Marketing and Social Media, was conducted between Jan. 3 and 25, 2018, and generated 1,082 responses. 52 percent of respondents said they had some sort of role in planning meetings and events.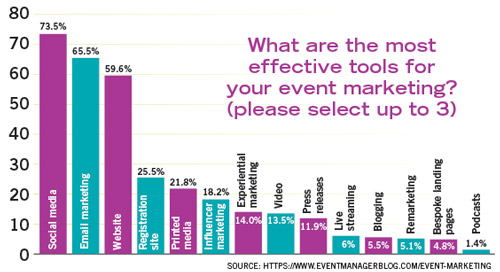 While "influencer marketing," which utilizes key thought leaders to spread a brand message, is the current rage, the EventMB survey found its adoption in the meetings and events industry hasn't yet caught fire.
"Influencer marketing is not as strong as some people say—they say it's the future," Solaris said, pointing out that events that are highly experiential in nature are an outlier. "Actually, 75 percent either don't use it or don't know about it. We're a long way from saying this is something everyone is using."
According to EventMB's "State of the Event Industry Survey 2018," 32.6 percent of respondents are not planning to invest in influencer marketing and 42.8 percent do not know all that much about it.
And when it comes to the social platform of choice, Facebook and LinkedIn were the top picks.
"Whether it's for marketing, customer management, and especially for building a community, Facebook is clearly the winner," Solaris said, adding that he expects the No. 2 survey response, LinkedIn, to up its game as it revamps its groups function. EventMB actually uses a LinkedIn Group to build and develop its own audience.
According to EventMB's survey, Facebook was selected by 88.1 percent of respondents when asked what social media channels they were active on, followed by LinkedIn (80.1%), Twitter (60.4%), Instagram (58.4%), Pinterest (15.3%), Google+ (14.2%) and Snapchat (11.4%). Respondents could choose multiple channels.

"Instagram is nowhere to be seen in community management or customer management—it's not there, and also isn't there in the promotion [of events], surprisingly enough," Solaris said. "Planners are active on Instagram to share pictures from the event but I would say Instagram is not living up to the hype as far as marketing and community building."
Arriving at dead last was Snapchat, which was a surprise for Solaris.
"Snapchat isn't really there—they have a lot of event functionality—but it's nowhere to be seen," he said. "It was supposed to be the next big thing, but Instagram took all of the features."
Honing Social Strategy for Meetings and Events
According to KiKi L'Italien, CEO and founder of digital marketing company Amplified Growth and host of Association Chat, a successful meetings and events social media strategy should consider the following:
Understanding the role influencer marketing can play in expanding reach: People are choosing how they want to receive information and influencers can break through to more of a meeting planner's target audience. It is critical marketers learn what influencer marketing is and how best to use it.
The importance of having a video strategy and what that looks like: Ignoring video content is a bad idea and not having a strategy for it is worse. The barriers to entry for video content are also lower.
How to create content for "stories" on everything from Instagram to Snapchat: The popular "stories" feature on Snapchat has now been successfully deployed to Instagram and Facebook. Why is this content more compelling than other types of content and how can marketers create and use this type of content to fuel more buzz about their next event? Which platform does your audience prefer?
Facebook's newsfeed changes and how marketers must adapt to them: It should come as no surprise that the latest changes Facebook made to its newsfeed algorithm negatively impacted organic reach, but understanding how and what those changes mean for marketers is important for everyone.
L'Italien will present a free, one-hour "Powerful Social Media Strategy" webinar with Meetings Today at 1 p.m. Eastern Standard Time on Wednesday, Feb. 28, 2018. Among other best-practices and tips for harnessing social media for your meetings and events efforts, attendees will learn the following:
How to develop a successful social media strategy.
How social media can drive attendance and create engagement.
How to save time and money.
How to establish new measurement techniques.
For more information about "Powerful Social Media Strategy" and other Meetings Today webinars, visit: www.MeetingsToday.com/Webinars.