Arlington Unveils Plans for Massive Esports Stadium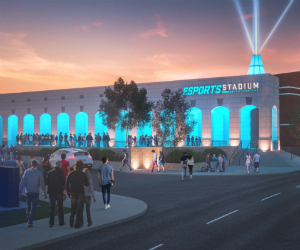 ARLINGTON, Texas
The City of Arlington announced plans for Esports Stadium Arlington, an esports-specific venue designed to draw competitive gamers and fans from around the world. The proposed venue will be built within the Arlington Convention Center in collaboration with architecture firm Populous.
"Being on the forefront of new ideas and setting trends is in our DNA and part of who we are as The American Dream City," said Arlington, Texas, Mayor Jeff Williams. "Esports Stadium Arlington will further cement our city's status as a national and international tourist destination. Players and fans will come here for the tournaments and they'll stay even longer to experience everything Arlington has to offer."
The City of Arlington and Populous are working alongside Esports Venues LLC on the adaptive reuse project and they plan to invest approximately $10 million to transform the 100,000-square-foot space into a top-tier esports facility.
When completed, Esports Stadium Arlington will be the largest esports stadium in the U.S.
The city's proposed agreement with Esports Venues LLC includes a 10-year lease with a 10-year renewal option. The facility will include space for up to 1,000 spectators and additional VIP amenities.
Arlington's renovation and equipment investments would be repaid through annual lease payments, event revenue, stadium naming rights revenue and other esports industry opportunities, according to the city.
Esports: A Rapidly Growing Industry
In its official announcement, the City of Arlington cited research valuing the esports market at nearly $493 million in 2017 as influencing its decision to commit to the project. By 2020, esports is estimated to be a $1.5 billion industry, according to the same release. Arlington, 20 miles west of downtown Dallas, is already a hotspot for professional sports, hosting the Texas Rangers, Dallas Cowboys and WNBA's Dallas Wings.
The City of Arlington also noted in its release that the University of Texas at Arlington is "home to an active, engaged gaming community," which further influenced its decision to invest in the esports market.
"We are proud of our students and pleased that they will be able to share in the events and competitions that will take place in this world-class facility just 10 minutes from campus," said University of Texas at Arlington President Vistasp Karbhari. "I'm grateful for the wonderful collaboration that exists between UT Arlington, the city and our community and look forward to another wonderful partnership [in the metroplex]."
Esports Stadium Arlington will be managed by NGAGE Esports, an events management company.
Evaluating the Existing Esports Market
According to Business Insider, the most popular esports games of 2017 were League of Legends (LoL), Call of Duty (CoD), Defense of the Ancients 2 (DOTA 2), Overwatch and StarCraft. The top performing competitive gaming teams can attain international influence and often receive lucrative sponsorship deals.
Major facilities that currently host esports in the U.S. include KeyArena in Seattle, the Wang Theater in Boston, the Staples Center in Los Angeles and Cobb Galleria in Atlanta. In addition, Allied Esports and Esports Arena recently joined forces with MGM Resorts' Luxor hotel to develop a brand-new esports facility in Las Vegas.
Esports Arena Las Vegas will celebrate its grand opening at Luxor on March 22-25, 2018. The facility contains a 30,000-square-foot, multi-level arena and a "gamer-inspired menu" by celebrity chef José Andrés.