Wolfgang Puck Takes Catering to Famous Heights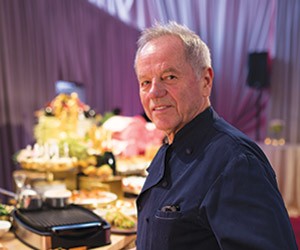 Celebrity chefs are as prominent as stars of the silver screen nowadays. But those whose legacy spans decades and continues to evolve are few and far between. Wolfgang Puck is one such culinary legend.
The Austrian-born chef has been creating ever-eclectic dishes since the 1970s, being one of the first to combine classic French techniques with California and Asian influences as well as the freshest and finest ingredients.
After coming to the U.S. in 1973, his rise to fame began as the chef of Ma Maison in West Hollywood, but the opening of his flagship restaurant, Spago, originally located in West Hollywood on the Sunset Strip, put him on the gourmet map worldwide, not to mention propelled him to culinary stardom among a large circle of Hollywood's elite. 
The rest is history, with Puck having opened famous restaurants such as Chinois, Postrio and CUT in cities around the globe as part of his ever-expanding Wolfgang Puck Fine Dining Group, as well as casual dining experiences and food and beverage products as part of Wolfgang Puck Worldwide.
Meanwhile, he's made time for another not-so-small endeavor, Wolfgang Puck Catering (WPC), which produces some of the most high-profile culinary events in the world, including The Oscars Governors Ball every year along with thousands of other affairs ranging from intimate to massive.
Despite the size of each event, the key ingredients in the company's recipe for success are simplicity, innovation and the highest level of products and service.
"If we do a party or a restaurant, I always tell my chefs to use the finest products and try to enhance them. And we have to find the right balance of tradition, comfort and innovation," Puck said. "There has to be something new, but people like their comfort foods."
He cited Spago as a perfect example of that philosophy in action, with its simple but unique pizzas that made Puck famous decades ago—smoked salmon and caviar, for instance, still a favorite. Meanwhile, his longtime comfort staples such as black truffled chicken pot pie or black truffled mac and cheese are still some of the most sought-after dishes at events.
His classics definitely have staying power, but Puck and the highly talented team of chefs he has assembled under WPC strive to push culinary boundaries and ultimately wow guests with new and exciting combinations of flavors and ingredients, many of which are launched at The Governors Ball.
"When we started Wolfgang Puck Catering 20 years ago because of our success with The Governors Ball, the mission was to be innovative and exceptional in our food and service concept, and the ball often sets the tone for the year," said Carl Schuster, CEO of WPC. "We're all about being one step ahead. 
"It's why we even started a test kitchen, the Rogue Experience, where we sell tickets three nights a week and test new concepts in food as well as cocktails, tableware and even the setting," he added.
According to Eric Klein, vice president of culinary at WPC and former executive chef at Spago Las Vegas, what's new is old and what's old is new.
"We're constantly looking at evolving and setting trends," Klein said. "This year, one of our famous things is beet salad. It has beautiful milk curd with fresh ginger and beet 'snow.' It's something refreshing. Why not change the way we eat, the way we present, the way it tastes. Plus, it's gluten-free, so we're always thinking about everyone."
Incorporating wellness into the menu goes beyond dietary restrictions, he added. 
"Wellness has so many facets," Klein said. "It's also being respectful of where our food comes from and how it's treated. With things like our Miyazaki Wagyu beef, they treat the animal with respect, and you can see that in the quality. The same thing with our chickens.
"We use birds that are pastured, so they're free to roam and eat fresh worms, grass and seeds," he added. "We are all about respecting the animal and ultimately serving the highest-quality food available."
[Related Content: Governors Ball 2018 Oscar Culinary Award Winners]
For Stephanie Edens, senior vice president, national sales for WPC, the quality of food, the presentation and the fact that WPC is able to do it for 10 people or 10,000 is what truly distinguishes the company.
"We also set no limits to what our culinary team can do," she said. "And in that regard, collaboration with planners is vital."
One example is an annual users conference event with a client software company.
"The first year, it was 5,000 people. The last one we did was for 8,500," Edens said. "It was in a park setting, and we had massive interactive stations with everything from whole pigs to clam bakes, along with a 200-foot-long conveyor belt where we ran all of the desserts.
"For our culinary team to put out that kind of quality for that many people is remarkable," she added.
It's one thing to create novel cuisine and presentations that are forever delighting guests, it's another to gracefully pull off such complex events. Teamwork is key, according to Klein.
"We're chefs, we're conductors, we're generals, we lead, we represent, we have our troops going," he said. "We're not different than the military or a football team. We make sure we can play and do the right thing, and at the end of the day we celebrate our achievements.
"We're always learning, and the important thing is we're making memories," Klein added.
WPC is the exclusive caterer of Loews Hollywood. The company designs special events for corporate, cultural and entertainment clients in major markets, including Los Angeles, San Francisco, Seattle, Dallas, Chicago, Boston, Philadelphia, Washington, D.C., and Atlanta.