Travel Delay Tips for Attendees in Limbo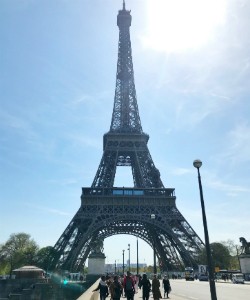 I'm in a cafe in Paris down the street from the Eiffel Tower. Am I supposed to be in a cafe in Paris down the street from the Eiffel Tower? No. I'm supposed to be at a conference in Milan.
This fact becomes painfully clear when you notice my lunch partner: a black, hard-case, carry-on roller bag. We made quite the pair as we made our way down the street.
Travel delays happen more often than we'd like to admit, especially when flying long distances.
As a meeting planner, travel delays are likely already top of mind as you prepare for the arrival of attendees, but even as it may be somewhat of the norm, it isn't a pleasant experience. However, it doesn't need to be a dreadful experience.
A bit of planning and reassurance can go a long way.
Here are my create-your-own-silver-lining frequent flyer tips to help your attendees make the best of their unintentional detours on the way to the big meeting, event or conference—they may even be able to escape the airport for a bit!
Before the trip:
Recommend attendees pack a shawl or scarf: In the same way that it's recommended to never forget your towel in The Hitchhiker's Guide to the Galaxy, I never forget to pack a scarf. They're light and easy to pack, and if a delay requires extended time in the airport, scarves work as a wrap or blanket. It's bad enough being delayed, but a delay in an overly air-conditioned airport won't help anyone's mood improve.
Encourage them to pack in a carry-on: Ever since I accidentally ended up "living" in the Dallas airport for four days, I have only packed in carry-ons. While it can be a hassle and airlines have improved their means of keeping tabs on your bags, worrying about one less thing will decrease stress.
Alert attendees to ask their travel agents, if applicable, about their contingency plan: The reason I can be at a cafe in Paris rather than waiting to hear when I'll be flying out is that by the time I found out my flight was canceled the agency who booked my flight had already rescheduled me. Do your attendees' travel agencies keep tabs on their flights? Do they get notifications and reschedule before the attendee knows there's a problem? Having a plan for when things go south will reassure your adrift attendees.
[Related Content: Travel Packing Tips for Meeting and Event Planners]
During the delay:
Get information, even if it's in abnormal ways: If an attendee is delayed and they hadn't used a travel agent who can handle the problem for them, the obvious first thing to do is get them rebooked. However, with mass delays, heading to a congested ticket counter full of irate passengers can be the ultimate act of frustration. Often, calling the airlines (preferably from some place relaxing) will expedite the process, and can be done before they've even finished taxiing to the gate. If even the phones are swamped, Tweeting at the airline can actually be the fastest way to get someone to handle the issue.
Change your (and their) mindset: There are few ways in which a delay in transportation can impact a person's life long-term; mostly they're minor inconveniences. I try to remind myself and others that. Personally, I use delayed flights as a time to catch up on things like streaming a Netflix documentary by using the airport's Wi-Fi, scheduling doctor's appointments or researching a gadget I've considered buying. Knocking even minor things off of one's to-do list gives them that rush of happiness-boosting serotonin so when they arrive they're bright-eyed and bushy-tailed rather than tired and frustrated.
Send attendees (and potentially their suitcase) on a bit of a sight-seeing tour: If the attendee is delayed for an extended period of time and they're someone you really want to keep happy, it will probably be worthwhile to both them and you if they head out on the town for a bit. Ordering a ride-share trip via your phone or offering to compensate them, if budget allows, for the taxi ride to a Yelp- or local paper-suggested spot can provide them with a once in a lifetime opportunity to see new sights.
[Related Content: What Meetings Industry Pros Pack for Trips]
One final pro-tip: remind attendees to download relevant apps when traveling—especially when traveling abroad—to assist with checking in for rescheduled flights, etc. When someone is in a state of panic about their flight, they often will instinctively hop in line, even if it's a long wait! People may not be thinking clearly.
In the end, things are going to be okay, and it's important to let attendees know that they have permission not to stress. Often it can feel like, "I'm supposed to be doing something else! I can't relax and enjoy myself," but when there's nothing else to be done, it's fine to encourage attendees to relax.
Sometimes it's more worthwhile for them to take their suitcase out to lunch so they'll be ready to hit the ground running when they finally arrive at your meeting, event or conference.
Kadie Yale is the editor-in-chief of interiors+sources, a sister publication of Meetings Today.