Earth Day Infographic: Avoiding Single-Use Plastic at Events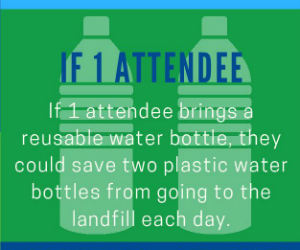 What's your plan for Earth Day?
This Sunday, April 22, 2018, billions of people around the world will turn their attention toward the environment. There's no better time for meeting planners to make or renew a commitment to sustainability at events.
"Earth Day brings attention to the huge environmental impact meeting planners have," said Nancy Zavada, founder and president of Portland, Ore.-based Meet Green.
"We order food and beverages for so many people, for example, and we make important choices that can greatly benefit—or greatly harm—the environment," she added.
Zavada shared three strategic ways planners can green up their act.
1. Ditch Plastic
"Single-use plastic has become a really big issue," Zavada said. "It's tough to recycle now with Chinese regulations about what they will and won't take changing."
It's time for planners to retool their thinking, especially with large outdoor summer events right around the corner, she added.
"Instead of recycling, ask yourself, 'Do I really need plastic in the first place?'" she said.
Check out Meet Green's new Avoiding Single-Use Plastic at Events infographic at the end of this article, with surprising facts about plastic's impact on the environment and ways planners can be more sustainably savvy.
2. Feed the World
"Food waste is an increasingly important topic," Zavada said. "As you are ordering, check what is really needed, and if you will be leaving leftover food, will you be donating it? Make sure someone gets fed with your overage."
3. Enlist Suppliers
"Utilize your supply chain," Zavada said. "Put your vendors on your green team by enrolling them from the start and saying, 'We really want to make this a zero-waste event. What ideas do you have to help get us there?'"
Zero-waste, a combination of not using things at all and recycling anything that needs to be used, involves an entire creative thought process that is best realized with an enthusiastic, green-minded team, Zavada added.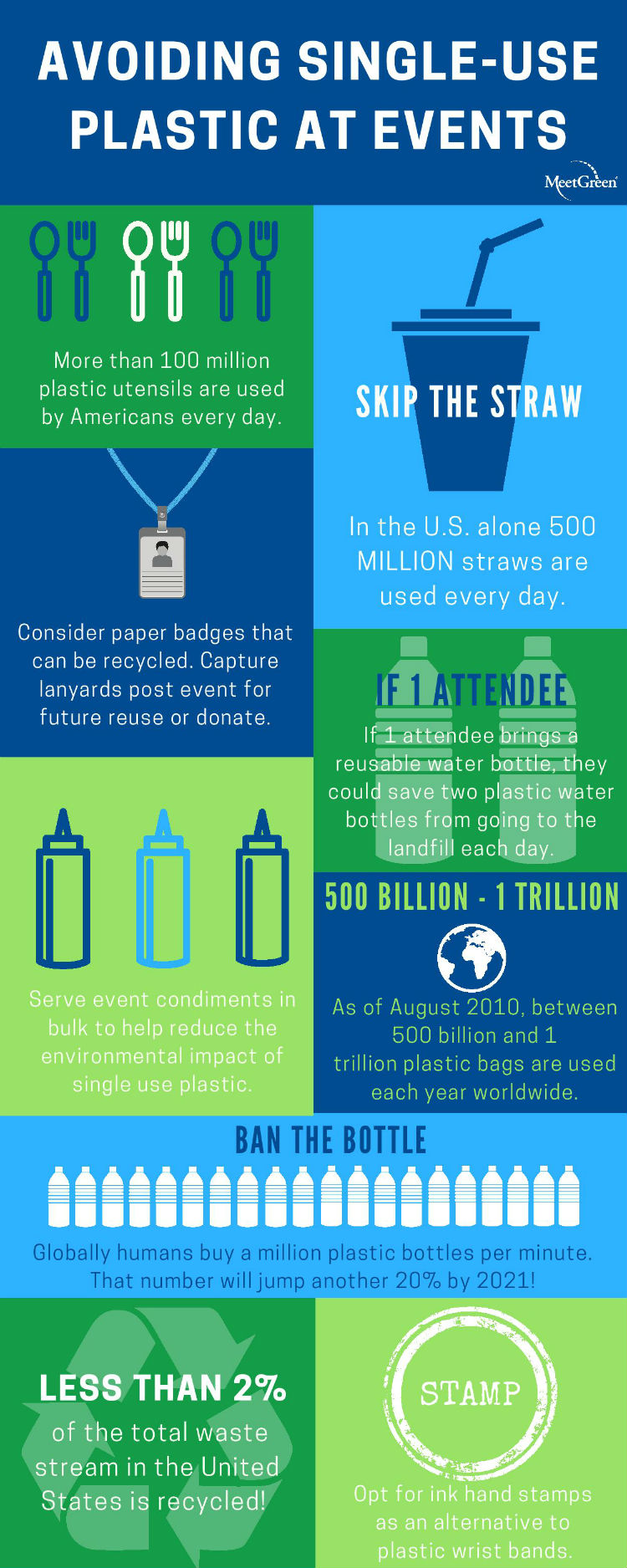 Click the link below to view or download a PDF of MeetGreen's Avoiding Single-Use Plastic Infographic.
https://meetgreen.com/resources/avoiding-single-use-plastic/