Southern Waterfront Locales Sizzle With Deliciousness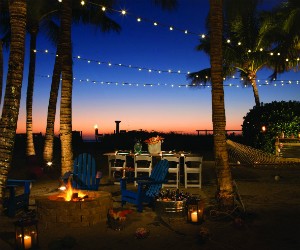 Meeting planners looking to wow groups with stunning water views and mouthwatering cuisine will find plenty of options in the southeastern U.S.
The region's postcard-perfect waterfronts and beaches are a perfect complement to cuisine that ranges from fresh-caught seafood and local specialties to sophisticated menus from the far reaches of the globe.
Here are a few of the tastiest options around the Southern shores.
FLORIDA
Fort Lauderdale
With miles of shimmering coastline and a network of canals so impressive that they call it the "Venice of America," Fort Lauderdale is a world-class destination when it comes to culinary sophistication and oceanfront beauty.
"Our 23 miles of Certified Blue Wave Beaches are renowned and a major attraction for groups and planners," said Stacy Ritter, president and CEO of the Greater Fort Lauderdale CVB.
"We also have an exceptional culinary scene driven by rising chefs, farm-to-sea-to-table produce and exciting restaurants, breweries, speakeasies and lounges opening almost daily," she added.
Ritter says planners will find myriad options for groups—including the many "dock and dine" and waterfront restaurants, which are accessible by the convenient water taxi system.
Indeed, whether groups arrive by boat, paddleboard or kayak, an array of waterfront dining venues—including Asia Bay, the Blue Moon Fish Company and GG's Waterfront Bar & Grill—promise memorable culinary experiences. A company called Grateful Palate Catering & Events even offers a "roll it yourself" sushi-making class for groups, using the Intracoastal Waterway as a dramatic backdrop.
Among the top hotel options is The Ritz-Carlton, Fort Lauderdale, which is home to the oceanfront restaurant Burlock Coast, the Sonesta Fort Lauderdale Beach, where groups can enjoy appetizers on the second-floor Breeze Terrace, and the Hilton Fort Lauderdale Beach Resort, where unique culinary experiences include a salsa-making challenge, a mixology class and "cupcake wars."
South Walton
Bordered by the Gulf of Mexico to the south and the Choctawhatchee Bay to the north, South Walton is an alluring choice for groups in northwestern Florida.
"South Walton brings an authentic sense of place and adds the South's famous warmth and hospitality to a group event," said Dawn Truemper, director of sales and events for Visit South Walton.
"The fresh Gulf seafood and excellent culinary scene is a big draw for many guests, and the area's 26 miles of pristine white-sand beaches are a world-class attraction," she added. "Over 95 percent of our visitors make plans to come back, which speaks to the quality of the South Walton experience."
Food-loving groups may be interested in the Hemingway-inspired Havana Beach Bar & Grill. Located at the Pearl Hotel in South Walton's Rosemary Beach, the venue offers rooftop cooking lessons.
Rooftops are also a draw at The Pointe, Wyndham's luxurious new boutique-hotel vacation rental, which has private rooftop space available for events.
Additional options include The Bay, a restaurant with a private beach that sits on the south shore of Choctawhatchee Bay, and SunQuest Cruises, which operates The Solaris, a 125-foot dining and entertainment yacht. Once onboard, groups will be treated to fresh Gulf seafood dishes as they enjoy views of playful bottlenose dolphins frolicking in the water.
It's just one example of an experience in the southeast that group participants will likely never forget.
Fort Myers and Sanibel
Florida's Gulf Coast is home to several noteworthy destinations for groups, and Lee County is one of the must-visit locales in the region.
"The beaches of Fort Myers and Sanibel offer the best shelling in the world and delicious, fresh seafood," said Jill Vance, director of sales for The Beaches of Fort Myers & Sanibel, the tourism marketing brand of the Lee County VCB. "We feature sensational sunsets, white-sand beaches and tropical drinks that make any group event memorable."
Among the beach and waterfront venues on Fort Myers Beach are Doc Ford's Rum Bar and Grille, which serves tropical cuisine, and Pink Shell Resort & Marina, which has more than 37,000 square feet of scenic outdoor event space and 1,500 feet of private beachfront.
At DiamondHead Beach Resort, groups can choose from extensive catering menus as they make use of 8,000 square feet of event space, all of which is just steps from the silky sands.
South Seas Island Resort, meanwhile, offers a Gulf Harbor Seafood Boil served right on Sunset Beach and complemented by a buffet of key lime desserts.
Groups can also head onto the waters while indulging in the region's cuisine. Captiva Cruises, for example, serves tasty appetizers during its excursion to Cabbage Key, where guests are treated to a full meal.
Another option is the Sanibel Harbour Princess Yacht, a 100-foot vessel that provides a feast onboard as guests enjoy a tour of the waterways.
And JC Cruises offers a festive getaway in the form of the Capt. JP, a three-deck paddle-wheeler accommodating up to 300 people for events that can include meals, bar service and even dancing.
Naples, Marco Island & The Everglades
Another winning choice for groups on Florida's Gulf Coast is the Paradise Coast, a scenic region that includes Naples, Marco Island and the Everglades.
"Several of our top meeting and conference properties are located right on the white sand beaches of Naples and Marco Island, and they all have outstanding food and beverage teams serving highly creative cuisine, much of it using locally sourced seafood and produce," said Debi DeBenedetto, group sales manager for the Naples, Marco Island, Everglades CVB. "Beachfront welcome events are highly popular, as are beach games and teambuilding events on nearby islands accessible by boat."
Among the water-based options is the Naples Princess, a 105-foot yacht used for two-hour sunset wine-tasting cruises. Seafood is the big draw at the Boathouse on Naples Bay, where floor-to-ceiling windows ensure that every participant will enjoy the spectacular water view as they dig into the catch of the day.
Hotel options include JW Marriott Marco Island, which is home to Quinn's on the Beach, a restaurant with Caribbean-inspired seafood specialties, Kane, a rum bar with dramatic ocean views, and 400 Pazzi's, an Italian restaurant with a Gulf-view terrace. At The Ritz-Carlton, Naples, meanwhile, guests can savor cocktails and seafood at Gumbo Limbo or Italian delicacies on the terrace at the appropriately named Terrazza.
And at LaPlaya Beach and Golf Resort, groups head to BALLEEN Naples for classic cocktails and Gulf Coast cuisine like lobster cobb salad and seared tuna with furikake.
Some tables sit right on the sand, and a beach fire pit provides a unique gathering point.
Sarasota
Florida's Gulf Coast city of Sarasota offers myriad opportunities for combining sun, surf, sand and cuisine.
"Sarasota County is so beyond beaches," said Ellen Thomas, meetings manager for Visit Sarasota. "Fresh Gulf seafood is abundant and tastes even better with a water view.
Not only an ideal setting for meetings and incentives, Sarasota County is known as the gem of Florida's Cultural Coast and home to the highest concentration of Zagat-rated restaurants in Florida," she added.
"Our distinctive selection of existing meeting properties has been joined by several new and soon to open properties, bringing more exciting choices than ever."
Hungry groups can check into waterfront properties including the Resort at Longboat Key Club, The Ritz-Carlton, Sarasota, Hyatt Regency Sarasota and Westin Sarasota. They can also join a drift fishing or deep-sea fishing excursion, and then have their catch cleaned, brought back to the resort, prepared and served as part of the dinner menu.
Another popular group option is a beach party on renowned stretches of sand like Siesta Key Beach, with a variety of interesting themes available.
Favorite local restaurant venues include Marina Jack, set on the downtown Sarasota bayfront, Daiquiri Deck Raw Bar, located in Siesta Key Village, and Crow's Nest Marina Restaurant in Venice.
MISSISSIPPI
Mississippi Gulf Coast
Spanning the southern Mississippi counties of Hancock, Harrison and Jackson, the Mississippi Gulf Coast is dotted with unique opportunities for planners to infuse their programs with tasty food and photogenic water scenes.
"When you visit the Mississippi Gulf Coast, you'll discover Southern hospitality at its finest," said Janice Jefferson, director of sales at Visit Mississippi Gulf Coast.
"The region's temperate climate, along with its 62 miles of scenic shoreline and astounding natural beauty, makes for the perfect year-round coastal destination," she said.
There is an incredible amount to do, see and experience across the Mississippi Gulf Coast, she added, from outdoor activities such as kayaking, boating, fishing and hiking, to a wide variety of attractions, museums and events.
"When it comes to food, this is the place to be," Jefferson said. "From coastal seafood shacks to fine dining, we've got it all."
Waterfront venues include The Reef, a restaurant in Biloxi where the Sky Bar offers a scenic spot to dive into locally caught seafood. For culinary events with a cultural twist, consider the Maritime and Seafood Industry Museum in Biloxi, where attendees can sample local menus while enjoying views of the Mississippi Sound and exploring maritime exhibits.
And at the Lynn Meadows Discovery Center in Gulfport, groups can sign up for cooking classes.
Groups looking to head out onto the water along the Mississippi Gulf Coast can consider a 70-minute Biloxi shrimping trip excursion, which can include a shrimp boil, or the Betsy Ann Riverboat, which offers dinner cruises.
ALABAMA
Mobile, Ala.
Situated on picturesque Mobile Bay, the city of Mobile represents some 300 years of Alabama history.
It also happens to be heaven for foodies, with bountiful fresh seafood and a variety of attractions and venues that make the most of the scenery.
"Mobile is an amazing and diverse food town," said Amy Angermeier, vice president of sales at Visit Mobile. "We take great pride in our cuisine that can be devoured at a number of waterfront restaurants on Mobile Bay. Taking a break from your meeting has never looked and tasted better."
Bienville Bites is a new company offering small group walking tours that focus on food, while both the Arthur R. Outlaw Convention Center and 5 Rivers Delta Center have excellent waterfront locations that bring attendees close to nature as they savor catered menus.
Nearby, Dauphin Island hosts an annual Gumbo Festival in April, while in November, food lovers head to Gulf Shores for the annual Oyster Cook-Off and to Orange Beach for the Craft Beer Weekend.
SOUTH CAROLINA
Hilton Head Island
With its array of beaches, golf courses, natural beauty and outstanding hotels, Hilton Head Island is yet another ideal choice for planners looking to combine water-based beauty and unique dining experiences.
Lowcountry cuisine is the flavorful local standby on Hilton Head Island, with plenty of opportunities to sample delicacies like oysters, gumbo, fried okra and peach cobbler.
At Sea Pines Resort, part of Associated Luxury Hotels International, groups can gather at the Sea Pines Beach Club, a beachfront hot spot with a restaurant and bar on the water.
Nearby, next to the iconic, red-and-white-striped Harbour Town Lighthouse, the Quarterdeck serves fresh seafood with inspiring vistas.
Also worth considering is Haig Point, a small community located on Daufuskie Island, one of Hilton Head's barrier islands. With 10,000 square feet of meeting space as well as private ferry service, Haig Point is a charming place for meals overlooking the Calibogue Sound and Harbour Town Lighthouse.