Kentucky Features Exciting Outdoor Group Activities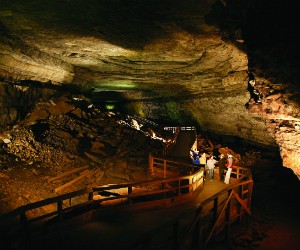 With its varied landscapes that range from mountains to lakes to rivers, Kentucky is a rich source of never-ending excitement for groups looking to enjoy the great outdoors.
"Kentucky's natural beauty and outdoor opportunities have allowed adventure tourism to continue to grow across the state," said Kristen Branscum, commissioner for the Kentucky Department of Tourism.
"Kentucky has limitless outdoor recreation in all different skill levels throughout communities big and small, urban and rural, so you can truly individualize your outdoor experience. This makes the state a great place for any size group to have an exciting outdoor experience."
Here are a few ways that planners can blow some fresh air into their group experiences in the Bluegrass State.
Bowling Green
Tucked into southern Kentucky's Cave Country, the city of Bowling Green is home to a variety of rewarding outdoor activities for groups, according to Janet Henderson, sales director of the Bowling Green Area CVB.
"In Bowling Green, our outdoors adventures are part of what makes us so unique," she said. "Where else can you explore caves and drive Corvettes?
"Meetings groups can come here and experience a place so uniquely Southern, with delicious food and down-home charm, while exploring Kentucky's great outdoors," Henderson continued.
She suggests several top outdoor choices for groups, including hiking in Mammoth Cave National Park, which is billed as the world's largest cave system, with more than 400 miles of underground caves. In nearby Lost River Cave, meanwhile, groups can cruise an underground river.
Attendees looking to propel themselves into the sky might opt for a sunrise hot-air balloon ride over the hills with a company called eHot Air, which offers teambuilding experiences.
"Activities like these are experiences that will strengthen bonds between group members and create lasting memories," Henderson said. "The National Corvette Museum's Motorsports Park offers a variety of teambuilding opportunities to get you behind the wheel of Camaros, Corvettes and go-karts. Or take part in Corvettes and Corporate America, a new program that offers corporate training through curriculum, effective communication exercises, teambuilding activities and leading change.
"The program is built around an all-inclusive racing experience," she added.
Indeed, there is plenty of fast-paced outdoor excitement in the Bowling Green area.
In addition to the National Corvette Museum, planners can also visit the recently opened Flying Squirrel zipline, which sends visitors off an 80-foot bluff to soar over the forest.
Lexington
The scenic region around the cities of Lexington and Frankfort is what gives the state its famed "bluegrass" moniker. Here, groups can head outdoors for a variety of activities, such as spending time at The Summit at Fritz Farm, a $156 million mixed-use development with a hotel, shopping, dining and an open-air green space.
A company called Mint Julep Experiences, meanwhile, coordinates day-long outings for groups around the state of Kentucky, including visits to see American Pharaoh, the Triple Crown-winning race horse, during a tour of Ashford Stud farm in Versailles.
Participants can also pet foals and yearlings and feed carrots to mares at the horse nursery at Mill Ridge Farm, or create their own farm-to-table experiences at Garey Farms.
Mint Julep organizes private group tours of this farm, located northeast of Lexington, where attendees can actually learn to harvest produce and savor the results of their work during a picnic.
"There are so many things about Kentucky that make it a perfect place for outdoor adventures," said Rachel Goldenberg, director of marketing at Mint Julep Experiences. "Many of our signature businesses rely on our climate and agriculture. From growing corn to make bourbon to housing thoroughbreds in rolling bluegrass fields, we utilize the richness of our state's land to make great things happen.
"Mint Julep works with meeting planners to craft everything from teambuilding outings to client appreciation events," she added.
South of Lexington, Shaker Village of Pleasant Hill is another rewarding place for outdoor group activities. This 3,000-acre site, home to 34 original Shaker structures, is described as the country's largest private collection of original 19th century buildings. Outdoor-minded groups can explore a preserve with diverse flora and fauna, while enjoying hiking, biking and horseback riding.
Visitors to Shaker Village can also witness the beauty of the Kentucky River Palisades by riverboat, kayak or foot. The same landing that the original Pleasant Hill Shakers once used for trading expeditions is now the departure point for the Dixie Belle, a 115-passenger paddlewheeler, and visitors can also learn about sustainable agricultural practices while participating in guided activities that include tending gardens, orchards and livestock.
Louisville
"People come from around the world to experience our one-of-a-kind hospitality, but it's Louisville Tourism's staff and especially our Destination Services team that is the cornerstone of our success," said Zack Davis, vice president of destination services at the Louisville CVB. "They work with meeting planners to promote activities to captivate both the thrill-seekers and the faint of heart."
Indeed, Kentucky's largest city offers a surprisingly diverse array of outdoor group activities.
"From Louisville's sweeping Waterfront Park, which houses the Big Four Bridge, Segway tours and kayaking the Ohio River to ziplining through Jefferson Memorial Forest, we have plenty for the adventure seekers," Davis said. "If sitting still and enjoying your surroundings is more your thing, spend time on the Belle of Louisville paddleboat, bet on the ponies at legendary Churchill Downs or take in a baseball game at one of the 10 best places in America to watch Minor League Baseball. The choice is yours in Bourbon City."
Churchill Downs is one of the most legendary attractions in Louisville. Booking a group on the first Saturday in May, when the Kentucky Derby takes place, is understandably challenging.
But the venue offers live racing starting in April with its Spring Meet, which in 2018 will run through November with the hosting of the 34th annual Breeders' Cup.
Planners can make use of a variety of event space and catering possibilities for private events infused with the excitement of the race throughout the year. And the Kentucky Derby Museum, which is gearing for expansion, can be a perfect complement to any horse-themed activity.
Baseball is yet another sport that's much loved in Louisville, so tickets to a baseball game at Louisville Slugger Field are yet another way for planners to tap into local open-air excitement. Named one of the Best Triple-A Ballparks in the Nation, Louisville Slugger Field is also home to the Louisville Slugger Museum & Factory, where groups can learn about the approximately 1.8 million baseball bats made every year. To assure a uniquely memorable experience for VIP guests, planners can reserve corporate suites with catering options, and also set up baseball-themed gatherings at the stadium's meeting space.
An outing on the Belle of Louisville, one of the oldest operating steamboats in the world, is another unforgettable experience. Groups can join a public cruise anytime between Memorial Day Weekend and the end of October, or privately charter the historic vessel starting in April.
Reserved seating and a buffet-style meal are available on all public cruises, and catering menus are easy to arrange for private excursions.
Not quite outdoors but certainly far from any stuffy meeting room is Louisville Mega Cavern, an underground attraction that offers everything from ziplines and a bike course to Jeep tours, and also hosts an array of teambuilding activities.
The venue even has underground meeting space for up to 350 attendees.
Out and About
Outdoor activities and venues for groups abound around the entire state. Stearns is home to the Big South Fork Scenic Railway with spectacular views. In Germantown, small groups can enjoy "glamping" at two treehouses that accommodate up to 11 guests with EarthJOY Tree Adventures.
At Red River Gorge they can challenge themselves to guided rock climbing and rappelling, while Pine Mountain offers group hikes.
In Western Kentucky, planners can organize outdoor fun at Lake Barkley State Resort Park, where attendees can test their skills at archery, savor s'mores around a campfire, join a teambuilding "owl prowl" and learn about local flora and fauna at the Woodland Nature Station at Land Between the Lakes.
They can also learn about centuries-old living at the Homeplace 1850s Working Farm and spot wildlife at the Elk and Bison Prairie, a 700-acre enclosure that's also home to wild turkeys, butterflies and small game.
At nearby Kentucky Dam Village State Resort Park, groups can join birding and photography expeditions and also take a tour of Kentucky Dam itself, an engineering marvel built in the middle of the 20th century to improve navigation and limit flooding in the region.
One thing is for sure: In Kentucky, there's no reason to stay indoors.
LATEST + GREATEST: NEW & RENOVATED HOTELS AND VENUES IN KENTUCKY
The Kentucky International Convention Center, in Louisville, is to reopen fully this year with a new sustainable design and 34 percent more exhibit space.
Open this year is the 612-room Omni Louisville Hotel, which has 70,000 square feet of meeting space, two restaurants, a "speakeasy" with a bowling alley and a spa. The property is located one block from the Kentucky International Convention Center.
Kentucky Kingdom, the Louisville amusement park, is debuting several new attractions this year, including a thrill ride, a family ride, a group of wave pool cabanas and two films at its 5-D cinema. In addition, the venue's wooden roller coaster, Thunder Run, is being renovated.
The Kentucky Derby Museum in Louisville recently broke ground on an expansion project that will add more than 11,000 square feet of new space, while renovating 5,000 square feet of existing space. New exhibit and meeting space, as well as an entirely new third floor, are part of the expansion.
A completion date has not yet been announced.
VisitLEX, Lexington's tourism organization, last year laid out the first phase of a destination development plan, which determines priorities for maximizing the region's tourism potential.
Plans include further development of "equine tourism" through partnerships and hands-on experiences, leveraging outdoor opportunities through public-private partnerships and creating new attractions and activities in downtown Lexington.
Opening this fall in Owensboro is the Bluegrass Music Museum & Hall of Fame, a $15 million facility that replaces a nearby existing museum. The new venue will have a 500-seat concert hall, 2,000-seat outdoor concert arena, teaching rooms and a rooftop restaurant.
KENTUCKY CVB CONTACT INFORMATION
Bowling Green Area CVB
270.782.0800
Kentucky Tourism
800.225.8747
Louisville CVB
502.584.2121
meetNKY | Northern Kentucky CVB
877.659.8474
Paducah CVB
800.723.8224
VisitLEX
859.233.1221