Q&A With MPI's Paul Vandeventer on the 'Brand-New' WEC and Meetings Industry Hot Topics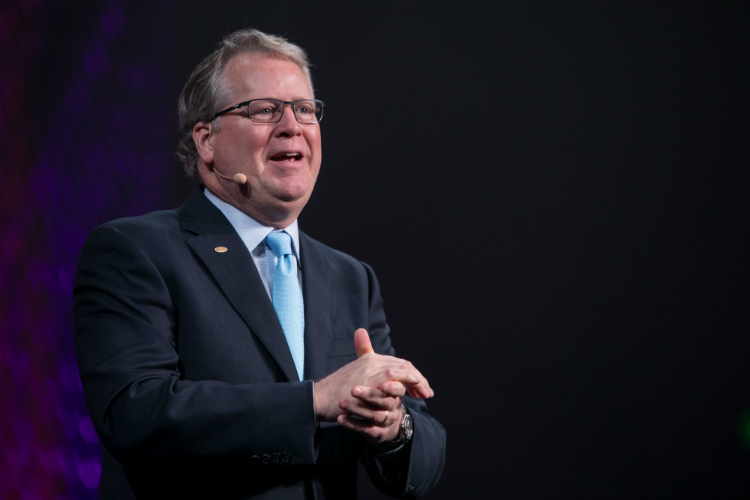 Meeting professionals are facing some of the biggest challenges of their careers—from the need to continuously rethink event design to the need to address global hot topics in an ever-chaotic world. ­
During Meeting Professionals International's (MPI's) 2018 World Education Congress (WEC) in Indianapolis, we checked in with MPI President and CEO Paul Vandeventer for his take on this year's show and how MPI is helping planners address major issues and excel professionally and personally.
What are you most excited about this year?
I'm excited about a lot this year, probably at the core is that we've spent 18 months rethinking the entire design of WEC and reimagined it. We've engaged planner designers from around the world. We used a very scientific process, the Event Canvas design, to rethink it, and it's coming to life here.
[Related Content: MPI WEC 2018 - Revved, Ready and Redesigned in Indianapolis]
This is my sixth WEC. For the first five, we did incremental changes with alterations and new ideas, but this is completely redone, so it's a thrilling opportunity to showcase [all of these fresh ideas] for planners, who we keep encouraging to go out and change the experience and create new concepts.
What are some of the uniquely interesting ways you're addressing hot topics and challenges in the industry with content at MPI WEC 2018?
You have a couple sides to that. There is the practical side of meeting execution. We've designed this WEC in ways to respond to the challenges planners are going through today.
One big difference: Planners are being requested to provide more and more breakout education, so if you look at a traditional congress center, they weren't built with a lot of breakout space. So for this year's event, all of the education is being done on the tradeshow floor. How can you do that? How do you manage the sound differences? How do you manage the acoustic challenges and the traffic flows and still let people concentrate on their education? Those are some of the practical applications.
Then there is security management here. What are we doing for emergency preparedness? How are we responding and informing our attendees about risks that may occur and what to do it they have one?
We have major global issues going on right now within our industry and within the overall world, including sexual harassment, security and risk management.
Then you look at the talent in this industry. Where are the roles for women to grow and develop themselves? So our educational tracks are fitting into all of those pieces.
This morning we had 300 chapter leaders going through sexual harassment training so they can take it back to their chapters. It's not just what we do here at our event. It's what we can do at all of our chapter events and then how they can work with their members to provide safe environments at all events our planners run around the world.
What do you think makes Indianapolis a great place to hold WEC this year?
When you look at any place we hold WEC, you have to have a great partner. And Indianapolis has been fantastic. We've been talking about this for four or five years. They really wanted to showcase the incredible infrastructure they have for events, starting with the airport, the unique setup, which allowed us to do some unique things.
You have everyone arriving through a major airport, having to come through a singles concourse, so we were able to do a very special WEC welcome lounge at the airport.
[Related Content: Exploring Indy Ahead of MPI's WEC 2018]
The space we have here at the Indiana Convention Center lends itself to our new concept of putting all education on the floor, and there's the connectivity of the hotel package into the convention center itself.
And then the unique venues—the outdoor park for our opening night celebration, the afternoon food truck experience and Lucas Oil Stadium.
So being able to tie in all the many different unique venues with a traditional venue and show how you can bring them together, Indy has been a great partner, and their facilities are fantastic.
What are some of the most important initiatives for MPI this year?
If I look at what we're focused on this year, we start with professional development. It's all about the growth of our members both professionally and personally.
For the core areas, we will be expanding our academy. For the last three years, we've been continuing to add relevant courses, whether they're certifications or designations, and allowing them to grow in their jobs. We've brought on programs focusing on leadership and emergency preparedness, we're expanding into new areas of social responsibility, and we'll be doing a lot of training and management course this year around inclusion, diversity and providing duty of care, safe environments for attendees.
We also believe that in addition to advocating for this industry, doing research about why this industry is important and the value it adds, we have some obligations as well, and we have a powerful community, so we're going to take on human trafficking.
[Related Content: MPI's WEC Enlists Planners to Combat Human Trafficking]
We think with this community, coming together to build awareness with the venues and hotels they work and their attendees to watch out for human trafficking, we can make a difference.
We started talking to our chapters about this, and just one practical example is one of the chapters in the Northwest did a human trafficking awareness program several months ago.
One of the members was jogging in the park a couple days later and saw what was an apparent human trafficking situation, called the police and stopped it.
So it's a great example of building awareness, getting people to pick up the phone and make the call. They don't have to get involved themselves, but they can stop what is a horrible situation.
Are there any other new programs MPI is launching?
We're expanding our experiential series even more. I attended my first experiential last month at the NFL draft. We had 50 planners there. They were so engaged over four days and they learned so much about how to put on a complex event while having fun and networking.
On the last day, four of them pulled me aside and said they would like to set up an alumni association. We had so much fun together and learned so much, so it's a matter of how can we continue this and generate more learning down the road? I think that's really seeing the benefit of education.
It's expanding people's networks, sharing best practices and learning from each other.
[Register Now: When the Dust Settles - Poaching, Commission Cuts and Other Vexing Issues, a Meetings Today On Location Video Broadcast filmed at MPI's WEC 2018 in Indianapolis]