Jim Spellos, Rock and Wrap It Up! Partner to Fight Food Waste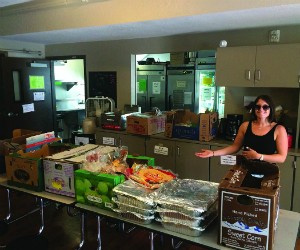 While he's known as one of the top meetings technology educators in the industry, a lesser-known aspect of Jim Spellos' contribution to both the meetings industry and those with an acute need of nutrition is his efforts working with Rock and Wrap It Up!, an award-winning anti-poverty think tank.
Rock and Wrap It Up! started, as the name implies, as a charitable organization that primarily worked picking up leftover food from concerts and then delivering that food to the needy. The organization, now entering its 27th year, has since expanded the specialized services it offers to help those in need.
"I went there and I was a converted from that point," said Spellos, who is the group's director of digital media, about how he got involved with the organization founded by Syd Mandelbaum, its CEO.
Spellos has been working with the organization for 16 years.
Besides food donation, Rock and Wrap It Up! dedicates it efforts to the following projects:
The Mardi Bra Initiative, which raises awareness and encourages the collection of feminine hygiene products for at-risk teens and other women.
Feed the Veterans, which aims to get its databases of pantries and soup kitchens into the hands of caregivers and agencies that support at-risk veterans and their families.
Providing Whole Earth Calculator Climate Literacy Lesson Plans to its academic partners to enable students to undertake actions to reduce poverty and carbon footprints.
According to Rock and Wrap It Up!, donors include touring bands, educational institutions, the hospitality industry, professional sports teams, hospitals and North American television and film shoots.
The segment for the largest potential of growth, however, is the hospitality and meetings industry, which by its very nature produces tons of food waste. It's a really depressing aspect of an industry we all value for its contribution in so many other important areas.
"It's a huge void right now," Spellos said of the potential for collecting and distributing the prepared but not served food from meetings, events and conventions. "Of the 532,000 pounds of food collected by Rock and Wrap It Up! last year, only 3,000 came from the hospitality industry.
"There's always leftover food, there's always that 3 to 4 percent, sometimes more than that," he added.
[Related Content: Tips for Ending Food Waste at Events]
If you really want to raise Spellos' hackles, just tell him you can't donate food because of health regulations, a common misconception that many in the hospitality industry cite as their surplus nutrition is trucked out to the nearest the landfill.
"The Bill Emerson Good Samaritan Food Donation Act—any donation like that from an organization trying to help those in need is not liable," Spellos said emphatically. "Twenty years later people are still bringing up the same reason why they aren't doing it at events."
A recent meetings success story Spellos was involved in was working with New York's Discover Albany DMO to spread the word on Rock and Wrap It Up! to meetings and conventions gathering in the destination.
"Deborah Goedeke completely spearheaded it for Albany," Spellos said of the DMO's convention services manager. "She literally made it her mission to run with that and tell every group that comes into town about [Rock and Wrap It Up!]. They had an amazing group that came in a few weeks ago and gave all the prepared but not served food to the Interfaith Partnership for the Homeless of Albany. We can do so much good with such little effort, but we're still fighting an uphill battle."
A big part of that battle is simply changing public perceptions about what abundance truly means.
[Related Content: Zeroing in on Event Waste]
"I think we have an awful lot of waste in the buffets since we have such quantity," Spellos said. "Wouldn't it be nice if you went to a buffet at one of these events and instead of an opulent amount of food there would be a note that says they will donate food to a local charity?
"Wouldn't they be looked at very well if that message was getting across on their buffets?"
Of course, any road warrior involved in the hospitality and meetings industry knows that having the luxury of extra time to dedicate to charitable causes can seem like an impossibility. But making the time to give back can reap rewards that rise above the benefits from shorter-term goals.
"Why do I do it? Why not?" Spellos said. "I'm fortunate enough to have my own business where I can call my own hours, and frankly I get a lot more out of this sometimes than the work that pays the bills."
PAYING IT FORWARD | JULY 2018
Here are some organizations making a difference:
Discover Albany partnered with "Rock and Wrap It Up" and Mazzone Hospitality in an effort that will allow Albany conferences and conventions to help collect prepared but not served food and safely deliver it to those in need. Rock and Wrap It Up is a volunteer hunger relief organization that was started to develop greening solutions that address issues of hunger and poverty in America.
Kimpton Hotels and Restaurants had a team compete in the 2018 Chefs Cycle in Santa Rosa, California. The group of Kimpton chefs as well as CEO Mike DeFrino and newly appointed Senior VP of Restaurants and Bars, Scott Gingerich are raising funds and awareness in support of No Kid Hungry.
Cyclists rode 300 miles each day for three days May 15-17, 2018, with the goal of raising $2.4 million in total to connect kids across the country with healthy food.
[Related Content: Read more about those giving back in our industry].