5 Ways to Create More LGBTQ-Inclusive Events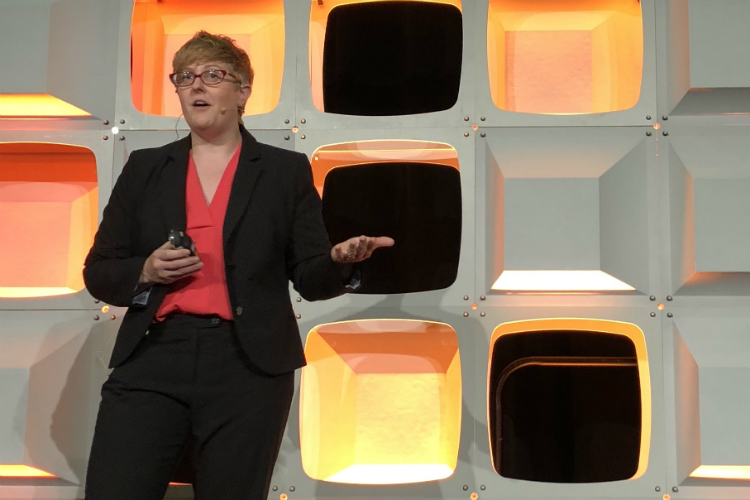 Bernadette Smith onstage during her presentation at MPI's WEC 2018, Credit: Lori Tenny
In the age of ever-evolving gender diversity acceptance and recognition, creating warm and welcoming experiences for all attendees is becoming increasingly important as meeting professionals.
At MPI's 2018 World Education Congress, held in Indianapolis June 2-5, 2018, a packed session entitled "Cisgender, Transgender & Gender Fluid: Welcome Environments in the Age of Diversity" shed light on tools to confidently sell, market and serve the LGBTQIA (lesbian, gay, bisexual, transgender, queer or questioning, intersex and asexual) market and avoid misgendering or displaying unconscious bias.
The session was presented by Bernadette Smith, founder and president of the Equality Institute and award-winning author of three books. In 2004, Smith started 14 Stories, a wedding planning firm with an LGBTQ specialty. Several years later, she took this passion for equality and started the Gay Wedding Institute to share her expertise with her peers in the global wedding and travel industry.
[Related Content: MPI Adds Inclusion Education, Certification]
She expanded her training offerings and now consults on LGBTQ issues with retail, restaurant and other industries with frontline employees.
"First, you should know that the future is fluid, and there are plenty of folks who do not identify as male or female," Smith said. "They might feel somewhere in between—gender fluid or non-binary or transgender.
"It's crucial to pay attention to these guests because there are more and more of them, with up to 12 percent of our community identifying in this way," she added.
Smith offered the following action steps for creating LGBTQIA-inclusive meetings and events.
1. Train frontline employees
It's imperative for frontline employees to understand the fluidity of gender nowadays in order to adequately serve guests whose presentation might not match their ID, according to Smith.
"For anyone who has an impact with a customer or a guest, train them to understand that it's not just male and female and straight and gay anymore," Smith said. "It is gender fluid, and they should be using more inclusive language. Train them not to say sir or ma'am anymore."
2. Offer pronoun identification
Giving a way for people to self-identify their pronoun is one of best inclusion practices, according to Smith.
"Even many LGBT conferences have not figured all of this out yet, but Google has," she said, citing an example from one of the company's developers conferences that had stickers with various pronoun choices that attendees could put on their badge.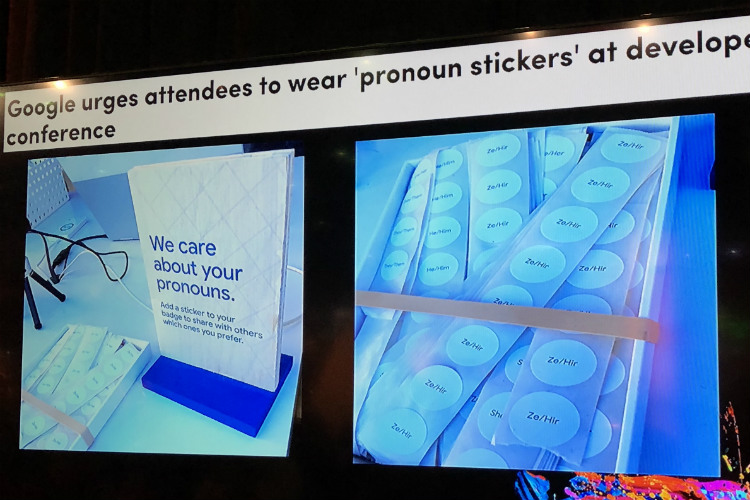 A slide referencing "pronoun stickers" used by Google from Bernadette Smith's presentation at MPI's WEC 2018, Credit: Lori Tenny
"It's really important to understand the diversity and to offer your guests that option," Smith added. "It could be done prior to the event on name badges or on-site with stickers at the registration desk.
"It's a great practice to show inclusion," she added.
3. Create an inclusive restroom policy
Allowing guests to choose the restroom of their actual gender identity and creating at least one gender-neutral restroom in the event space is one of the best ways to incorporate inclusion and make attendees feel comfortable, according to Smith.
"Even in every Target in the U.S., there is at least one gender-neutral restroom," Smith said. "For conferences and conventions that usually have restrooms with several stalls, having a sign outside that directs folks to a gender-neutral restroom elsewhere is a best practice.
"If you want to be really bold and really brave and really inclusive, you can rebrand multi-stall restrooms as gender-neutral as well," Smith added. "That is the extreme case but it is the future." 
4. Update forms to reflect gender diversity
If you have registration forms that require attendees to choose male or female, it's important to offer a third gender option and titles beyond Mr., Mrs. or Ms., according to Smith.
"You can include 'Other' as an alternative gender option and gender-neutral honorifics such as Mx.," Smith said, which indicates no gender or gender other than male or female.
5. Promote the event and yourself as LGBTQIA-welcoming
Including the LGBTQ community in event marketing images and using inclusive language are two ways for meeting professionals to reflect inclusion, according to Smith, who also stressed the importance of meeting planners positioning themselves as inclusive in the event bidding process.
"The LGBTQ market is huge, and there are a lot of events we are looking for bids on," Smith said. "So if you're submitting bids and filling out RFPs, make sure you demonstrate that you have the awareness and are doing all of these things and have a plan in place to create a gender-neutral event."
Related Content: