Shattering Conventions: Llamas to the Rescue at Llamapalooza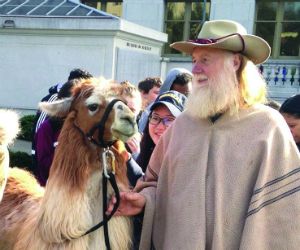 It's hard to tell what the llamas are thinking as they are mobbed by students on Memorial Glade at UC Berkeley for the event that is now called Llamapalooza. These Peruvian pack animals have been coming to this grassy field on campus ringed by three of the university's imposing libraries for four years now.
Each llama draws its own crowd like they are members of The Beatles and it is 1964. The llamas stare on with their brown, soulful eyes, revealing nothing. The students are all smiles as they pose for selfies, holding their smartphones at arm's length and craning their heads for their best angles.
But the llamas go where they want to. They stand patiently on a patch of grass for only so long before they pull away from their fans in a search for less-crowded spaces.
"We are the top engineers, entrepreneurs and political leaders of the future, and we're just chasing after these llamas," a young man somewhere behind me says.
I look for him to take down his name and major, but he's downfield jogging after a shaggy camelid.
Llamapalooza began when George Caldwell, who prefers to be called Geo Llama, brought just three llamas from his ranch in Sonora, Calif., to UC Berkeley in 2014. Now he's bringing six llamas and the crowds of people just keep growing. An estimated 1,000 students showed up for the last Llamapalooza in December 2017 and it looks like there's at least that many on the glade now.
"I'm going to call it paranormal because people just don't have this kind of reaction to other animals," Geo said, sounding so incredibly "Berkeley."
With his long, white beard and Andean poncho he looks very Berkeley as well.  Geo hopes that the university could someday maintain its own herd of llamas.
"I've seen all the stories on the stress that the students are under, and that they don't have enough psychiatrists," Geo explained. "For the cost of one psychiatrist you could have 24 llamas here full-time."
Geo goes on to note that the stress-reducing effects of llamas are "pretty much unstudied."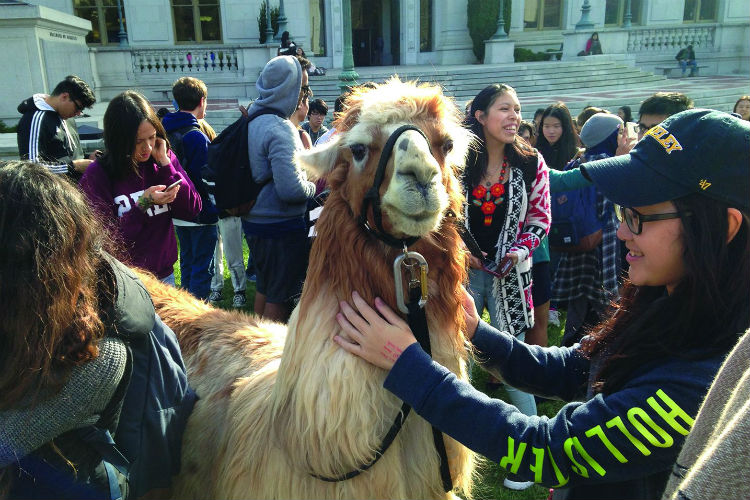 UC Berkeley has recently launched ambitious initiatives for brain research, genomics and data science with more on the way. If there were a llama initiative, it would be the cuddliest initiative ever.
After talking to Geo, I find myself in the grip of llama hysteria like everyone else.
I follow one of the llamas, hoping to get close enough to take that coveted selfie, but I can't cut through the crowd. I end up at the rear of the animal instead. I reach out and put my hand on the llama's butt for a second and attempt to snap a picture of this with my iPhone.
The llama raises her tail, and I can sense that it's time to back off.
A few seconds later, the llama breaks free of the crowd, again searching for an empty space of grass. By the end of Llamapalooza these therapy llamas might need their own therapy llamas. And with wellness all the rage in meetings and conventions, maybe planners can add their own therapy llamas to their events? Just check out Llamas of Circle Home and tell 'em Shattering Conventions sent ya.
Every month in "Shattering Conventions," author Bob Calhoun crashes a new tradeshow, convention or conference looking for a way to fit in—even when he doesn't always belong. Calhoun is the author of "Shattering Conventions: Commerce, Cosplay and Conflict on the Expo Floor." You can follow him on Twitter at @bob_calhoun.