On the Scene: Destinations International's 2018 Annual Convention Continues With 'Uplifting Drama'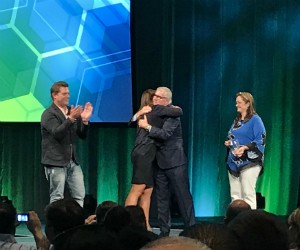 Destinations International's 2018 Annual Convention continued Thursday, July 12, 2018, on a dramatic but uplifting note. A morning keynote address focused on how Visit California and prominent leaders in the community worked to overcome a spate of natural disasters over the past year.
Caroline Beteta, president and CEO with Visit California, and Food Network star chef Tyler Florence presented a detailed account of their efforts in bringing together the community in the wake of the devastating Napa and Sonoma fires that blazed through the region in October 2017.
"Crisis is universal," Beteta said. "If you haven't been through it you will in your careers."
Closing and Reopening Highway 1
Last year, California had to weather the closure of Highway 1 at Big Sur due to a collapsed bridge, which Beteta announced is ready to reopen next week; Santa Barbara County mudslides; and relentless Northern and Southern California wildfires.
Highway 1 is our Taj Mahal. People defer trips to all of California for a Big Sur experience, she continued.
Now that it will be reopening, ahead of schedule, "How do we get the message out to the world?" she posed.
There is a plan in place for August 9, 2018, that will bring 84 cars embedded with journalists to line the stretch of road, in honor of the 84th anniversary of Highway 1. The plan is for them to talk to the chief of engineering for Caltrans about the reopening, which will include 18 new acres of coastline.
"Every crisis demands a different type of thinking and recovery effort," Beteta said.
Napa and Sonoma Fires Test Teamwork
Following the Napa and Sonoma fires that caused 44 casualties and massive destruction last year, Beteta said they reached out to the community adding community forums and then bringing locals into the post recovery effort to amplify that the area was open for business.
The biggest activation was coordinating Grateful Table with chef Florence and other local chefs, during which more than 500 people gathered in a vineyard along the Napa-Sonoma county line for a Thanksgiving meal together while raising funds for wildfire relief.
There was only a 21-day window to plan the Grateful Table, nine of which there was a CEO mission to India, Beteta said.
At the table were first responders, chefs, winemakers, tourism officials and others. Visit California continues an active link for donations on the webpage: https://www.visitcalifornia.com/attraction/grateful-table
They showed video footage of last year's fires and of Grateful Table, as well as a trailer from Florence's upcoming documentary about the fire and recovery called "Uncrushable."
And the Sessions Continue!
Following the keynote, the day was full of sessions, with a number focusing on technology ranging from a case study on the use of Facebook Live by Tourism Ireland to a follow up on last year's initiative by Google for DMOs to review and contribute content on their destinations across Google's platforms.
There were also sessions on safety, focusing on the Exhibitions and Meetings Safety and Security Initiative, crisis communications and millennial outreach.
An evening keynote with Brand USA focused on the power of storytelling featuring Shaun MacGillivray, president and producer of MacGillivray Freeman Films who worked with brand USA to create promotional National Parks Adventure and America's Musical Journey campaigns.
Also shown was footage from a contest for different musicians reflecting different regions covering the Bobby Freeman's classic song "Do You Want to Dance?"
The day ended with a live performance from the R&B performer from Puerto Rico who participated, Calma Carmona, while the evening continued at the House of Blues for more live music.
Destinations International's 2018 Annual Convention runs from July 10-13, 2018.
Click here to check out even more coverage from the DI Annual Convention.