MGM and Las Vegas Shooting Victims Reach Settlement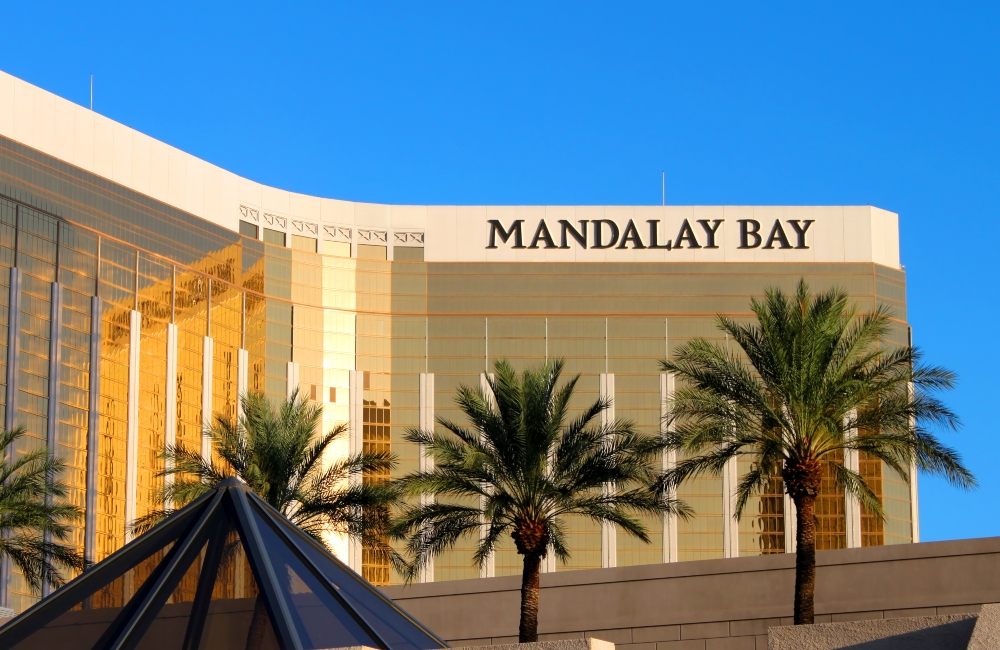 MGM Resorts International reached a settlement with the victims of the October 2017 Las Vegas mass shooting. In a statement on October 3, 2019, MGM said it will pay between $735 and $800 million, depending on the number of claimants.
The October 1, 2017, shooting that killed 58 people and injured hundreds is the worst mass shooting in modern U.S. history. MGM owns and operates both the Mandalay Bay Resort and Casino where the gunman opened fire on concertgoers below from the 32nd floor, and the venue where the music festival was taking place.
In the statement MGM said the settlement is not an admission of liability in the mass shooting.
[Related Content: Where Does Safety and Security Stand in Vegas After Shooting?]
"Our goal has always been to resolve these matters so our community and the victims and their families can move forward in the healing process," said MGM Resorts CEO Jim Murren.
"This agreement with the Plaintiffs' Counsel is a major step, and one that we hoped for a long time would be possible," he added. "We have always believed that prolonged litigation around these matters is in no one's best interest.
"It is our sincere hope that this agreement means that scenario will be avoided."
MGM Lawsuit Background Information
In October 2018, MGM filed a lawsuit against more than 1,000 victims of the shooting.
The lawsuit claimed the casino and entertainment giant "has no liability of any kind" for the shooting, and that under the post-9/11 SAFETY Act it is released from liability.
The SAFETY Act is a federal law designed to provide incentives for the development and use of security technologies and services certified by the Department of Homeland Security.
A statement from MGM said the reason for the lawsuit was to provide resolution to the victims and community "in a timely manner," avoiding "years of drawn out litigation and hearings."
MGM Releases Statement on Lawsuit
The statement by MGM in regard to its October 2018 lawsuit is included below.
"The unforeseeable events of October 1st affected thousands of people in Las Vegas and throughout North America. From the day of this tragedy, we have focused on the recovery of those impacted by the despicable act of one evil individual.
"While we expected the litigation that followed, we also feel strongly that victims and the community should be able to recover and find resolution in a timely manner.
"Congress provided that the Federal Courts were the correct place for such litigation relating to incidents of mass violence like this one where security services approved by the Department of Homeland Security were provided.
"The Federal Court is an appropriate venue for these cases and provides those affected with the opportunity for a timely resolution. Years of drawn out litigation and hearings are not in the best interest of victims, the community and those still healing."
—Debra DeShong, SVP, Global Corporate Communicatinos & Industry Affairs, MGM Resorts
[Related Content: How MGM's Safety Act Claim May Impact the Meetings Industry]
The MGM lawsuit claimed that the case must be heard in federal court.
Click on the doc in the middle of the issuu viewer to view the official court document:
Later, in a social media post, DeShong emphasized that the lawsuit is an action of declaratory relief to change the venue from state to federal court.
"We are filing what is known as an action for declaratory relief. All we are doing, in effect, is asking for a change in venue from state to federal court. We are not asking for money or attorney's fees, and our complaint is directed only at people who have already sued us or have threatened to sue us. We are seeking justice through the federal court system in order to reach a timely resolution. We want to resolve these cases quickly, fairly and efficiently."
—​Debra DeShong, SVP, Global Corporate Communications & Industry Affairs, MGM Resorts
MGM Lawsuit Sparks Controversy
Robert Eglet, who heads the trial team at Las Vegas law firm Eglet Prince, which represented hundreds of victims of the shooting, described MGM's Safety Act claim as "outrageous" in an interview with USA Today.
"In my 30 years of practice, this is the most reprehensible behavior I have ever seen a defendant engage in," Eglet told USA Today. "They are trying to victimize these people twice."
[Related Content: 9 Active Shooter Risk Management Tips]
Eglet added that the SAFETY Act applies to the security firm MGM contracted for the contract, CSG, and not MGM Resorts International. Since CSG was approved by the Department of Homeland Security, MGM contended, it is released from liability under the act.
An Outside Take on the MGM Lawsuit
One law enforcement detective reached by Meetings Today, who has worked in the field since 2002, has more than 20 years of experience and has conducted hundreds of specialized trainings on homeland security, terrorism, counter-terrorism, dignitary protection and other related topics viewed the MGM defense as without merit.
"I'm not a lawyer, but even I could shoot a hole through their defense on this," said the detective, who wished to remain anonymous. "Mandalay would be responsible for the shooter ... they checked him in, he shot from their hotel ... which was NOT part of the event and covered by the Security Company ... the SAFETY act should not apply in this case."
This article was originally published in July 2018 and was updated on Oct. 3, 2019.