Experts Weigh In With Tips for Family-Friendly Meetings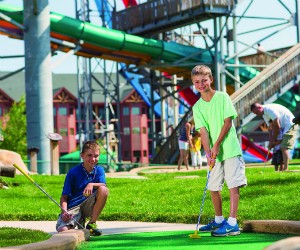 The age-old concern of how to keep the whole family entertained and happy on vacation also rings true for bringing kids and spouses along to a conference. It's the solution that is ever-changing. We checked in with four industry experts who have first-hand experience with groups that welcome kids and spouses for their strategies to ensure successful family-friendly meetings based on today's trends.
Tifani Jones, corporate director of sales,
Kalahari Resorts and Conventions, Wisconsin Dells
(And three other locations in the U.S.)
www.kalahariresorts.com
Activities to engage the family. The best destinations boast activities that every member of the family can enjoy.
Family-friendly dining options. Food and beverage can make or break a great meeting experience. Conference attendees increasingly are looking for destinations that can deliver memorable dining moments for the family with top-quality food. Children's palates are becoming increasingly sophisticated.
Everything under one roof. Select a location where meeting attendees can park the car for the entirety of their stay.  
Shannon Timmerman, director of sales
Wilderness Resort, Wisconsin Dells
www.wildernessresort.com
Have family meals in conjunction with the meetings. Many groups will conduct their meetings in the morning and then leave afternoon and/or evenings open for family time. They may have their business meeting and meal, but will also have another banquet room set up for their families to eat as well.
Childcare at events. One group reserves three separate banquet rooms for the duration of the event for childcare, and they separate them into age groups. The childcare provider then can design the activities for each room by age group.
Unique activities for kids. We include waterpark passes in our room rates and also work with groups to discount our Wild Fun Passes for their attendees.
Have "wow" experiences for the whole family. Just recently, a group inquired about renting out our waterpark for their families after-hours.
Ryan Buck, director of sales
Grand Traverse Resort & Spa, Williamsburg, Michigan
www.grandtraverseresort.com
Have break activities throughout the day for kids and families, with specific focus on STEM activities and creativity.
Include childcare. Reserve small to midsize meeting rooms and create all-day day care experiences for children based on age ranges.
Create child- and family-friendly experiences during networking receptions, allowing attendees to get to know each other better through shared activities.
Include kid-friendly menus and meals when encouraging families to attend banquet functions.
Offer activities while attendees are in meetings. Cooking classes, beach activities and scavenger hunts are all great options.
Rhonda Khabir, corporate director of sales,
Great Wolf Lodge, 17 locations across the U.S.
(Including seven in the Midwest)
www.greatwolf.com
Offer the opportunity for extending the stay. Families can stay before or after and make it a vacation.
Make families feel they are welcomed. Attendance increases when families are encouraged to attend.
Have a portion of the conference include a family-related activity.
Include families at opening receptions.
Work in free time to spend with the family and to enjoy the venue and destination.