Wellness Options Keep Groups Healthy in Ohio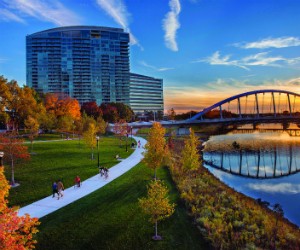 Activities that promote health and well-being have become an important part of meetings, and Ohio honors that trend with a wide variety of venues and events to keep attendees at their best.
From salsa dancing in Cincinnati's Fountain Square to hiking in Columbus or learning to sail in Cleveland, the Buckeye State knows how to make any group fit and relaxed.
Cleveland
There's a truly stunning array of activities centered around wellness in the city, and planners can work their way from the conference outward, thanks to the staff of Discover Cleveland.
"Our convention services team has worked with meeting planners to develop coordinated runs, spa services and on-site yoga instructors and fitness instructors for morning sessions," said Mike Burns, senior vice president of conventions sales and services for Discover Cleveland. "They have also arranged on-site chair massages on the tradeshow floor."
He added that they are currently working with one conference to offer a rock 'n' roll-themed yoga session on the grassy rooftop area of the new convention center, which overlooks the Rock & Roll Hall of Fame.
The Ritz-Carlton, Cleveland has incorporated healthy teambuilding into its renovation, which wrapped last October. The property added LINKS, which is a culinary-themed space just outside the hotel's meeting rooms. Its working kitchen is designed for group cooking adventures and teambuilding events. Planners can request a class or demonstration of healthy recipes, either as a meeting session or an energizing break.
At the Cleveland Botanical Garden, groups can be gently active with a walk through the Restorative Garden, or check the schedule for one of the facility's many activities, from tai chi practice to herbal workshops that teach participants how to grow and make their own natural beauty and body products.
Groups can get their blood pumping in the Cleveland Metroparks, which features nature centers, more than 100 hiking trails and activities like ziplining, golfing, biking or tobogganing during the winter months. Small groups can stretch their legs with a unique activity at the Cleveland Metroparks Zoo: an overnight camping adventure where they learn how to track an Amur tiger through its habitat.
Water activities are also plentiful in the area, from kayaking and paddleboarding at the Rock & Dock Marina just behind the Rock & Roll Hall of Fame to learning to sail at The Foundry, a center for rowing and sailing on the Cuyahoga River. Planners can also utilize The Foundry's state-of-the-art rowing tanks for teambuilding activities, and the facility also offers meeting and event space.
Cincinnati
"In Cincinnati, it's easy for meeting planners to coordinate time for health and wellness-focused programming, because it's already taken care of for them," said Barrie Perks, vice president of sales and services for the Cincinnati USA CVB. "Public spaces like Fountain Square, Smale Riverfront Park or Washington Park offer free opportunities to get attendees up and moving."
The city offers a notable amount of free events dedicated to fun and wellness, from Workout on the Green and Weekend Workouts at Washington Park, located in the historic Over-the-Rhine district, to the Fit & Fun workout series at Smale Riverfront Park.
"All the planner has to do is tell attendees about the classes offered, and their work is done," Perks added.
For something that makes attendees forget their worries while having fun, planners should look no further than Fountain Square, located in the heart of downtown Cincinnati. Hundreds of people meet up weekly for Salsa on the Square, which features live salsa music and dancing. Instructors are on hand to teach basic Latin dance steps, and all are welcome, whether they're locals or visitors.
"Not only does Salsa on the Square get your toes tapping and your blood flowing, but it also allows attendees to engage with the local community and really experience Cincinnati's vibrant mix of cultures," Perks said.
The convention services staff at Cincinnati USA CVB will also work with planners for tailor-made events, such as private yoga classes at Rhinegeist brewery. The city also offers a number of fascinating walking tours to entice attendees' brains and move their feet, including the Queen City Underground tour, which explores the city's brewing heritage above and below the streets, and Cincinnati Urban Adventures, which offers four different tours focusing on wine, beer, art and more.
Just northwest of the Cincinnati metro area is Great Wolf Lodge, which offers the ultimate way to leave stress behind: an indoor waterpark with 13 slides, five pools and a lazy river. Attendees can also take advantage of morning yoga classes.
Canton
Located south of Cleveland, Canton and Stark County are best known for sports. Home of the Pro Football Hall of Fame, the city also offers numerous sports venues for tournaments and championship events in basketball, football, swimming, softball and more. If planners want to mix teambuilding and wellness off the playing field, they can set up a cooking class with the head chef at Gervasi Vineyard or take a guided hike in Middle Branch Park, adjacent to the vineyards.
Glenmoor Country Club and The Bertram Inn at Glenmoor offer a host of activities, from group fitness classes or a special group spa menu to golf lessons on Glenmoor's Jack Nicklaus Signature golf course. Another top pick is the Pedal and Paddle tour along the Lake Avenue Trailway; the adventure begins with a bike ride and attendees switch to canoes once they hit the Tuscarawas River.
Columbus
The city of Columbus is booming with new hotels and development, but there are still plenty of dedicated parks and green spaces for group workouts or just reflecting in a quiet moment during a meeting break.
Goodale Park, one of the oldest parks in the U.S., is perfect for a restoring walk. Visitors can soak in the history and architecture of the surrounding Victorian Village, commune with nature or enjoy some time on the tennis courts. The Scioto Mile, minutes from the convention center, offers walking and biking trails along the Scioto River, and attendees can rent bikes from the city's bike-sharing program.
Stand-up paddleboarding is also popular, and summer means paddleboard yoga classes on the river. Also along the Mile is the 120-acre Scioto Audubon Metro Park, which features bird-watching, kayaking, a mud-run obstacle course and the country's largest free outdoor climbing wall.
For more exercise, there's also hiking along the sandstone bluff of Highbanks Metro Park or past the 35-foot waterfall of Hayden Falls Park. After a workout, attendees may want to pamper themselves and relax; Lexi Sweet, public relations manager for Experience Columbus, has the answer.
"Anyone looking for a 'treat yo' self' activity in Columbus can certainly find one," she said. "Ladies can blend a custom lip color at Mukha Spa, then relax with a mani-pedi from W Nail Bar and a blowout from The Blowout Bar. Gentlemen can enjoy a straight-razor shave or beard trim offered with a side of darts, pool and a drink from the Royal Rhino Club. Or, groups can check out the latest spa trends by visiting Tranquility Salt Cave of True REST Float Spa."
Toledo
Outdoor fans will rejoice in Toledo, which boasts so many activities the city was voted as the second best place for outdoor lovers by U.S. News & World Report.
From cheering on the famed Toledo Mud Hens at Fifth Third Field to biking, canoeing and hiking, there's something for everyone. The Metroparks also offer group archery sessions as well as winter sports like snowshoeing, cross-country skiing, ice skating and sledding Metroparks Toledo.
Groups can team up for a corporate tournament at the Beach Volleyball complex at International Park or learn how to cook delicious, healthy meals at Foodology, which specializes in cooking classes.
Lake Erie Shores & Islands
Outdoor pursuits also beckon at Lake Erie Shores & Islands, just a short drive from Toledo.
Kayaking, canoeing and hiking are top activities for groups exploring the islands, or visitors can enjoy the walking trails and the view at Marblehead Lighthouse State Park, where the 1822 lighthouse Maumee River is still being used to this day.
Attendees can scream out their stress on any of the 18 roller coasters at Cedar Point amusement park, or make a splash and be a kid again at one of the area's many waterparks.
Afterward, planners can arrange some rejuvenation time at a local day spa or set up a relaxation workshop overlooking the Japanese garden at Schedel Arboretum & Gardens.
CVB CONTACT INFORMATION
Cincinnati USA CVB
513.621.2142
Destination Cleveland
216.875.6600
Destination Toledo CVB
419.321.6404
Experience Columbus
614.221.6623
Lake Erie Shores & Islands
419.625.2984
Visit Canton/Stark County
330.454.1439
Click over to Page 2 for the Latest & Greatest hotel updates in Ohio.
PageBreak
LATEST & GREATEST OHIO
Cleveland
Earlier this year, the International Exposition (I-X) Center announced tradeshows may utilize outside decorating providers specializing in exhibitor services and experience. Previously, the 2.2 million-square-foot facility has provided such services exclusively. The new policy is effective immediately. Also, the I-X Center has obtained a Boeing KC-97G Stratofreighter, a military plane from the Cold War era, and has plans to open it as a 50-seat restaurant and lounge by 2020.
Gervasi Vineyard, located south of Cleveland in Canton, is expanding to include a luxury boutique hotel and distillery. Construction begins this spring, and the hotel will include 24 suites featuring king-size beds, fireplaces and heated floors. Each room will also have a covered patio.
Cincinnati
The Summit, A Dolce Hotel opens this month with 239 guest rooms and 21,000 square feet of indoor meeting space, available among 19 flexible meeting and banquet rooms. With outdoor space including the roof terrace, the property offers 34,500 square feet of event space. Amenities include a fitness center with a yoga studio, the Overlook Kitchen +Bar, Market Restaurant, an art gallery and a library.
The 171-room AC Hotel Cincinnati at The Banks opened in October. The hotel is the first lodging property to open in the city's new riverfront entertainment district and is located next to the Great American Ball Park. The hotel offers a meeting room and a restaurant with a tapas-style menu.
The historic 1909 Anna Louise Inn building is currently under development and will open later this year as the 106-room Lytle Park Hotel, an Autograph Collection under Marriott's brand of the same name. The hotel will offer 10,800 square feet of meeting space, a 5,000-sqaure-foot rooftop terrace, a restaurant, a lobby bar and more.
Columbus
The $140 million renovation and expansion of the Greater Columbus Convention Center has been completed on schedule. The project brought 373,000 square feet of contiguous exhibit space, new show offices overlooking exhibit halls, nine new meeting rooms (bringing the total meeting rooms to 75) and a two-level open atrium entrance.
The National Veterans Memorial and Museum is expected to open later this year in downtown and will share veterans' stories through interactive exhibits. The facility will also have meeting space.
The Hilton Columbus Downtown recently announced an expansion that would include 470 new rooms, bringing the property's total number to 1,002 rooms. The hotel offers more than 32,000 square feet of space and is connected to the Greater Columbus Convention Center via skybridge. The expansion is slated to break ground this fall with a completion date in late 2021.
The 149-room Hotel LeVeque, Autograph Collection recently opened in the historic LeVeque Tower in downtown Columbus. The hotel features 1,741 square feet of meeting space in three meeting rooms, a fitness center and the Keep Liquor Bar, a modern French brasserie and bar.
The 118-room Moxy Columbus Short North by Marriott is slated to open in spring 2019 with meeting space and a rooftop restaurant.
The 168-room Canopy by Hilton Downtown Columbus is slated to open in early 2019 across from the Greater Columbus Convention Center. The hotel will offer 3,000 square feet of meeting space and a rooftop bar.
A 171-room Graduate Hotels property is slated to open in spring 2019 in the city's Short North region. The hotel will offer 4,000 square feet of meeting and event space along with two food and beverage outlets.
Toledo
The 241-room Renaissance Toledo Downtown Hotel opened last August with 15,000 square feet of meeting space, an 11,000-square-foot ballroom, a restaurant and a fitness center.