Southern Ohio Teambuilding Brings Groups Together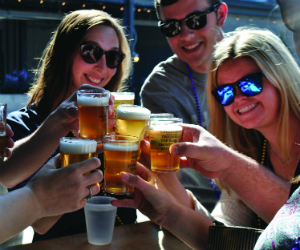 Planners have many teambuilding opportunities to choose from throughout Southern Ohio, including several that showcase the unique attributes of each destination.
Groups can tap into Cincinnati's brewing and baseball heritage, participate in the arts in Columbus and explore Dayton's aviation history.
Following are details about those and some other standout ideas, including ziplining above Warren County's wilderness, for groups interested in adding a team-bonding activity to the meeting agenda.
Cincinnati
The Cincinnati USA CVB places value on connection, including fostering camaraderie among attendees within the event's content and also facilitating connection with the Cincinnati region.
One way for groups to connect with the area is to hop aboard the Cincy Brew Bus, which operates fun tasting tours at local craft breweries along the Brewing Heritage Trail.
"Exploring and appreciating Cincinnati's brewing heritage is more than just sipping a cold beer," said Randie Adam, vice president of marketing and visitor services at the Cincinnati USA CVB. "This experience is a reminder that we can learn a lot from the past, from the makers and risk-takers that came before us."
Cincinnati is also the proud home of baseball's first professional franchise, the Cincinnati Reds.
Groups can catch a game at the Great American Ball Park, situated on the banks of the Ohio River, and also arrange for on-field batting practice, softball and whiffle ball games, as well as scavenger hunts throughout the ballpark.
"The Reds truly make visitors feel like all-stars with special perks like the name of your group displayed on the scoreboard or personalized baseball cards featuring your attendees," Adam added.
Columbus
A unique facet of the arts scene in Columbus that will appeal to groups is the number of independent galleries located just steps from the Greater Columbus Convention Center in the Short North Arts District.
One of those, the Brandt-Roberts Galleries, specializes in paintings from the 20th and 21st centuries, and offers hands-on teambuilding activities.
"Painters are divided into groups of four and presented with a blank canvas, made of four smaller canvases," said Lexi Sweet, public relations manager for Experience Columbus. "Each participant then works on one of the small canvases to help create a part of the larger painting. This experience helps to stimulate creativity and strengthen bonds among team members as they work together toward a common goal.
"At the end, each person leaves with a section," she added.
[Related Content: Q&A With Jennifer B. Davis on Greater Columbus Convention Center Updates]
The Kitchen, located in the quaint, historic German Village, offers participatory and collaborative dining experiences for groups.
"At The Kitchen, everyone is on a level playing field and effective communication is required to complete a dish successfully," Sweet said. "Working together to prepare a meal and then sitting down to enjoy the fruits of the team's labor together promises to be an experience that won't soon be forgotten."
She added that free transportation on the CBUS circulator or all-electric Hopper Cart makes getting to The Kitchen from the convention center and surrounding hotels quick and easy.
Dayton
A standout for team-bonding in Dayton is Scene75, an entertainment center featuring 120 arcade games, a bar and grill, and attractions ranging from laser tag and go-karts to miniature golf and bumper cars, among others.
According to Bev Rose, director of marketing and communications for the Dayton CVB, Scene75 has several private banquet/party rooms and will match meeting planners with experienced party staff who will assist with group packages, including mini bowling tournaments.
When meeting in Dayton, home of the Wright Brothers, groups are also encouraged to tap into the city's standing as the Birthplace of Aviation via the Wilbear Wright Aviator Teddy Bear Passport Program.
Rose explained it could be used as a team competition that awards participants in the first group to get a passport stamped at seven of the city's 16 aviation sites with teddy bears. Sites include Wright-Patterson Air Force Base, the Dayton Aviation Heritage National Historical Park and the National Museum of the U.S. Air Force.
"What better way for your group to learn about Dayton and its unique place in the world than to explore these authentic aviation sites," Rose said. "Dayton taught the world to fly. Attendees will learn a lot and have a blast as they explore."
Warren County
From ziplining to wine tasting, Warren County offers a great variety of teambuilding options for groups interested in adventurous or laidback experiences.
Ozone Zipline Adventures, one of the largest treetop canopy tours in the Midwest, is located at Oregonia, Ohio-based YMCA Camp Kern and provides groups an exhilarating and picturesque outing.
"When you're dangling your feet off a platform hundreds of feet in the air, it's hard not to turn to your fellow zippers for encouragement," said Scott Hutchinson, senior communications manager for the Warren County CVB. "Ozone's tour guides also promote plenty of conversation during the zip tours, asking questions about each guest, sharing stories about Southwest Ohio's natural history and encouraging zippers to cheer each other on."
And at Morrow, Ohio-based Valley Vineyards Winery & Brewery groups can stop by for a tour and wine tasting, or partake in a weekend cookout, during which guests grill their own steaks or salmon and enjoy a huge spread of side dishes, desserts, wine and craft beer.
SOUTHERN OHIO CVB CONTACT INFORMATION
Cincinnati USA CVB
513.621.2142
Dayton CVB
937.226.8211
Experience Columbus
614.221.6623
Warren County CVB
513.204.1900
Click over to Page 2 for the Latest & Greatest hotel updates in Southern Ohio.
PageBreak
LATEST AND GREATEST: SOUTHERN OHIO
Cincinnati
The Sharonville Convention Center is now connected to the 120-room Hyatt Place Cincinnati/Sharonville Convention Center, which recently opened with more than 2,240 square feet of flexible meeting space.
The 239-room Summit, A Dolce Hotel, opened in April with 32,600 square feet of indoor and outdoor event space.
The historic Anna Louise Inn building is being redeveloped as the 106-room Lytle Park Hotel, a new addition to Marriott's Autograph Collection. At press time, the property was scheduled to open this year with 10,800 square feet of meeting space. 
The Cincinnatian Hotel, a Forbes Four Star and AAA Four Diamond property, is undergoing a renovation, including updates to its reception area and conference rooms. The hotel is undergoing these changes on its way to becoming Ohio's first Curio Collection by Hilton hotel.
The Hyatt Regency Cincinnati and the Hilton Cincinnati Netherland Plaza are partnering for a limited time meeting planner incentive, including a free Cincinnati-themed welcome reception, a 2 percent credit to the master account on room revenue, and free rental space at the Duke Energy Convention Center with $200,000 F&B spend.
Columbus
A major renovation/expansion project was completed in July 2017 at the Greater Columbus Convention Center, including the addition of nine new meeting rooms, for a total of 75 meeting rooms.
The iconic Smith Bros. Hardware Building near the convention center recently opened Juniper, a four-season rooftop event venue. Featuring a retractable roof and walls, and views of the downtown skyline, the venue offers approximately 5,200 square feet of indoor space and 2,000 square feet outside.
A 168-room Canopy by Hilton with 3,000 square feet of meeting space is set to open across from the Greater Columbus Convention Center in early 2019.
A 171-room Graduate Hotel with 4,000 square feet of meeting space is scheduled to open in mid-2019.
Dayton
Downtown Dayton's newest event venue is The Steam Plant, with features including arched windows and 30-foot-high ceilings. Its spaces include the Grand Hall, which accommodates 350 people for seated events and 500 for receptions.