#MeetingsToo: A 10-Step Action Plan to Fight and Address Harassment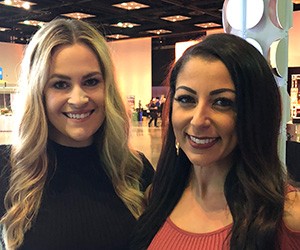 It's been nearly a year since actress Alyssa Milano reignited the #MeToo movement*, persuading millions of people to take a stand against sexual harassment. Today, two women are moving the conversation forward in the meetings and events industry, helping planners and organizations fight and address misconduct.
Sarah Soliman Daudin, president and CEO of Soliman Productions, and Courtney Stanley, speaker, writer and business consultant at CS Consulting, created #MeetingsToo and launched a presentation, How to Prevent and Manage Sexual Harassment at Events, at the recent 2018 MPI World Education Congress (WEC) in Indianapolis. They are bringing it to other events, including an upcoming MPI Northern California Chapter gathering.
"We are on a mission to shed light on dark corners and present ideas and have real conversations about prevention, change and impact," Stanley said. "We really believe we can empower people to shift the societal norm regarding sexual harassment, specifically within the meetings industry." 
Personal experiences, particularly in the meetings industry, prompted the two to take action, according to Soliman Daudin.
"There are a lot of times you feel like you need to bite your tongue if you are made to feel uncomfortable at an event," she said. "Just by talking about it more and helping planners and organizations understand what they need to do, it makes me feel more comfortable with addressing any personal experiences that come my way."
[Related Content: 20 Travel Safety Tips for Women in the Age of #MeToo]
At MPI WEC, the well-attended presentation was ranked one of the top five sessions of the entire conference based on attendee feedback, according to Soliman Daudin.
"I think people are coming together and realizing that this is a challenge within our own industry because of things like flowing alcohol, travel and sometimes being on a 'vacation mindset,' so the industry is stepping up and taking it seriously," she said.
Soliman Daudin added that she was pleased the MPI WEC session was attended by several men, who she said need to be part of the conversation and may also be victims of sexual misconduct.
"This isn't a movement to bash men or hate men, it just happens to be a women-dominated movement because it affects more women than men," she said. "We acutally thanked the men in the audience for participating in the discussion because that's where it starts as a collaborative effort from all genders to ensure that everyone feels safe whether it's in their place of business or at an event.
"At the same time, it's crucial to adopt the 'if you see something, say something' mentality," she added.
[Related Content: How to Stay Safe While Running - An Action Plan for Business Travelers]
One of the biggest takeaways is the importance of planners and organizations that are part of the meetings and events industry to have a clear game plan for sexual harassment in place, Soliman Daudin said, just as you would for topics such as risk management.
"If you don't, this can contribute to attendee churn and affect your member retention, your bottom line, your credibility and your entire reputation because word of mouth gets around," she said. "You need to call attention to the topic and if it happens, handle a sexual harassment claim appropriately. You also don't want it to escalate into a lawsuit."
Following are 10 actionable steps from Soliman Daudin and Stanley for identifying, preventing and addressing sexual misconduct at meetings and events.
Train your team. Create and reinforce your internal organization's code of conduct about your stance against sexual harassment throughout the year. Keep your team on the same page prior to an event.
Consult with an attorney on how to position sexual misconduct policies.
Add eyes and ears to your meeting or event (security, bouncer, volunteer) dedicated to being the "watchdog" for uncomfortable behavior.
Send out surveys to members before and/or after a meeting to create a platform for open communication. Ask them whether they have experienced sexual harassment at this event before. If so, were they able to report it? If so, was the issue resolved? If not, what could we have done differently to resolve it on-site? Follow up with a conversation with the victim and with your team to prevent it in the future.
Create a designated point person and share the contact with all members/attendees, so they know how to report misconduct incidents. Implement the point person in conversations on-site, in general sessions, in the program guide and the on mobile app.
Add a section on the mobile app that leads directly to the point person on-site.
Communicate your established mission statement that you stand against and have a no-tolerance policy toward any kind of sexual harassment.
Create a mobile alert with a code of conduct within the mobile app that attendees have to accept before moving into the rest of the mobile app experience.
Have a list of questions ready to go in the case of a harassment complaint.
If a sexual misconduct claim comes forward, take immediate action, show empathy, ask "who, what where, when and why," communicate a clear plan of action with a specific timetable and interview the person accused to get both sides of the story.
*Editor's Note: The #MeToo movement was originally created by social activist Tarana Burke.