ASAE: Active Shooter Mitigation Strategies for Events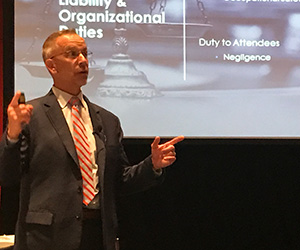 799 killed and 1,418 wounded in 250 incidents.
These are the sobering statistics for multiple casualty events in the U.S. between 2000 and 2017, occurring at schools, workplaces, medical institutions, houses of worship and most certainly events, among other locations, according to data presented during the "A First Responders Guide to Handling Active Shooter and Terrorism Threats" educational session at ASAE's Annual Meeting & Exposition.
ASAE's 2018 Annual Meeting & Exposition was underway in Chicago, August 17-21, 2018, at the time of publication. The session on active shooter and terrorism threats was held on August 19.
One eye-opening takeaway from the session was this: if you think you've protected your organization by having event insurance that covers terrorism attacks, think again—the last event that was considered a terrorist attack by the federal government was 9/11. When it comes to insurance, those labels matter.
Session panelists included attorney Scott Moore, principal advisor for EMS Resource Advisors Inc.; Jamie Pianka, COO of the Professional Ambulance Service (Pro EMS), Center for MEDICS & METI project, and who worked EMT operations at the 2013 Boston Marathon bombing; and Glen Simpson, director of special operations for Community Ambulance, and who was on-site at the October 2017 Route 91 Harvest festival mass shooting in Las Vegas in which 58 were killed and more than 500 were injured.
Las Vegas, in particular, is well prepared to handle active shooter or terrorism incidents, according to Simpson, who was on-site and rushed in to help victims during the Route 91 Harvest festival mass shooting in which shots were fired from a guest room at Mandalay Bay Resort & Casino.
"When you plan events in Las Vegas you spend a lot of time talking about the 'what ifs': bombs, active shooters," Simpson told the audience. "I spent time with MGM, talked to everyone in the room about what we would do if there was an active shooter. Little did we know that four days later someone would be perched in Mandalay Bay shooting at the spectators."
Simpson said that 16 staffers were dedicated to event security, liaising with representatives of Las Vegas' police and fire departments, among other local civic organizations, adding that in hindsight even more organizations should have been involved.
"We need to get more people involved in these talks, such as rideshare companies, who ended up taking a lot of the people away," Simpson said. "At that venue there was no spot for cabs or Ubers to pull up."
Route 91 Harvest Shooting First-Person Details
Simpson provided the following details about his involvement in helping victims on-site at the Route 91 Harvest festival and how the shooting unfolded.
The action began in a routine fashion, with Simpson called to escort an inebriated concert-goer out of the festival, with the woman deciding to leave the event and take transportation back to her hotel.
"The moment we sent her away we heard those first two shots," Simpson remembered. "These were test shots…to ensure his weapons were ready to go. Then the first volley [occurred], about 100 rounds."
Simpson immediately took cover.
"At that moment I had two decisions to make … retreat from the venue or run back in," he said. "I had personnel in the facility .... I decided to run back into that venue.
"What you should take home today is the importance of pre-planning," Simpson added. "I've been through numerous scenarios to try to figure out how we would deal with these situations, but I never realized it would be somebody shooting from above, and I never realized about how my instinct would kick in."
Some key points to consider are the following:
Do you have that casualty collection point in mind?
The public is going to want to help. Make sure you can equip them with the tools for them to do work. "We ran out of tourniquets that night so we started using sheets and belts," Simpson said. If your teams have not been trained in "Stop the Bleed," get trained in Stop the Bleed.
Simpson added that he is starting to see Stop the Bleed materials included in facility AED stations.
Following are some critical strategies to adopt to keep you and your attendees safe in case your meeting or event—or place of work or other venue—comes under attack.
Pre-event planning:
Have an organizational or emergency response plan.
Develop and implement an organizational incident command structure.
Develop a communications plan that involves both electronic and non-electronic (paper) components.
Make sure your data/information management is both "smart" and "dumb" (electronic and paper backup).
Consistently drill and critique process improvement.
Carry adequate insurance coverage.
Have a public relations/public information plan.
If you are at an event with co-workers, identify a place to meet—and a secondary meeting location if the first one is at the site of a terrorism or active shooter event—in case an incident arises.
Prepare now:
Sign up for active shooter training.
If you see suspicious activity, let an authority know right away.
Many places, like houses of worship, workplaces and schools, have plans in place to help you respond safely. Ask about these plans and get familiar with them. If you participate in an active shooter drill, talk to your family about what you learned and how to apply it to other locations.
When you visit a building like a shopping mall or healthcare facility, take time to identify two nearby exits. Get in the habit of doing this.
Map out places to hide. Solid doors with locks, rooms without windows and heavy furniture like large, long cabinets and desks make good hiding places.
Sign up for first aid and tourniquet training.
During an active shooter incident there are three strategies to keep top of mind: Run, hide and fight:
Run: Getting away from the shooter or shooters is the top priority. Leave your things behind and run away. If safe to do so, warn others nearby. Call 911 when you are safe. Describe each shooter, their locations and weapons.
Hide: If you can't get away safely, find a place to hide. Get out of the shooter's view and stay very quiet. Silence your electronic devices and make sure they won't vibrate. Lock and block doors, close blinds and turn off the lights. Don't hide in groups—spread out along walls or hide separately to make it more difficult for the shooter. Try to communicate with police silently—like through text messages or by putting a sign in an exterior window. Stay in place until law enforcement gives you the all clear.
Fight: Your last resort when you are in immediate danger is to defend yourself. Commit to your actions and act aggressively to stop the shooter. Ambushing the shooter together with makeshift weapons such as chairs, fire extinguishers, scissors and books can distract and disarm the shooter.
After the incident has been resolved, keep in mind the following advice:
Keep hands visible and empty; know that law enforcement's first task is to end the incident, and they may have to pass injured along the way.
Follow law enforcement instructions and evacuate in the direction they come from.
Consider seeking professional help for you and your family to cope with the long-term effects of the trauma.
Helping the wounded: Take care of yourself first, and then you may be able to help the wounded before first responders arrive. If the injured are in immediate danger, help get them to safety.
Additional resources: