20 Travel Safety Tips for Women in the Age of #MeToo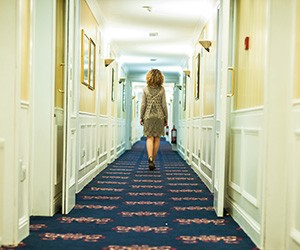 Perhaps it was during that walk back to the hotel after a late company dinner, when an approaching stranger suddenly greeted you by name and offered to accompany you; or in an elevator, when someone exited on your floor and slowly followed you; or over cocktails at a networking reception, when a colleague caught you off-guard by whispering a sexually inappropriate remark.
If you're a woman who travels for business and attends meetings, conferences and other events, you've likely found yourself in uncomfortable, even dangerous, situations.
We checked in with four female leaders in the hospitality and meetings industry to get their take on the best safety tips for women in order to avoid sexual harassment and assault while on the road.
[Related Content: How to Stay Safe While Running - An Action Plan for Business Travelers]
Courtney Stanley and Sarah Soliman Daudin lead sessions at industry conferences on preventing and addressing sexual harassment at events.
Sangeeta Sadarangani and Karin Seelow are with London-based Crossing Travel, which specializes in high-end corporate and leisure travel and prides itself on advising and facilitating safe travel practices for its clientele.
Courtney Stanley, speaker, writer, business consultant, CS Consulting
Try to arrive before it is dark, especially if you are traveling to a new city.
If you are arriving late to your destination, think twice about what transportation you will use to get from the airport to your accommodations. Lyft or Uber feel like easy, cost-effective choices, but how much is your safety worth? At least 103 U.S. Uber drivers and 18 Lyft drivers have been accused of sexually assaulting passengers, according to a CNN report from earlier this year. If you do choose a ride share option and experience harassment or assault, report it immediately. 
Don't be so engrossed in reading emails, texting or scrolling through Instagram that you are not aware of what or who is around you. Keep your wits about you.
If possible, request to have a room that is not at the end of a long hallway.
Ask the hotel if they have a women-only floor. This is a newer trend that several hotels offer to female travelers.
Remove your conference badge after you exit the venue and are en route to your hotel or another event. Oftentimes predators will read your badge and try to strike up a conversation with you on the street, pretending they know who you are, and will potentially lure you into an unsafe situation.
Sarah Soliman Daudin, president and CEO, Soliman Productions
I always let my mom or husband know when I land at my destination and also inform them when I'm in an Uber, Lyft or taxi headed to my hotel. I make sure to tell them what method of transportation I'm in and sometimes even call my husband (typically late night travel) and either stay on the phone with him or simply just to establish with the driver that I am communicating with people so he/she knows I am "not alone" per say.
Always trust your gut! I was recently in a situation where I didn't feel comfortable about my taxi driver. As I was walking up to his car, he didn't get out to greet me or help with my bag, never smiled but was eyeing me the entire time. I immediately turned around and told the taxi attendant that I wasn't comfortable and requested a new driver. Don't be afraid to make that call if your gut tells you to.
When you're at a networking reception, don't advertise how badly you need a drink or are looking forward to drinking, especially in a group setting where you're not familiar with everyone. This automatically creates a predator/prey scenario. Definitely enjoy yourself but always be in control and know your limits.
If you're in a situation where someone is making you feel uncomfortable at an event, tell them you need to go take a call or use the restroom. Sometimes we overthink what excuse we can use to remove ourselves from a situation but it can be as simple as we make it.
When heading to your room, pay attention to who's in the elevator with you. I can't tell you how many times I have exited elevators (especially in Las Vegas) when I don't feel comfortable with my surroundings. If you notice someone get off at the same floor as you, try to maneuver to where that individual is walking ahead of you and never behind you.
[Related Content: #MeetingsToo - A 10-Step Action Plan to Fight and Address Harassment]
Sangeeta Sadarangani, founder and CEO, Crossing Travel
Have a very detailed agenda with times, dates, names of people providing pickups, etc.
Try to choose hotels that have taken care to meet female travelers' needs with features such as a female-only floor and a closed-circuit camera inside the room to see who's knocking at the door.
In certain international destinations, consider having a local person accompany you at all times, as well as a personal concierge and a number to call for help 24/7.
Do not share your room number with everybody at the forum. Make sure to double lock your room door from the inside.
Do not feel pressured by a senior male colleague to go for after-event drinks if you are uncomfortable.
Download a personal safety app to your phone such as Companion or bSafe and turn it on so your loved ones always know where you are during your trip.
[Related Content: Sangeeta Sadarangani Leads All-Female Business Travel Team]
Do not arrange out-of-hours meetings in your hotel room (after the event is over, for example). Always try to get together at a coffee shop, restaurant, etc.
If you are sharing cabs with other colleagues, make sure there is at least another female with you and you are not left with a male as the last ones to be dropped off at your hotel.
Always carry a local emergency contact with you. It can just be the hotels' phone number but at least you have someone that can help you during an uncomfortable situation that is close by. 
[Meetings Today Blog: #MeToo in Meetings and Hospitality - What's Next?]
Do you have any travel safety tips for women to share? Post them in the comments section below.