4 Innovative Museums That Cater to Groups With Families in Tow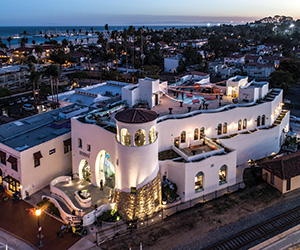 Innovative and interactive museums have become highly desirable visitor lures, especially with the trend toward experiential opportunities that directly reflect the character of a destination.
For groups bringing families along to meetings, these types of museums provide ideal places to explore before, during and after meetings, and with venue spaces, they can even be used for private events—which can include the family. Following are four standout family-oriented museums in the West.
MOXI, The Wolf Museum of Exploration + Innovation
Santa Barbara, California, www.moxi.org
It's been called the coolest indoor playground—ever.
At Santa Barbara's MOXI, guests can indulge their curiosity by stepping inside a massive guitar to experience sound waves and learn how riffs are created, taking flight in a super-powered wind column and building a mini race car, among hundreds of other fascinating interactive exhibits.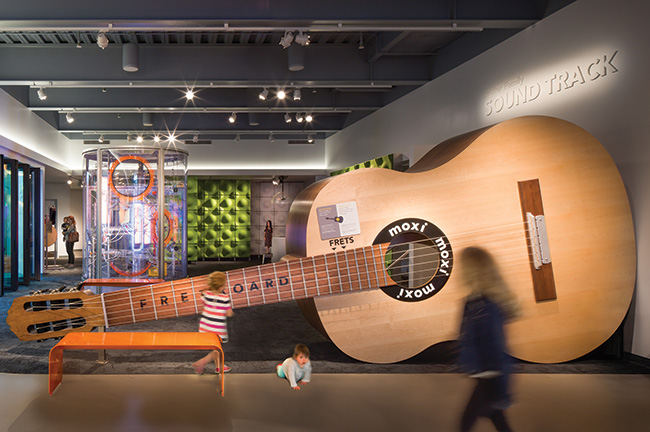 MOXI, The Wolf Museum of Exploration + Innovation, Credit: Jason Rick
MOXI was designed as a place where you can explore and discover new things about the world around you, ask questions, seek answers and have a blast doing so.
The museum has been surpassing visitor goals and turning heads since it opened—both for its intriguing experiences and its whimsically innovative architecture, which is designed to make the museum resemble a sandcastle with a tower and a wavy roofline while paying tribute to city's iconic white-washed Spanish Colonial adobe structures. It also is the first LEED Gold-certified museum in Santa Barbara County.
"MOXI is one of the hottest developments and off-site event venues along our newly revitalized lower State Street corridor," said Michelle Carlen, director of sales at Visit Santa Barbara.
"When you host an event at MOXI, you're choosing a space with built-in entertainment value thanks to our three floors filled with interactive exhibits," said Martha Swanson, director of marketing and communications at the museum. "And there are lots of opportunities for playful branding and activities tailored to your group.
MOXI is available for a variety of private events. One of the top options is a reception or sit-down dinner for about 150 people on the rooftop Sky Garden, which offers panoramic views of the city and mountains. Groups of up to 500 can also rent the entire museum.
Swanson said one standout event was the launch of a new line of motorcycles by Honda.
"They displayed the new bikes throughout the museum and did a big reveal on the rooftop utilizing our glass floor and special lighting for added drama," she said.
"Another company hosted an appreciation event with food stations throughout the museum and had their guests do a custom craft in our makerspace as a memento of the night," Swanson added.
The Exploratorium, San Francisco
www.exploratorium.edu
Relocated from its longtime home at San Francisco's Palace of Fine Arts a few years back, the significantly expanded Exploratorium now sits at Pier 15 along the city's attractive waterfront.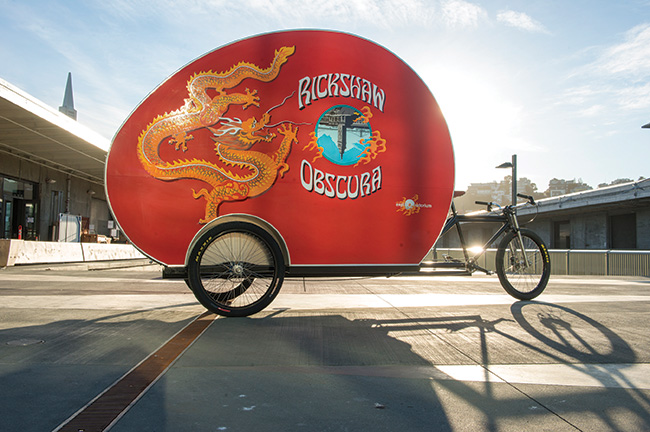 Camera Obscura, The Exploratoruim, San Francisco
The museum provides one of the world's most interesting learning laboratories melding science, art and transformative education. Guests can venture into the mobile Camera Obscura and see an upside-down world, step inside a tornado, walk on a fog bridge or explore any one of more than 650 other intriguing exhibits at the 330,000-square foot, indoor-outdoor development.
Located in the vibrant heart of the historic Embarcadero, the LEED-certified Exploratorium is also as one of the city's most sought-after event venues, hosting everything from intimate gatherings, meetings and seminars to large events for up to 3,500 people. All proceeds from event rentals go to support the nonprofit educational mission and programs of the museum.
"When your guests attend an event at the Exploratorium, it is not just another event," said Amy Adkins, director of museum rentals and concessions. "It is a full interactive experience that will allow them to both relax and enjoy delicious food, but also explore, play and discover new things."
All of the Exploratorium's gallery spaces, some with sweeping views of the bay and Bay Bridge, can be rented for private events. Each gallery has a unique theme with corresponding interactive exhibits focusing on topics such as social sciences; light, sound, vision and hearing; life sciences; and the geography of the region.
The Museum of Flight, Seattle
www.museumofflight.org
With more than 175 aircraft and spacecraft, tens of thousands of artifacts, millions of rare photographs, dozens of exhibits and experiences and a world-class library, The Museum of Flight is the largest independent, nonprofit air and space museum in the world. And it just became as fascinating as it gets.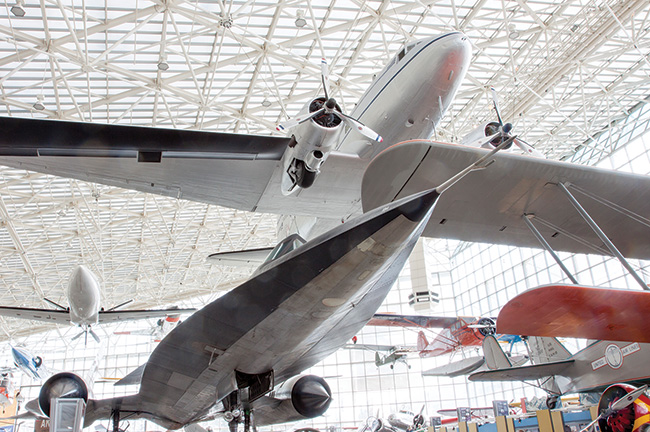 The Museum of Flight, Seattle
The Museum of Flight recently introduced Apollo, The Exhibit, the first public display of the long-lost Apollo 12 and 16 F-1 rocket engines that launched the Apollo astronauts to the Moon. The exhibit features many other unique artifacts from the Space Race, including Moon rocks, a lunar roving "moon buggy," the only Viking Mars lander on Earth, space suits and the first Apollo command module.
Meanwhile, The Museum of Flight's other experiences have made it one of the most popular family-friendly destinations in the Pacific Northwest.
The 3-D Movie Theater showcases the wonder of aviation and spaceflight, while guests can partake in exciting hands-on experiences such as space shuttle trainer tours, flight simulators offering everything from full-moon loops to rolls and aerobatics, pilot experiences and behind-the-scenes Boeing Field Tours.
Several unique event venues are also a highlight of the museum—accommodating everything from small affairs to 1,200-person-plus gatherings. Standout options include T.A. Wilson Great Gallery, an opulent six-story, glass-enclosed space featuring many dramatic aircraft—including the iconic Blackbird spy plane and the J. Elroy McCaw Personal Courage Wing, a two-floor space with dramatic interactive exhibits highlighting 28 WWI and WWII fighter planes.
"We provide extraordinary spaces where guests can celebrate and dine among historical aircraft," said Cindy Messey, private events manager at the museum. "Some of our most memorable events have been intimate gatherings where clients have chosen the museum because of their personal ties with aviation or with a specific plane.
"Through military reunions, weddings, memorials, even corporate events, it's amazing to see how aviation has influenced so many individuals," she added.
Springs Preserve, Las Vegas
www.springspreserve.org
A massive cultural campus offering entertainment, education and recreation, Springs Preserve, located at the original water source for the valley, celebrates Las Vegas' dynamic history—natural and otherwise—and provides a vision for a sustainable future.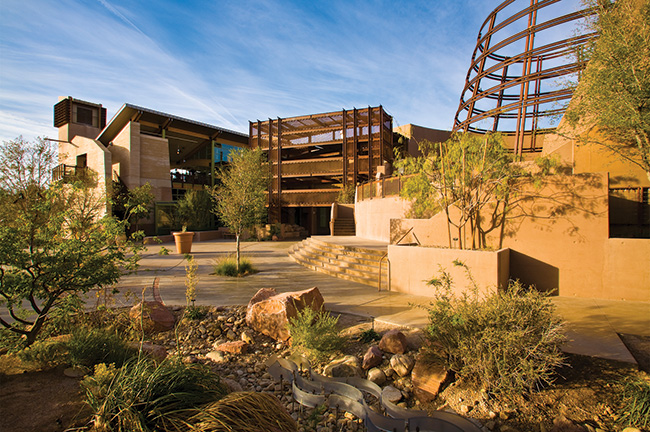 Springs Preserve, Las Vegas
Consisting of 180 acres of green buildings, museums, galleries, botanical gardens, playgrounds, traveling science and nature exhibits, live animal exhibits and shows, walking trails, a train and 20 family-friendly seasonal events each year, the Springs Preserve is a true community gathering place, according to Dawn Barraclough, public relations representative at the facility.
"The Springs Preserve is a great place for families to explore the natural side of Las Vegas and how water gives life to the desert," she said. "The Mojave is an intriguing place where plants, animals and people have lived for thousands of years, at this very location, by learning to adapt to the extremes of this arid climate."
The preserve offers an array of unique venue options, including an early Las Vegas streetscape called Boomtown 1905, beautiful sustainable buildings, a cafe with one of the best views of the valley, an award-winning botanical garden, and an amphitheater with the Strip in the background. On-site tours and activities are also available.
"One of our favorite ways to highlight the diversity of the site for large groups is a dine-around experience," Barraclough said. "Imagine cocktails in the Botanical Gardens at sunset followed by a train ride to Boomtown 1905 for Old West-inspired delicacies, and then a moonlit walk to the Divine Cafe for a full view of the Strip and gourmet desserts."
[Read This Next: Experts Weigh In With Tips for Family-Friendly Meetings]