Beyond Academics, State College, Pennsylvania, Is a Hub for Meetings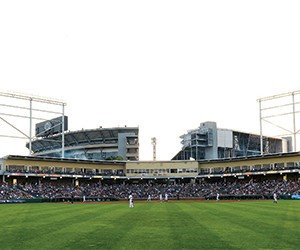 First and foremost a college town, State College, Pa., buzzes with students as well as Penn State football fans. The Central Pennsylvania locale is also a draw for groups looking to hold a memorable meeting, with quintessential experiences appealing to sports fans, foodies, history buffs and even stamp collectors.
Following are six standout ideas that will positively engage attendees outside the meeting room, including fun teambuilding activities, special event spaces for brainstorming sessions and picturesque receptions, and attractions that range from unique museums to a lively ballpark.
The newly renovated Shaver's Creek Environmental Center was founded in 1976 to act as a community resource and a field laboratory for Penn State students interested in teaching in the natural world.
"Shaver's Creek is a short 20-minute drive from State College but connects you with nature," said Shirley Smith, director of sales for the Central Pennsylvania CVB. "It's a great place to book a custom teambuilding experience for your group."
Planners are encouraged to work with an on-site facilitator who is trained to create the best team-bonding program based on the group's makeup, desired takeaway lessons and other factors.
Among the engaging activities is something called the Mousetrap Trust Sequence during which partners work together to set and unset traps, and Planks—a timed progression of challenges to complete a 3-D puzzle.
Groups can also visit Shaver's Creek without booking a teambuilding program. There is a Discovery Room and hiking trails to explore, a picnic area and a raptor center with resident bald eagles, great horned owls and other beautiful birds of prey.
The Penn State All-Sports Museum is a multistory interactive experience that highlights the university's varsity sports.  
"It is hard to think about Penn State University without thinking about the many athletes, coaches and teams that have made up its history," Smith said.
Sports presented in the museum include football, of course, as well as tennis, track and field, golf, baseball, field hockey and volleyball. Groups could arrange a specialized highlights tour focusing on three to four sports of interest.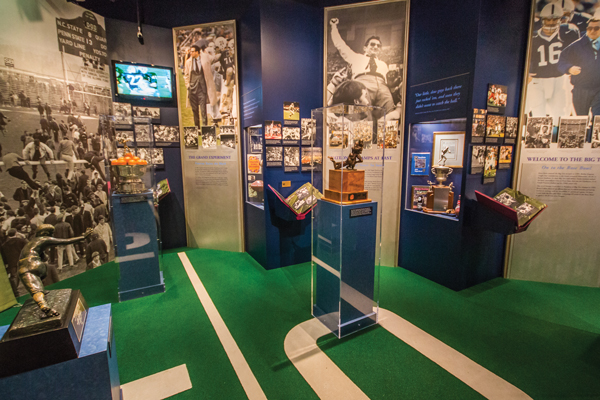 Penn State All-Sports Museum
Groups are also encouraged to book a stadium tour (based on availability), which includes checking out the Nittany Lion locker room and enjoying exclusive access to Beaver Stadium, where the Penn State football team plays.
If the timing isn't right and a stadium tour isn't possible, groups can take the opportunity to look into Beaver Stadium from the Mount Nittany Club Level. During stadium views, which are offered at designated hours from Tuesday through Sunday, groups are given a brief history of the facility and time for an unforgettable photo op.  
"Get your photos inside the 106,572-capacity stadium, which becomes Pennsylvania's fourth largest city on game days," Smith said.
PageBreak
The American Philatelic Society, located nearby State College in Bellefonte, Pa., is the largest nonprofit organization for stamp collectors in the world.
The newly renovated building is located in a repurposed match factory along with a host of other businesses, including Big Spring Spirits, a craft distillery.
"With nearly 5,000 square feet in meeting space it provides ample space for everything from an intimate meeting to events pushing 200 people," Smith said.
Spaces include Sundman Hall, a banquet space for up to 200 people theater-style, and the Air Mail Room, which accommodates events ranging from a 14-person board meeting to as many as 50 people
theater-style.     
Taste Buds Kitchen
A visit to Taste Buds Kitchen is a terrific idea for groups that would like to include a fun and delicious hands-on camaraderie-building experience somewhere in the meeting itinerary.
"If you're looking to pick up a skill and bring something home with you, then Taste Buds Kitchen will be a great fit," Smith said.
Interested groups can book a private event to learn various culinary skills in this educational kitchen. Options include learning how to prepare handmade pizza, cooking with wine, making sushi and a seasonal class focused on creating gingerbread houses.
Beginners, Smith added, are more than welcome.
"No cooking experience required!" she exclaimed.
Groups intrigued by history will be entertained during a visit to the Columbus Chapel & Boal Mansion Museum.
Located just a short 10-minute drive from the Penn State campus, this attraction is a treasure trove of artifacts, including Dolly Madison's piano, Christopher Columbus' admiral's desk, two pieces of the True Cross of Jesus and much more.
"Who knew that the largest collection of authentic Christopher Columbus artifacts in the Western Hemisphere would be found in Boalsburg, Pa.?" Smith said.
The Boal Mansion grounds, which feature large lawn spaces and myriad photo opportunities, accommodate open-air and tented receptions. A tour through the grounds takes 1.5 to 2 hours.
Medlar Field at Lubrano Park, home to the New York-Penn League's State College Spikes, was the first LEED-certified stadium in the world when it opened its gates in 2006.
Groups will enjoy an outing to watch this popular Minor League Baseball team in action.
"With suites, boxes and 5,570 seats in total there isn't a bad seat in the house," Smith said. "The view of Mount Nittany behind the fence is also an awe-inspiring backdrop to watch a game."
The Penn State Nittany Lions baseball team also plays here. 
State College CVB Information
Central Pennsylvania CVB  
814.231.1400
 
PageBreak
Bottoms up
Wine, beer and spirits are flowing in the State College, Pa., area, where groups will find places to grab a craft brew, taste some artisan whiskey and share a locally grown bottle of red or white.
The LEED Gold-certified distillery, Big Spring Spirits, makes whiskey, vodka, rum and gin, and offers private group tours that include a tasting of three spirits and a cocktail. Among the specialty drinks prepared here are pumpkin pie martinis and cinnamon whiskey ciders.  
Situated 10 minutes from State College in Centre Hall, Pa., is the Mount Nittany Vineyard & Winery, a picturesque getaway where groups could book a tour and tastings. Nittany Mountain Red and Lion Country Blush are two varietals on the impressive wine list.
Visitors are encouraged to bring food to enjoy with wine at picnic tables near the pond, and events are accommodated (based on availability) in the on-site Vintner's Loft, a private room with pond and vineyard views.
Wine-loving groups could also swing by Seven Mountains Wine Cellars, a local favorite in nearby Spring Mills, Pa.
"Visiting the winery is a relaxing experience, often with live music, and beautiful wooded views and plenty of space to mingle," said Shirley Smith, director of sales for the Central Pennsylvania CVB.
Seven Mountains accommodates group tours, including tastings, wine pairings with food and an exploration of the wine cellar, as well as private events in its 2,000-square-foot lounge area.
At State College-based Otto's Pub and Brewery, groups can order delicious burgers off a locally sourced menu that also includes everything from fish tacos to pasta dishes and pizza. Otto's beers on tap include Red Mo American Red Ale and Slab Cabin India Pale Ale.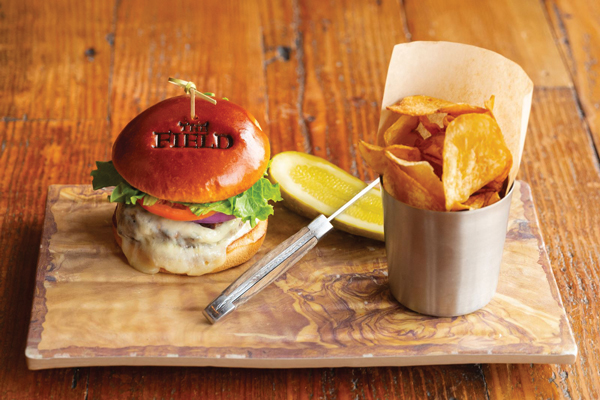 The Field Burger & Tap
The Field Burger & Tap, located on-site at State College-based Toftrees Golf Resort, is another option for an amazing burger and cold beer.
The restaurant offers a warm ambience and a farm-to-table menu with items that include local bread, regional bacon and Amish cheeses, as well as a selection of Pennsylvania craft beers and decadent milkshakes made with Hershey's ice cream.
Latest + Greatest
At press time, the new Boalsburg, Pa.-based Wyndham Garden State College was scheduled to open in September 2018. The hotel, which shares property with Mountain View Country Club, features an 18-hole golf course, 100 guest rooms, indoor and outdoor pools, and 10,700 square feet of event space with eight total meeting rooms that accommodate up to 350 conference or banquet guests.
The $7.5 million renovation of Shaver's Creek Environmental Center was completed in September 2018 and is now open to the public. Shaver's Creek offers experiences and programs to over 60,000 people annually. The center upgraded its visitor center, adding a landscaped terrace, outdoor teaching space and a new bookstore as part of the improvements.