$1.9 Billion in Developments Highlight Puerto Rico's Impressive Comeback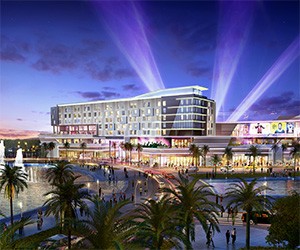 It's been a little more than one year since Hurricane Maria devastated Puerto Rico. Today, this Caribbean island is as beautiful and booming as ever, according to Brad Dean, CEO of Discover Puerto Rico, who said the first and foremost challenge is to correct misperceptions.
"A lot of people don't realize just how far we've come over the past 13 months," Dean said. "Puerto Rico is writing a comeback story like our industry has never seen.
"We're not just open for business—we're coming back bigger and better," he added.
Throughout the island, revamped hotels have reopened or are scheduled to in the coming months. Nearly 200 top attractions and thousands of restaurants are fully operating and roughly $1.9 billion in hotel construction and other developments are bringing 25 percent more room capacity. In total, the Puerto Rico revitalization project is creating 2,900 local jobs.
Following are the highlights:
3,800 rooms are being added to the destination's hotel infrastructure at new properties such as Four Seasons Cayo Largo Resort, JW Marriott in Dorado and Mall of San Juan Hotel.
The five-acre District San Juan, set to debut in the fourth quarter of 2019, will be a vibrant hospitality and entertainment district and popular setting for events, conventions and performances.
The new ALOFT Hotel at the Convention Center at District San Juan will offer 175 loft-like rooms, the WXYZ Bar and an infinity pool.
Currently, 132 lodging options are open and accepting reservations, with 10,806 rooms currently available for bookings, which helped boost occupancy levels by 3.8 percent from April through June of this year, compared to the second quarter of 2017.
On the luxury front, The Dorado Beach, A Ritz-Carlton Reserve reopened with major improvements; The St. Regis Bahia Beach Resort is scheduled to reopen in December 2018 following the completion of a $60 million renovation; and El San Juan Hotel, Curio Collection by Hilton will reopen on Isla Verde Beach this winter following a significant renovation.
Additional improvements include 480 new rooms to be available in December at Melia Coco Beach and additional renovations at Caribe Hilton; El Conquistador Resort, a Waldorf Astoria Resort; and The Ritz-Carlton, San Juan.
More than 4,000 diverse restaurants and 189 attractions are now open throughout the island, numerous nightlife options, 16 casinos and 13 golf courses.
Check out the infographic below for "big picture" Puerto Rico development highlights.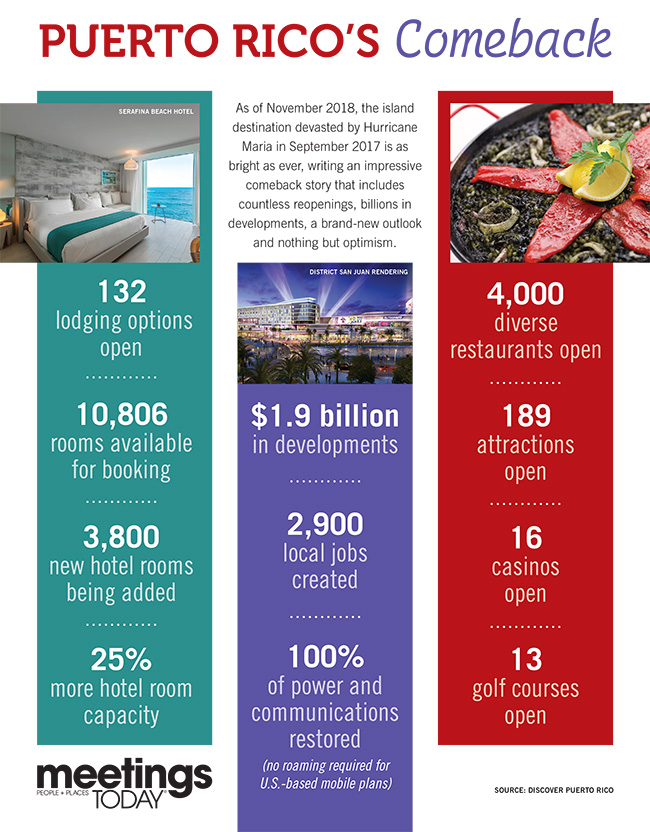 Click here to view a larger version of the Puerto Rico development infographic.
Meanwhile, Dean said Discover Puerto Rico, the newly created destination marketing organization for the island, believes there is a tremendous opportunity to reposition the brand as not just a great beach destination but a cultural gem of the Caribbean.
"If you look at the art, the history, the culture, the dance and the gastronomy with our vibrant foodie scene, Puerto Rico differentiates itself from the other islands," he said. "In 2019, Old San Juan turns 500 years old, so you've got this extraordinary history as well as this interesting infusion of Caribbean, African and Spanish culture mixed in with the American character."
Hamilton Heads to Puerto Rico in 2019
Kicking the year off on a cultural high note, Lin-Manuel Miranda is bringing his groundbreaking Broadway musical Hamilton to San Juan Jan. 8-27, 2019, in an effort to raise millions for hurricane relief.
Miranda is a native New Yorker whose parents are from Puerto Rico and who has family on the island. He spent summers on the island with his grandmother when he was growing up.
[Related Content: Serafina Beach Hotel Puts Puerto Rico Back in the Limelight]
Miranda, who has been a huge advocate of helping the island rebuild after the hurricane, will reprise his role as Alexander Hamilton for the 24-performance run and proceeds will go toward the new Flamboyan Arts Fund.
With the belief that "the arts can build hope, stimulate the economy and enrich people's souls," the Flamboyan Arts Fund is dedicated to all facets of the arts community in Puerto Rico, including music, theater, visual arts, dance, literature and youth arts education.
Whether trying to grab a ticket to Hamilton in San Juan or booking a meeting, now is as good of a time as any to consider a trip to Puerto Rico, according to Dean.
"There's no better way to help your fellow American citizens in Puerto Rico than to visit or to schedule a meeting or conference in the near future," he said.
[Read This Next: Savoring Old San Juan With Spoon Food Tours]