The Hottest Trends for Golf Events in 2019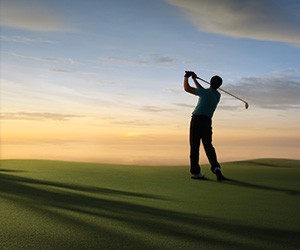 Golf resorts are staying in the game for the next generation by offering innovative new ways to play and other features. Incorporating the latest technology, moving away from traditional play and even taking the game off the course are among the trends leading the way. We spoke to three golf experts to get their take on what's hot for 2019.
Music on the course. With the advancement of Bluetooth technology and directional speakers, music on the golf course is becoming more acceptable, especially for fun-oriented group outings. Music puts everyone in a good mood and provides an incentive to some non-golfers—who might think golf is boring—to give it a try.
Expanded food and beverage choices. More healthy choices like turkey burgers and lower-sodium hot dogs are increasingly offered as well as innovative chef-inspired selections appealing to all age groups. Craft beers and creative, original cocktails by a mixologist are popular with millennial golfers.
More emphasis on non-golfer involvement. Planners are encouraging more non-golfers to get involved so they don't miss out on the networking and socialization opportunities. They can participate in a variety of ways such as taking pictures for social media, serving as bartenders on the tees or being a forecaddie for a group.
Shorter events. Three-hole, six-hole and nine-hole tournaments that can be played in less than two hours are increasingly popular. These days, it's difficult to block out six hours for an 18-hole round of golf so planners are coming up with events to shorten, but not diminish the golf experience.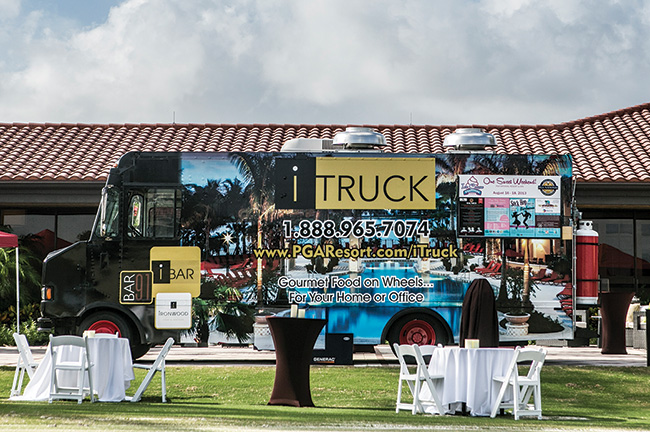 Food Truck, PGA National Resort & Spa
Entertainment golf. It's a great way for people who love golf and novices who are intimidated by golf to enjoy the game together. Topgolf and Drive Shack are nightclub-style complexes with large, arcade-like, lighted targets and restaurant and full bars serving cocktails and craft beers.
Ron Slucker, President, IMPACT365
Use the course technology. Some golf resorts are really going all out with technology options, and planners should take advantage.
You can tie into all of the existing screens within a clubhouse using a simple media player or computer/tablet, but we will see more courses utilizing their GPS golf carts with displays to help you send messages to players or advertise. They can even be used as a remote monitor for social media where guests can post pictures and comments.
Experiential on-course activities. Engaging on-course activities on the tee box of select golf course holes are loved by all as long as the activity does not slow down play and it is even better if it ties into your guests' line of work. Allowing your vendors, sponsors or a local experience from the area interact with your attendees is a win-win for all. The activity should give players instant gratification through a gift or a chance to win something big that day. Some ideas include driving off of a flatbed truck, demo driver experience, a hand of blackjack, a dunk tank of your executive team and more.
You can also incorporate teambuilding or group activities already offered at the resort.
Support a local non-profit or charity. Corporate social responsibility is still on the rise for meetings and events and that includes golf functions. Groups can arrange for an on-course experience solely focused on fundraising.  This experience does not need to be costly, but at the end when the entire group sees how much you raised for a great cause, it really increases morale. Some options for this could include fundraising through fun competitions like a Beat the Pro or Bean Bag Competition.
Reward everyone. Gone are the days where just the best golfers win all the good prizes. Experienced golfers tend to simply appreciate the day on the course more than most and you most likely paid for their round. To encourage all levels, prizes can go to a winning team and competition winners, but also for categories like best dressed, funniest hat, ugliest golf shoes, or most honest team (last place?!). Prizes can include experiences at the resort, such as spa gift vouchers, or an afternoon at a poolside cabana.
Everyone is a VIP. The experiences prior to hitting the links are just as important as the game itself. Include a welcome card upon arrival, and a custom bag tag and logo golf towel could be put on bags at drop-off and welcome cocktails. Complimentary cigars and such make everyone feel like a VIP from the moment they arrive at the resort. If you provide an excellent experience before they tee off, your day is set for success.

David Fine, Senior Vice President, Sales, Marketing


and Revenue Development, PGA National Resort & Spa

Speed up play. United States Golf Association (USGA) changes to the rules of the game will quicken play and enhance the individual and group golf experience.

These changes include Maximum Score Formats, Forward T-Box and new Lost Ball time restrictions. With less time committed to the course, more attendees will be inclined to participate in the game without feeling like they are missing out on the other amenities offered at the resort.

Social games. Entertainment golf options like Topgolf have provided a social platform whereby more meeting attendees have been exposed to golf on a social level, hence are more apt to want to participate in a golf meeting.

They have a road-show technology that can be moved on a temporary basis and dropped into a standard driving range configuration on a temporary basis for groups. Drive Zone is new driving range experience that includes interactive games, food and drinks, televisions, putting greens and an outdoor lounge. These activities also allow groups to have the golf experience at resorts and properties that do not have a traditional golf course.

Growing media attention. More Olympic coverage of golf continues to promote the sport. The Ryder Cup, the men's golf competition between teams from Europe and the United States is creating more of an international buzz. It's also a great format for groups, especially those of mixed levels.

Make it an experience. Our GloGolf combo event of cocktail reception and putting lessons and putting contests as a corporate function continues to grow in popularity among attendees. The resort debuted its own iTruck, providing a gourmet food truck experience when groups get off the green.

Golf simulator. A gold simulator demonstration, competition or experience at a reception is great for building comradery. It can be healthy competitive fun after a long day of meetings and can be set up anywhere on-property, taking golf aspect of the event beyond the green. 

Read More About Golf Events From Meetings Today: