Ballparks Across the U.S. Swing for Group Business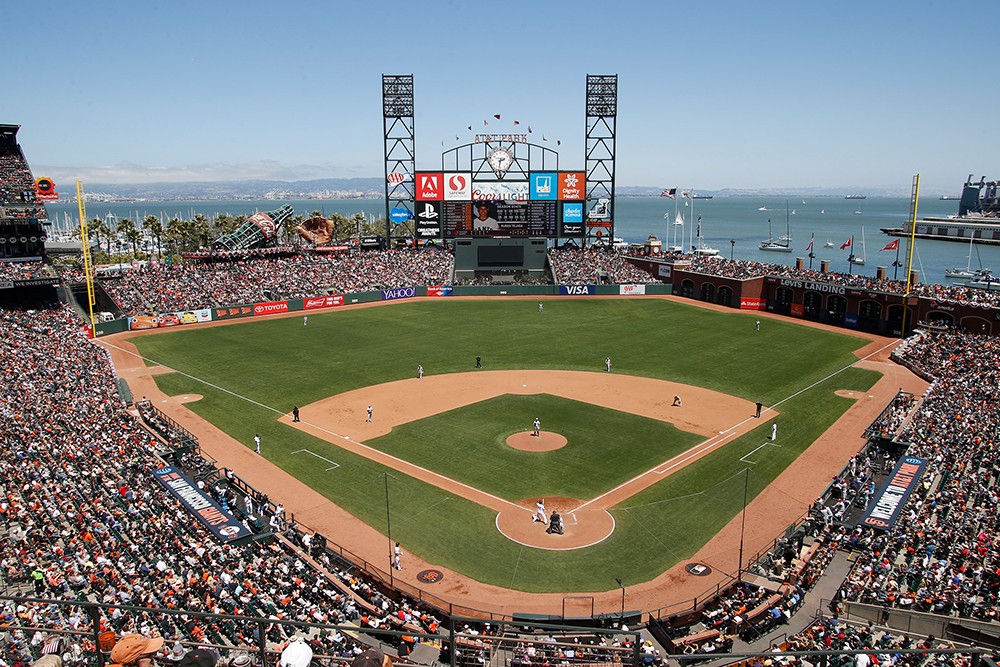 The American pastime is proving to be a fertile field for baseball stadiums—also known as baseball parks or simply ballparks—that are courting meetings and events. In fact, many new ballparks that have been built in the last decade or so count on non-game revenue as a healthy portion of their revenue.
Besides full tours of ballparks, groups can immerse themselves in the glory of the game by holding special events in the competitive arenas where their heroes battle it out in front of boisterous crowds.
Following are a few of the major players that have hit a home run with their event-ready facilities.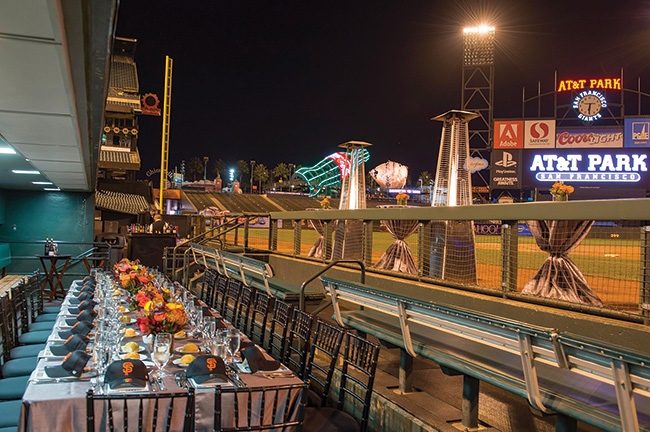 Group Dining at AT&T Park, San Francisco​
Home of the MLB San Francisco Giants, AT&T Park is an all-star baller when it comes to transforming its offering to draw major concerts, meetings and events that can be scaled to virtually any size, from a ballpark gathering of a few to a more prominent get-together that welcomes tens of thousands.
"What we aren't is what makes us unique, said Stephen Revetria, senior vice president of Giants Enterprises, whose work selling AT&T Park for events and hosting many local meetings and hospitality industry events, recently won him the 2018 Peter Goldman Award of Excellence from the San Francisco hotel community, the first non-hotelier to be honored as such.
[Related Content: These 5 Historic Ballparks Are Made for Hosting Events]
"It's not your typical ballroom in a hotel," he added. "It's unique, fun and a great location for creativity and thinking outside of the box. This is what we do, and I think we do it extremely well."
AT&T Park, opened in 2000, was one of the first of a new generation of Major League Baseball stadiums that was constructed with non-baseball special events as part of its core mission.
On non-game days, AT&T Park can provide a platform for a variety of group events with options such as on-field dining, a dedicated boardroom, breakouts in the batting cage and meetings in the Giants Clubhouse with jerseys featuring the names of attendees hanging on each locker.
Additional group opportunities include gatherings in the bullpen, the Club Level suites and its newest facility, The Gotham Club, an exclusive bar and restaurant located within the out-of-town scoreboard.
AT&T Park also stands out from the competition because of its top-notch catering operation.
"We have a preferred caterer, Bon Appetit," Revetria said.
"They will customize any program, any menu to meet the clients' expectations, and we can supplement that through their incredible chefs, such as Michael Mina or Traci Des Jardins," he added.
Entertainment options also abound at the park.
"We host some of the biggest conferences and meetings here and we've had name talent, from Justin Timberlake to Katy Perry or Coldplay," Revetria said. "Whatever you can imagine we've been able to procure for our clients to create those magical moments. Entertainment is really limitless when you have the availability to do this, from green rooms to the scoreboard.
"…We basically have a whole TV studio where we can create streaming and web-enabled broadcasts on 200 screens throughout the ballpark and a massive screen in the outfield, so anything is really possible."
AT&T's location on the San Francisco waterfront also means groups can take to the sea for a cruise on the San Francisco Bay on the park's California Spirit yacht, which can accommodate up to 130 guests, and two smaller vessels, the Yacht Lady and Diamond Seas, which can get 12 people each on the water.
All of the boating transport options provide F&B service to keep guests in a convivial mood as they drink in the sights of one of the most beautiful cities in the world. The ballpark is also pretty much in the middle between the city's major convention facility, Moscone Center, and the new arena for the NBA Golden State Warriors, Chase Center, which puts it in a prime position to draw huge convention crowds.
"We've really become the middle of main street, with Moscone to the right and Chase Center to the left, both about equidistant," Revetria said. "Now we'll be able to bid on really massive conventions. Put this all together and you've got an incredible package, and we continue to evolve and change things."
AT&T Park is pumping up the volume by constructing a mammoth entertainment area adjacent to the park. Scheduled to be completed in phases over the next decade, plans for the 28-acre mixed-use waterfront development call for housing, office space and entertainment and retail offerings.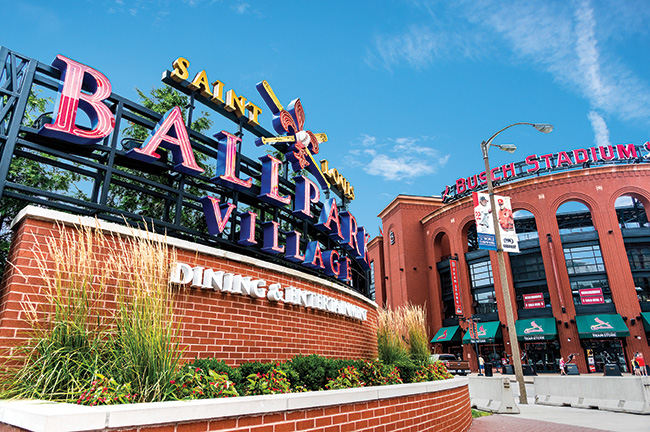 St. Louis Cardinals Ballpark Village, St. Louis​
With group options on par with its West Coast counterpart AT&T Park, Busch Stadium, home turf of the venerable St. Louis Cardinals, offers popular group activities such as pitching demonstrations in the bullpens, taking hacks in the batting cages and gatherings in the visiting and home team clubhouses.
As one of the most storied teams in baseball, the Cardinals can also bring in alumni players to give hitting and pitching tips, and even act as a catcher to receive attendee pitches.
"We've just finished our 12th season here," said Bill DeWitt III, president of the St. Louis Cardinals. "We're just always trying to [capitalize on] the versatility of the building.
"You've got not only the field and the stadium seating bowl, which is great for concerts and sporting events, but more importantly we've got all sorts of rooms that cater to all sorts of events," he added.
Other group options at Busch Stadium can include use of the field, with options such as luncheon presentations, seated and plated dinners and the opportunity for guests to access the field from right behind home plate; the Redbird Club, which has held up to 3,000 for a World Series gala; and Ballpark Village, a multivenue entertainment district with all manner of food, beverage and big screen action.
Dinner on the Diamond is a more-rarefied group dining experience that allows revelers to actually enjoy conviviality on the Cardinals' infield.
"We can really customize experiences for groups," DeWitt said. "A lot of facilities are designed to do that, but what's different here is we have a staff that exceeds guests' expectations for what's available at a ballpark, such as setting up a locker room experience, with cool photo ops with players' jerseys hanging, and batting practice and a golf simulation. The sky's the limit.
"We want to work with customers to create these special experiences that only a ballpark can provide."
Other Busch Stadium group spaces include the following:
The Perficient Red Jacket Club, located in right field and ideal groups of 60 to 100. The National Car Rental Club offers the best field view from floor-to-ceiling windows in an indoor space at the stadium.
The UMB Champions Club boasts the Cards' numerous World Series trophies and can host up to 400 reception-style and 300 for a seated meal.
Cardinals Nation, across the street from Busch Stadium, offers the Cardinals Hall of Fame and Museum and the Hall of Fame Club, where up to 250 can be hosted in a restaurant that is closer to a fine-dining establishment than a ballpark food outlet.
Like AT&T Park, the Cardinals are also in the process of a massive expansion, with a project to augment its Ballpark Village area that will include office space, residential units, retail and entertainment options, and a 216-room Live! by Loews hotel, expected to open in 2020.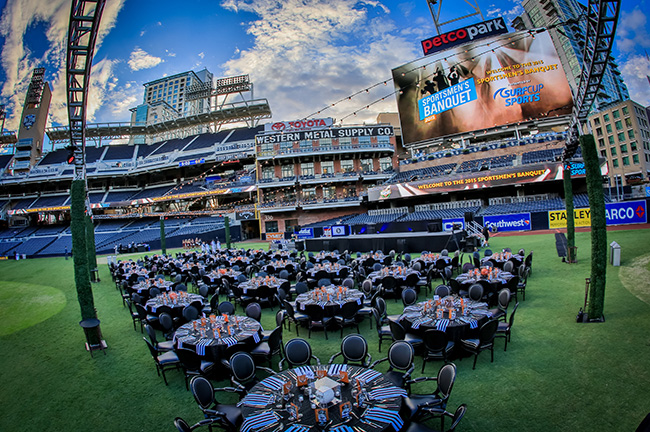 Group Dining at Petco Park, San Diego​
With great weather year-round, San Diego offers a worry-free environment for outdoor fun at a ballpark.
"It is our goal to keep the ballpark busy year-round with events," said Allie Asuncion, Director, Petco Park Events. "We are very fortunate that the ballpark is located in the heart of downtown San Diego, next to popular hotels and across the street from the convention center." 
Petco Park features more than 20 unique venues, which allows for a wealth of options for planners. Besides the playing field, groups can utilize everything from the clubhouses to rooftops and general sessions in the seating bowl.
Another cool feature of Petco is that there is a 2.7-acre park on the other side of the outfield, named Park at the Park, that provides a great setting for networking receptions and private concerts.
Besides the local, laid-back San Diego feel the park provides—think palm trees, beach sand, surfboards, local craft beers and locally sourced cuisine—groups can also use venues in the iconic Western Metal Building located in left field, which is an authentic piece of San Diego because it was restricted from being torn down during the construction of the ballpark.
"Our team specializes in creating out-of-the-box meetings and events," Asuncion said. "We have featured some really fun entertainment elements like a Ferris wheels or hot-air balloon in the outfield to virtual reality and hands-on sports experiences. We can also provide guests with once-in-a-lifetime opportunities like meeting a baseball Hall of Famer, taking a behind-the-scenes ballpark tour or hitting in our Padres' batting cages.
"The Petco Park event experience is unique in that we are a one-stop shop and can assist the client with everything from design and decor to production and entertainment," she added.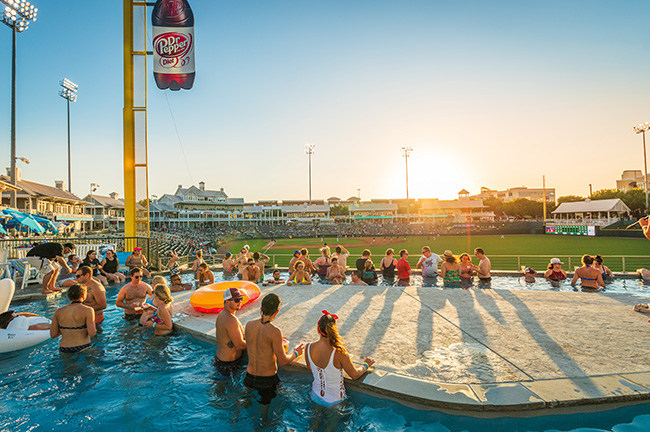 Lazy River at Dr Pepper Park, Frisco, Texas​
Frisco, Texas, is a destination that's all about sports, being the headquarters of the Dallas Cowboys and home to Major League Soccer's FC Dallas.
Its baseball team calls Dr Pepper Park home and provides a number of group options for special events.
According to the Visit Frisco CVB, there are several different options for groups who want to utilize the park for special events: The ballpark is available to host baseball/softball special events or tournaments, including events such as the Frisco College Baseball Classic, the Red River Rivalry Celebrity Softball Game and the Dirk Nowitzki 2018 Heroes Celebrity Baseball Game.
For teambuilding, several groups have utilized the ballpark for "batting practice" or a friendly game. Frisco RoughRiders mascots, coaches and players can also be available to participate, pending schedule and availability.
For space rental, the ballpark also features 23 luxury suites, five party decks and Bull Moose Saloon, a 1,300-square-foot tavern, all available for groups to rent during home games.
Another truly unique option, especially during a hot Dallas Metroplex day, is the 12,960-square-foot Choctaw Lazy River, which is open to the public on Thursday and Sunday home games but on all other days is available for group rental.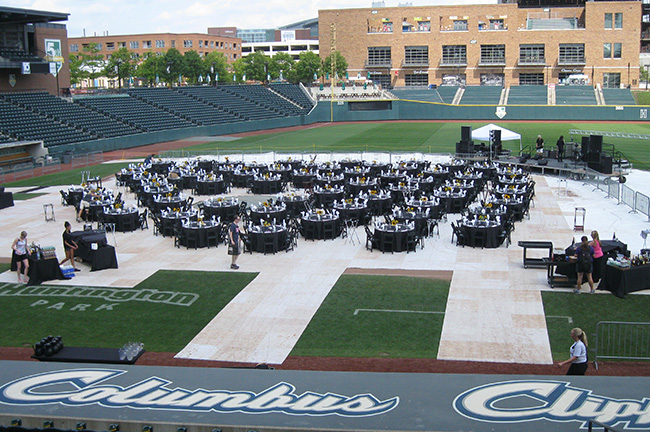 Reception at Huntington Park, Columbus, Ohio
Boasting one of the premier minor league ballparks, up-and-coming Columbus, Ohio, features a major-league experience right in its downtown.
"I think the versatility and the uniqueness of the setting is what attracts planners," said Ken Schnacke, president and general manager of the Columbus Clippers. "People are looking for something different."
"You're just looking for different ways to present it to get more people to attend, and to have a setting that gives people a new perspective on how the meeting is perceived," he added. "The views to the field are much different than you have in any convention center or hotel meeting space."
Schnacke said many companies use the stadium for sales incentive celebrations, complete with customized jerseys with the incentive winner's name on the back, or even hold group activities such as kickball and Wiffle ball.
"We'll try to find out what the company is trying to achieve other than just the meeting and add some amenities according to what their budget is and what they want to do for people," he said.
"We can work from groups of five to five or six hundred," Schnacke added. "We've got some big open spaces where you can put tables and speakers, and we can do classroom and meeting room settings in the Hall of Fame Bar, which has video equipment for PowerPoint presentations."
As Columbus is the headquarters town for a number of Fortune 1000 companies, the award-winning Huntington Park is a natural choice for get-togethers large and small. Clients have included Huntington Bank, Nationwide Insurance, Spectrum cable, Cardinal Health, AAA and a variety of charity events.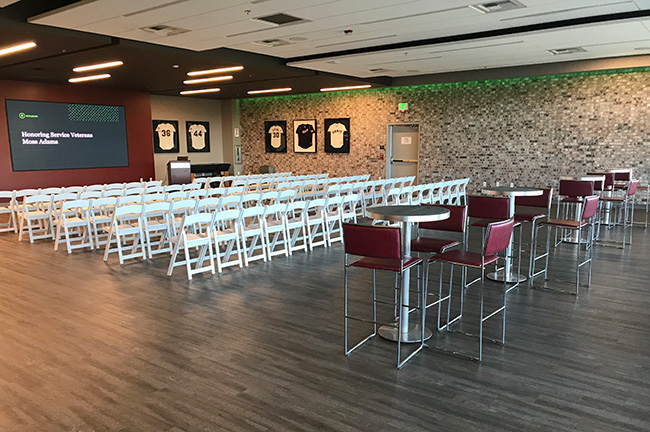 Raley Field Meeting Room, Sacramento, California​
Sacramento, California's Raley Field, home to San Francisco Giants AAA team the Sacramento River Cats, offers a big league feel in a minor league ballpark.
"Raley Field has several different options to host custom events within the ballpark," said Brittney Nizuk, manager, events and entertainment for Raley Field. "Whether you're looking to accommodate an indoor business meeting of 20 or a large outdoor festival for thousands of people, we've got you covered."
"Our experienced events team hosts hundreds of events a year and possesses the skills to really make something special for each client," she added.
"Specifically, our Western Health Advantage Legacy Club boasts spectacular views of downtown Sacramento with custom layout options to suit clients' needs for up to 250 people."
Special inclusions for group events at Western Health Advantage Legacy Club include, at no additional cost, access to stadium Wi-Fi, a 5x11-foot HD video wall to broadcast presentations, microphones, free parking and access to existing room furniture. Additionally, clients have the option to add on catering or bar service through the in-house catering team.
"If you dream it, we can do it, Nizuk said. "The ballpark is a fabulous place to bring guests as it's something different than a standard conference room.
"Our venue is a one-stop shop for all of your meeting needs," she added.
[Read This Next: Esports Facilities Provide Electric Event Venues]