Esports Facilities Provide Electric Event Venues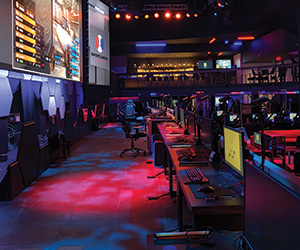 While you may miss the smell of a freshly mowed playing field and a rousing chorus of "Take Me Out to the Ball Game" during the seventh-inning stretch, the hottest trend in sports doesn't have anything to do with what is traditionally considered a sporting event.
The latest craze is esports, with younger audiences especially turning out at purpose-built facilities to watch cyber warriors engage in electronic warfare.
And if you think esports are kid stuff, consider some numbers: In researching the size of the market, the City of Arlington cited research valuing esports at nearly $493 million in 2017 and $905 million in 2018, and by 2020 esports is estimated to be a $1.5 billion industry.
Two major venues are vying for competitors and spectators, and meeting group off-site activity business, by jumping in, pixel-first, into the esports game.
"What we have seen in the esports market is their sophistication in production and technology for their programming," said Michael Dominguez, chief sales officer of MGM Resorts International, which opened the Esports Arena Las Vegas in March 2018 at Las Vegas' Luxor Hotel & Casino.
"It is sports, entertainment and production that surpasses much in the market. With a permanent arena, groups are able to capitalize on this experience as well as learn from the broader esports market."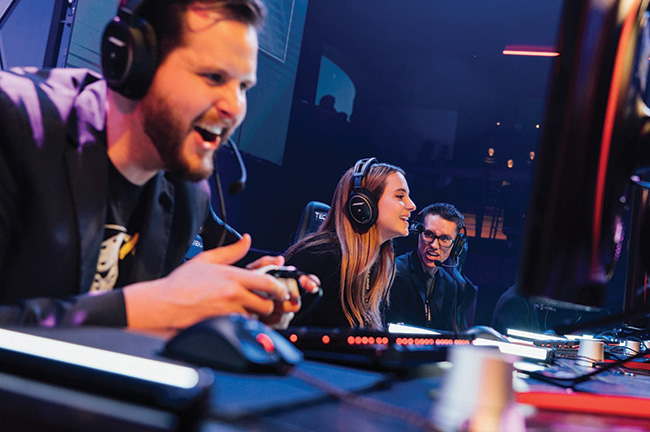 The 30,000-square-foot arena at Luxor Hotel & Casino, which opened March 22, 2018, mixes live and streaming esports experiences, including daily gaming, high-stakes tournaments and interactive entertainment, and offers private event spaces and buyout opportunities for groups.
The venue's Main Hall features the primary competition stage, gaming stations, a two-story video wall, upper- and lower-level VIP rooms and two bars, while the Dome houses an interactive history of gaming display, a 360-degree videoboard and a gaming-inspired chandelier.
The facility also offers a broadcast center with a production studio.
"We can provide things like tournaments and teambuilding experiences in the main hall and in our VIP rooms, where we can set up gaming pods with food service and bottle service," said Monique Schwartz, assistant operations manager of the venue.
Meetings Today was actually the first group to be hosted at the arena, for the closing night of Meetings Today Live! West in spring 2018. Our group split up in teams to play "Keep Talking, No One Explodes," in which we had to work together to defuse a virtual "bomb" before it detonated.
Gaming-inspired food and beverage at the venue is spearheaded by celebrity chef Jose Andres and ThinkFoodEntertainment. Our group enjoyed a delicious poke station and Asian-infused appetizers.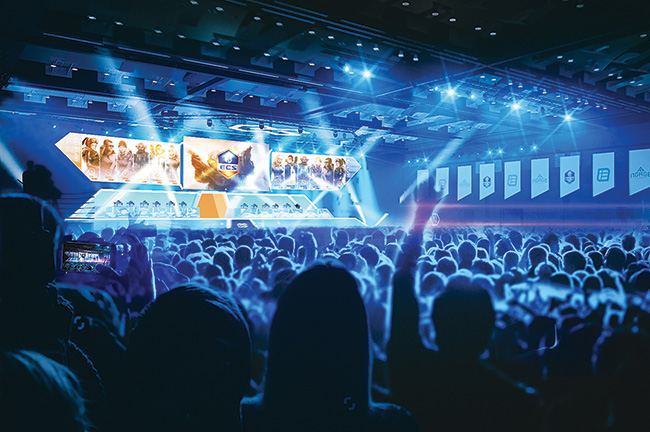 Arlington, Texas, may boast the jewel of NFL gameday experiences with its AT&T Stadium, home of the Dallas Cowboys, but the newest buzz is Esports Stadium Arlington.
"We're converting the Arlington Convention Center to Esports Stadium Arlington," said Jon Hixon, vice president of sales and services for the Arlington CVB. "The grand hall has been converted into the competition arena, but it will still be used as a ballroom when there's no competition, and the competition stage can be used by event organizers for presentations, like a TED Talk backdrop."
The venue has a seating capacity of 2,500 in the competition arena. The arena is connected by a covered walkway to the Sheraton Arlington Hotel.
Levy Catering handles F&B in the facility, and meeting planners can save on expenses such as trucking in screens and rigging because it's all included in meeting packages.
"It's almost a turnkey operation," Hixon said.
Of course, the Wi-Fi in the 100,000-square-foot facility is being upgraded dramatically, Hixon said. The venue is the largest esports stadium in the U.S., according to the city of Arlington, as of November 2018.
"This is really a growing partnership with the City of Arlington and the Texas Rangers, one of the owners of which was heavily invested in this esports arena," Hixon said.
"We really want to stick our flag in the ground to become the esports epicenter of North America."
Maybe esports isn't your thing and you prefer some good old-fashioned baseball? Check out some of the top Major and Minor League ballparks across the U.S. that are vying for group business.