San Francisco's Moscone Center Nearly Doubles in Size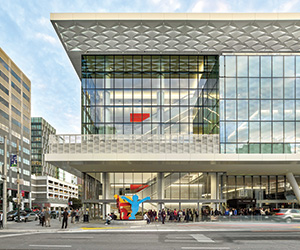 As the new year approaches, so does a new beginning for San Francisco's meetings business. The long-awaited opening of an upgraded Moscone Center came in early January, as the convention complex readies the debut of a $551 million expansion.
"It is important that San Francisco stay competitive with expanded and upgraded convention facilities," said Joe D'Alessandro, president and CEO of the San Francisco Travel Association. "This project has achieved that."
Apparently, the meetings world is excited as well. The city is reporting record bookings.
"Next year (2019) should be a record year for the city, with 1.2 million room nights already on the books," said Brett Allor, San Francisco Travel's senior director for market strategy and research.
Moscone Center spans 20 acres on three adjacent blocks in downtown San Francisco and three buildings—North, South and West. In the past, the two major convention spaces, Moscone North and South, have always been separated, capping the maximum contiguous square footage at 260,000.
The expansion is almost doubling that contiguous space, according to Lynn Farzaroli, senior director of the Moscone expansion for San Francisco Travel.
"With 504,000 contiguous square feet, we're going to be able to fit much larger conventions and create the flexibility clients asked for," Farzaroli said. "Our two main goals have been to create contiguous space and flexibility for the Moscone Center.
"It's a brand-new center with state-of-the-art everything and we're really excited," she added.
One of the new elements of the Moscone Center expansion is a 50,000-square-foot ballroom with terraces that offer views of San Francisco. The ballroom will have the capability of dividing into as many as 16 meeting rooms in a variety of configurations.
Moscone Center Improvements: Wi-Fi, F&B, Security and Sustainability
According to Farzaroli, Moscone Center has also undergone infrastructure upgrades and community improvements.
The $4.5 million wireless internet system that was installed in 2012 is being built upon to allow Moscone to support as many as 60,000 devices at once, all at peak performance. There are also upgrades to kitchens, the HVAC system, digital signage and security systems.
In addition, Farzaroli said that the Moscone team has worked with Obscura Digital to provide new screens for digital displays in the South lobby, which are about six feet tall and 60 feet long, with a custom content management system.
Moscone Center $551 Million Expansion Infographic
(Click Image for a Higher Resolution, PDF View)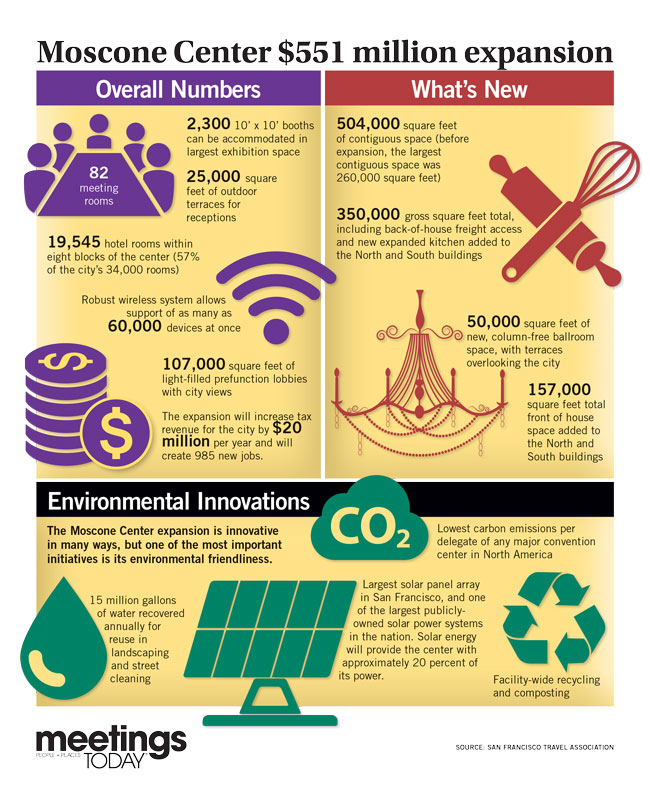 On the environmental front, the goal is to achieve LEED Platinum certification, according to Farzaroli.
Platinum is the highest level the U.S. Green Building Council can give a project, and only a few thousand buildings across the globe have achieved it.
Aside from an emphasis on upgrading technology, Moscone Center is also featuring an assortment of new works of art to go along with those already in place.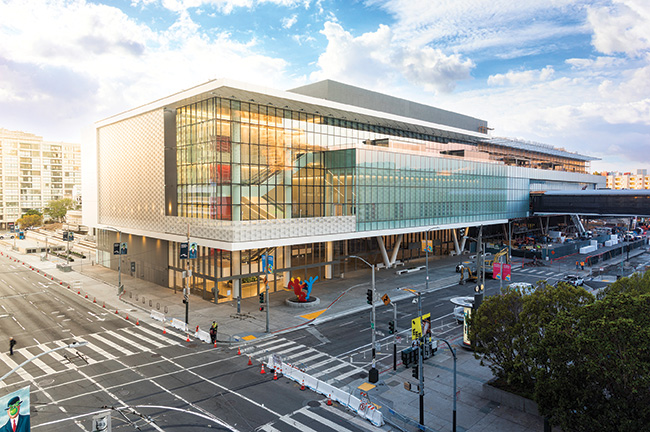 Moscone Center Expansion Sunrise Rendering
"Among the components of the Moscone expansion project that I'm most excited about are the improvements to the public realm," said San Francisco Public Works Director Mohammed Nuru.
"When the project is done and the crews pack up, we will see and feel a different neighborhood –one that is safer, more beautiful and more inviting," he added.
"PointCloud," the latest light installation by Leo Villareal, designer of "The Bay Lights" on the Bay Bridge, has been incorporated into the new East Bridge, which connects Moscone North and South.
Other artworks chosen for the Moscone Center include:
"Double Horizon," a series of sculptures designed by Sarah Sze.
"Geneses," a sculpture by Christine Corday.
"Roll," a large-scale mural by Brendan Monroe.
These popular art pieces will return to the Moscone Center:
Keith Harring, "Untitled" (painted aluminum)
Spero Anargyros, "George Moscone" (bronze bust depicting the mayor for whom the convention center is named)
Viola Frey, "Exterior/Interior Garden" (oil on canvas)
Tom Holland, "Marengo" (epoxy paint on aluminum and fiberglass)
Sam Gilliam, "Tholos Across" (mixed media)
Paul Wonner, "Souvenir of San Francisco" (acrylic on canvas)
The Moscone Center expansion is also adding 12,000 square feet of open public space, including a new play area in the children's garden. Additionally, construction teams improved the pathways leading from gardens into the community. A new and improved pedestrian bridge was built and a second bridge was added over Howard Street. The two bridges have been designed as pieces of art, as well.
The project also includes the relocation of the San Francisco Visitor Information Center staffed by San Francisco Travel, open to attendees and all visitors on the street level of Moscone South.
[Read This Next: San Francisco and the Bay Area Anticipate Event Uptick Following Moscone Expansion]