2018 Year in Review: #MeetingsToo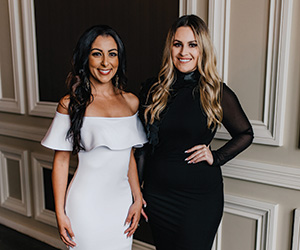 October 2018 marked a year since actress Alyssa Milano reignited the #MeToo movement. It has become clear that no industry is immune to sexual harassment, including meetings and conventions.
Sarah Soliman Daudin, president and CEO of Soliman Productions, and Courtney Stanley, speaker, writer and business consultant at CS Consulting, were inspired to move the conversation forward based on their personal experiences during meetings and events, providing resources and tools to help planners and organizations address and combat sexual misconduct at events.
[Check out a new podcast from Meetings Today and Courtney Stanley: Dare to Interrupt]
Their session, "#MeetingsToo: How to Prevent and Manage Sexual Harassment at Events," has been a resounding success, presented at MPI World Education Congress (WEC) in Indianapolis in June 2018 and at MPINCC's Professional Education Program in August 2018.
Soliman Daudin and Stanley are bringing it to other events, as well as consulting with organizations wishing to have the two work with their human resources teams on presentations and training.
Meetings Today covered the issue in a variety of articles, including:
We sat down with Soliman Daudin and Stanley to get their thoughts on how far the industry has come in 2018 on combatting sexual harassment at events and what's in store for 2019 and beyond.
Meetings Today (MT): Confronting sexual harassment in the meetings industry was a big issue for 2018. How far has the industry come this year in addressing and preventing it?
Sarah Soliman Daudin and Courtney Stanley (SSD&CS): For what seems like the first time, the topic of sexual harassment as a widespread issue in the events industry is moving from backdoor dialogue to the forefront of conversations. We have seen a number of associations, organizations and companies begin to reevaluate their policies and try out new ways of addressing the issue.
Moving into a new year, we expect that the conversation will continue to evolve, and strategic action will, too. We have also seen many industry professionals be more self-aware in their personal approach to ensure people around them feel respected. There is still a very long way to go to fully address sexual harassment, but the strides that have been made this past year should not go unnoticed.
MT: What have been the most rewarding aspects of highlighting and addressing this issue in our industry?
SSD&CS: One of the most rewarding aspects of addressing sexual harassment in the meetings industry has been hearing women say that they have found their voice and that they feel they are no longer alone, and that men have opened up about their experiences too.
It's been refreshing to see men in high level positions speak out and speak up against sexual harassment and really stand shoulder to shoulder with women in compassion and support.
The community that has developed over the past year has grown from a foundation of vulnerability and transparency into a network of support and trust.
MT: As trailblazers for the #MeetingsToo movement, how do you see the initiative evolving in 2019?
SSD&CS: We see the #MeetingsToo movement evolving from a conversation about awareness into a formal training program for companies and associations. Our mission is to ensure that every planner and supplier in the meetings industry has gone through our training program and is equipped to take action in preventing sexual harassment within their organization and at their events.
We always believe in the power of sharing stories but to see the movement transform into actionable steps towards prevention is where the true power of change will come into effect and we believe 2019 will be the milestone year for that.
MT: What are some of the most important things those within our industry must do?
SSD&CS: First and foremost, our industry needs to continue engaging in this dialogue. The #MeetingsToo movement is an initiative to shift the social norm, and that will take time.
Secondly, it is critical that we recognize that harassment is a human problem and that men to need to continue being included in the conversation. The more voices we have, the more impact we can make. Lastly, our community needs to hold predators accountable without fear of repercussion. Though many stories have been shared over the past year, many testimonies remain unheard or have been shushed.
[Related Content: MPI Launches First-Ever Women's Advisory Board]
It is critical that we encourage and fight for a world where everyone is respected. We can do so as an industry by continuing to provide clear direction as to how incidents can be reported, to whom they are reported and what level of support victims will receive throughout the review process following a claim.
It's the little action steps that can really go a long way. Other strategies can include using existing technology like a mobile app as a means of a reporting tool. The smallest steps can make the biggest difference and that is what we will continue to work toward in our efforts.
Sarah Soliman Daudin is CEO of Soliman Productions and Courtney Stanley is a speaker, writer and business consultant at CS Consulting. They will co-chair MPI's new Women's Advisory Board in 2019.