Donovan Smith Shares Stories of Perseverance and Survival in Running NGALA Wildlife Preserve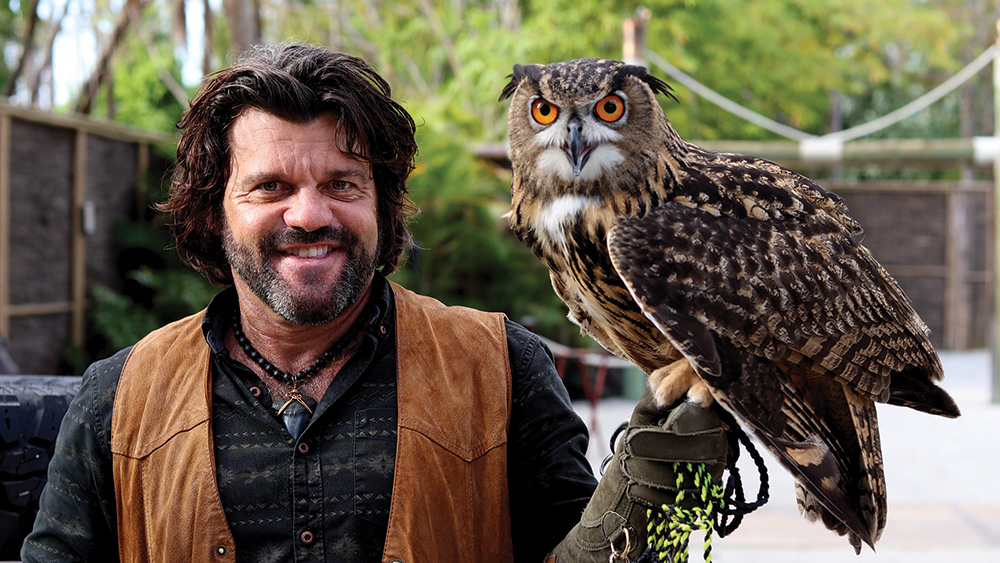 As I stood with my back to Coulter, the 17-foot-tall giraffe craned his neck over my shoulder and stuck out his long blue tongue, plucking a carrot from my hands.
I could feel his warm breath, but this gentle giant deftly nabbed his snack with nary a trace.
Coulter is one of the full-time residents at NGALA Wildlife Preserve, located on a private, wooded 42-acre property outside Naples, Florida. The facility, which caters to corporate events and other groups, is a home for a variety of rescued animals that cannot be reintroduced back to the wild.
NGALA, which translates from Swahili to "Place of the Lion," was founded by Donovan Smith nearly 20 years ago and is currently home to about 45 animals in addition to over 100 venomous reptiles introduced to the preserve by Smith's "better half," Khara Geders.
The spirit of a lion that was given to Smith still holds court at NGALA.
Rescued in Tennessee from a place that was shut down and had been raising lions for canned hunts, Smith originally went to bring back one lion and came home with three. Finding placement for the other two, he kept one, who he named Zakari, and had him about nine years before he passed away.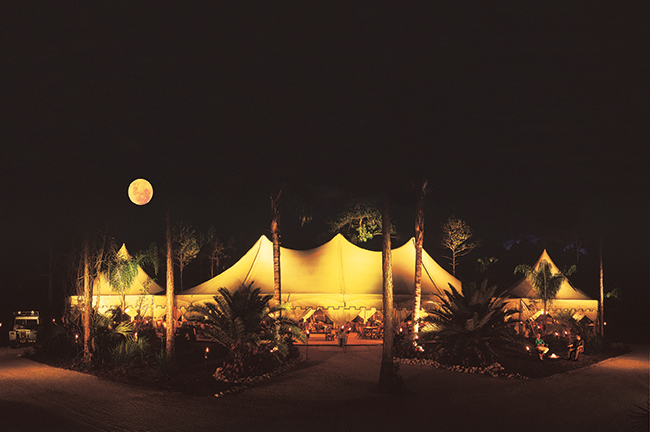 NGALA Wildlife Preserve
"I buried him on the property in a secret spot, and it will always be the place of the lion," Smith said. "He was magnificent; he could hide a 40-pound turkey in his mouth, like a butterball for Thanksgiving. He couldn't swallow it, but you'd be like where the hell did that turkey go? He's like, 'I didn't see it.'"
I met both Coulter and Smith, as well as a handful of other resident critters, during a Meetings Today LIVE! reception at NGALA in October 2018, replete with safari-style tents, fire pits, a full dinner and local band.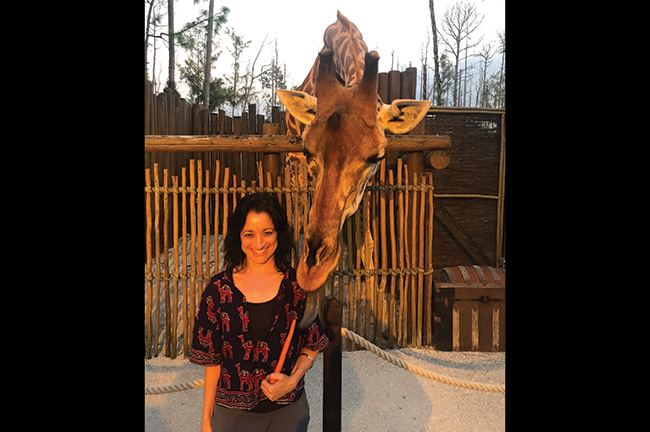 Marlene and Coulter at NGALA Wildlife Preserve
Luke the Eurasian eagle owl greeted us with his magnetic orange eyes.
Smith also introduced us to Tyson, a regal Florida panther, and we had the chance to feed Coulter, Zambie and Ringo the camels. Walter the rhino, of course, demanded a pet.
In the Beginning: Smith Gets His Start in Animal Rescue
Despite Smith's passion for big cats, he traces his foray into animal rescue to a turtle he got for his seventh birthday.
"I knew I wanted to work with exotic animals and I started acquiring animals from unfortunate circumstances from a very young age," he said. "I wanted to work with big cats, so I met a 68-year-old man (who bred big cats) when I was nine and I drove him absolutely crazy, and he finally said okay [to my request to work for him], thinking I would last a day, maybe a week, and I lasted nine years with him."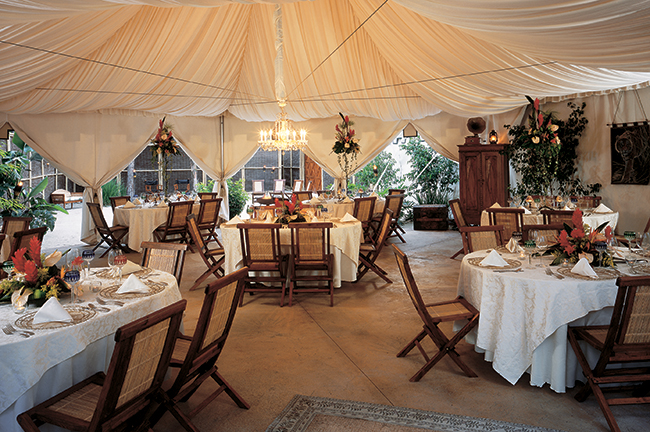 Dinner Setup for a Corporate Event at NGALA Wildlife Preserve
As Smith continued to acquire animals he needed a way to raise the funds to care for them, leading him to start integrating animal encounters with corporate events.
"What happened was I started my company with $200, and for over 17 years we had grown into a full-blown production company, seven years of which I was a vendor at Disney," he explained.
Smith and company temporarily transformed ballrooms into rainforests.
"We would turn it into a jungle and back before breakfast, and we would bring in 10 or 15 semis of foliage and waterfalls, dancers and Land Rovers, Florida panthers and bobcats and leopards and chimpanzees, and you name it," he said.
With all the positive feedback from guests, Disney offered to acquire the production company, but Smith declined.
"I didn't really want to sign the rest of my life away for this, and I would no longer be me, I would be Disney," he said. "It wasn't really an ego thing, it was just that I wanted to grow myself and realize my own potential, so I decided at that moment I was going to build NGALA."
Planning NGALA Wildlife Preserve's Big Debut
Following a trip to Africa, Smith came home and sketched out the plans for NGALA.
"You know the old saying, if you build it, they will come," Smith said. "Well, we had 800 and something clients up to that point and I figured that would be a slam dunk. If I opened this place people would come, and nobody came. So I almost went bankrupt before I even got started."
That was until Smith donated the use of the venue to a charity, and once one event was deemed a success, corporate business began flowing in. But NGALA hit another downturn in the aftermath of 9/11.
"We had 11 events, and the following October, 11 cancellations," he said. "But we survived it."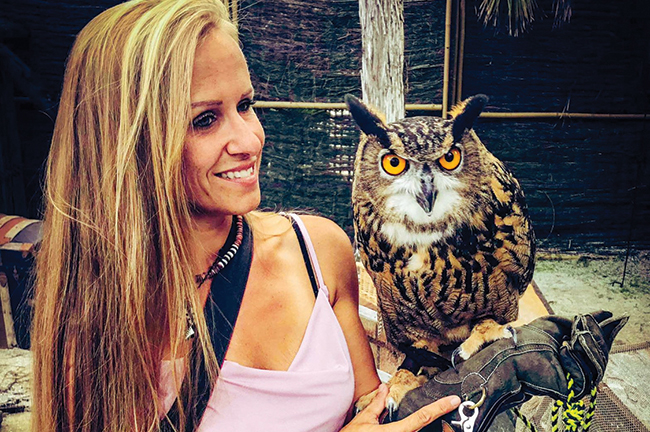 Khara Geders and Luke at the NGALA Wildlife Preserve
Tales of Survival at NGALA Wildlife Preserve
Aside from surviving economic challenges, Smith also survived a harrowing experience in 2017 when a blazing fire spread quickly in the direction of NGALA, endangering some of the larger animals that he wasn't able to load out, namely Walter the rhino. Smith refused to evacuate without knowing he was safe.
"April of 2017 I woke up and there was a 7,000-acre fire on our doorstep and we started evacuating animals," he recounted. "We loaded up all the small animals, then we loaded up a giraffe, two camels, a zebra and a Watusi cow—about 20 minutes after that is when they gave the final, final evacuation order. And I sent every one of my staff out, but I stayed behind because of our white rhinoceros.
"I was burned on 20 percent of my body rescuing him and I was med-flighted out. I spent a month in the burn center and a month in home care with over 600 staples in the left side of my body and skin removed from my right leg to repair my left side. Then three months after that we got hit by a Category 4 hurricane, so in five months we experienced a catastrophic fire and catastrophic hurricane.
"We were without power for 21 days," he added. "Fortunately, all our animals survived, but there was a toll on our business and on our staff and even our animals."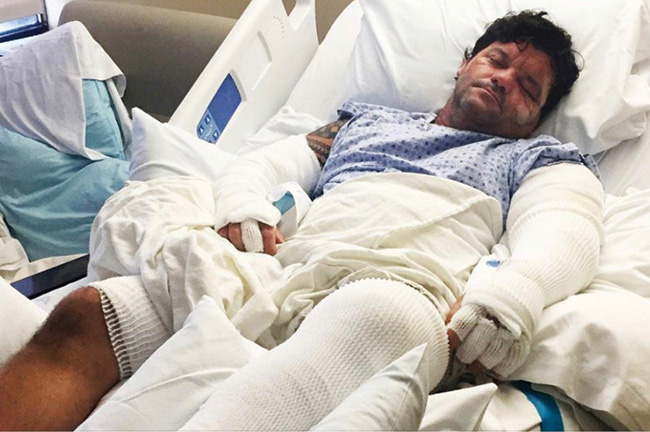 Donovan Smith in the Burn Center
Smith and NGALA have since recovered and he recently started a new venture, the Living Wild Foundation, a 501(c)(3) foundation created after he started interacting with a child that he met while in the burn center. She had walked face-first into her parents' barbecue grill, causing severe burns to her face.
"My surgeon saw me working with her and introduced me to a Navy Seal sniper who raises money for soldiers and first responders that have been severely burned and require reconstructive surgery," Smith said. "My surgeon and the Navy Seal visited me at NGALA and we decided to develop a program rehabilitating burned soldiers, first responders and children by assisting in caring for exotic wildlife at NGALA."
The new foundation is just one of Smith's well-intentioned endeavors. Over the years he has been recognized for his work in saving animals by organizations such as I Stand with My Pack, a nonprofit providing global assistance to save the lives of animals. Smith was honored "For Dedication of Protection of Life."
In 2017 he was honored with the Florida Paradise Coast Star Awards "Tourism Superstar" and "Humanitarian Star" awards. He also received the 2018 Southwest Florida Community Blue Chip Award.
Today, NGALA can hold up to 1,200 people for events, though small groups are also welcome. Groups can choose the details of their experience, with proceeds going straight back to the preserve itself.
"We fund the care of our endeavors by doing these events," Smith said. "Some of our animals, it would be cruel to display them because they are either psychologically not stable or too far retired or whatever, so the ones we exhibit fund the ones that aren't making money. We have a menu of services for the ones that are displayed, so our clients pick the menu and entertainment. They have a list of animals and sets, like a 1960s Land Rover with a chimpanzee on the hood with foliage and lighting, steamer trunks and barrels, and Coulter the giraffe.
"[Groups] pick what they want and they go from there," he added.
For all the suffering and hardship he has endured, Smith chooses to see the positive.
"When they did the skin grafts they locked out both arms and both legs, so I wasn't able to move anything but fingers and toes for three-and-a-half weeks," he recalled. "So literally I was laying there with 600 staples and fresh skin waiting for it to attach itself. There was nothing to do but look at the ceiling and think. I see the blessing and am excited we will be utilizing our facility for other people to heal." 
The Faces of NGALA Wildlife Preserve

Hades the Hyena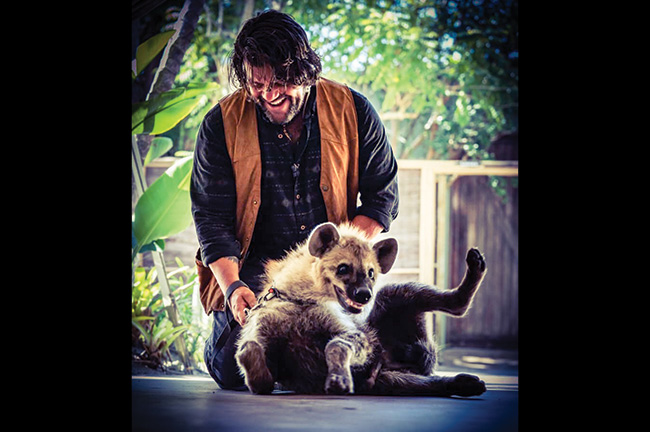 Donovan Smith and Hades the Hyena
Hades is a spotted hyena (originating from Africa) born in captivity at a wildlife preserve, and currently less than a year old. Spotted hyenas are in their own species of family and are neither dog nor cat.
Hyenas have the reputation of being ignorant savages, due to Hollywood stereotypes. They are, however, quite intelligent and social. They are formidable predators as much as scavengers.
Coulter the Giraffe


Coulter the Giraffe
Coulter is a 16-year-old giraffe named after Donovan Smith's mentor, Don Coulter. Coulter is 17 feet tall and weighs 2,750 lbs. He was obtained from a zoo surplus out of Virginia after being born a male. You can put as many female giraffes together as you want … add more than one male and they will fight to the death.
Porky the African Crested Porcupine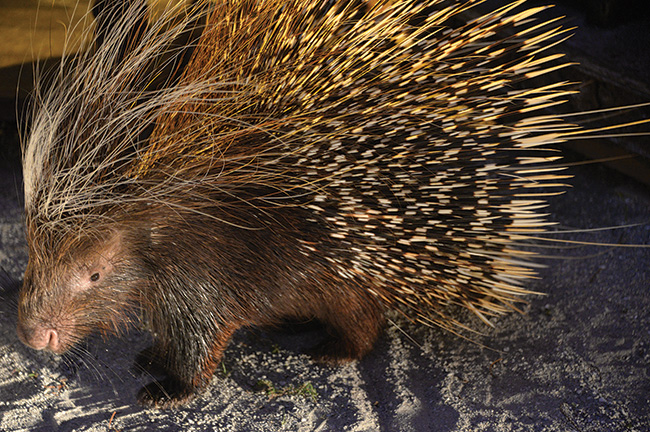 Porky the African Crested Porcupine
Porky represents the second-largest rodent species in the world. He weighs about 45 lbs and is approximately 10 years old. Porky is an omnivore, eating both plants and meat, and in the wild lives in hilly, rocky habitats in sub-Saharan Africa, North Africa and Italy. He's quite intelligent and loves to go on daily walks.
Luke the Eurasian Eagle Owl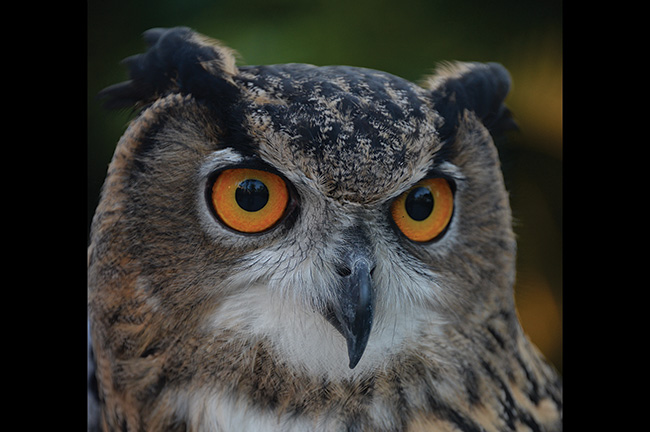 Luke the Eurasian Owl
Indigenous to Europe, this is the largest owl in the world. Owls lack the ability for orbital motion, therefore they have the uncanny ability to rotate their head by as much as 270 degrees. Because of the cold climate from which Luke's species originates, he has to be maintained in an air-conditioned mew.
Tyson the Florida Panther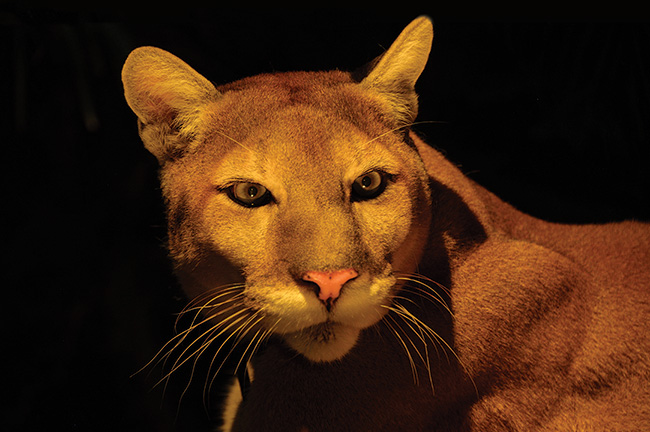 Tyson the Florida Panther
Tyson was obtained from a breeding/wild reintroduction program that was grounded after it was deemed unsafe to release captive-born Florida panthers back into the wild. Tyson is approximately 13 years old.
Florida panthers are a subspecies of the western cougar, but unlike the western cougar, they are highly endangered. There are approximately 100 of them left in the wild.
Zambie and Ringo the Camels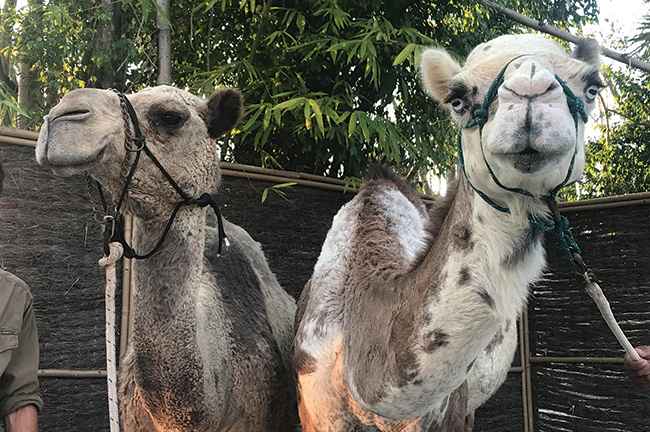 Zambie and Ringo the Camels
Zambie is about 20 years old. She is a dromedary camel native to the Middle East and Northern Africa. Zambie came to NGALA after her original owner retired from the camel ride business. Zambie lives an amazing life educating people about the intricacies of being a camel. Ringo is a rare pied (spotted) camel. He was born to a brown mother that was absolutely convinced that something was wrong and refused to nurse him.
Walter the White Rhinoceros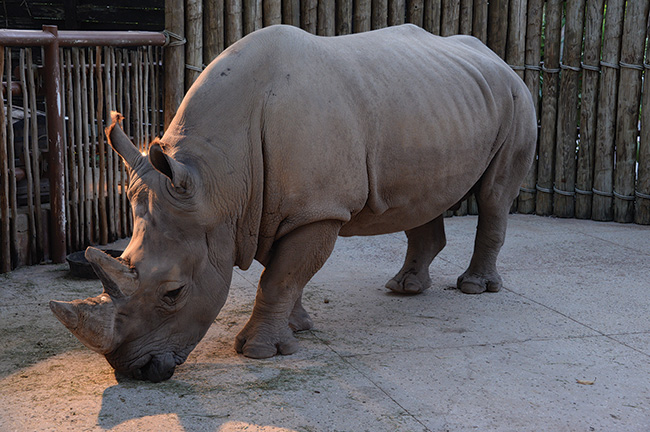 Walter the White Rhinoceros
Walter is approximately 9 years old and weighs 6,800 lbs. He was given to NGALA by a billionaire conservationist to educate people about the plight of rhinoceros in the wild around the world. Walter has been acclimated to be in close proximity to people and loves to be scratched and petted.
Read More on Animals at Events From Meetings Today: