Disney Catered Events Culinary Director John Clark's Mickey-Shaped Vegetable Frittata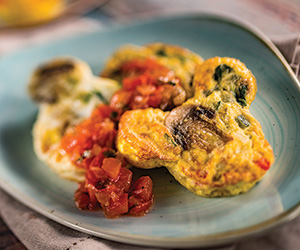 John Clark, culinary director with Disney Catered Events at Walt Disney World, shares the culinary team's recipe for a Mickey-Shaped Vegetable Frittata with Tomato Compote (makes 24).
Mickey-Shaped Vegetable Frittata Ingredients:
TOMATO COMPOTE
3 tablespoons olive oil
6 medium tomatoes
1 teaspoon coarse salt
1/2 teaspoon ground black pepper
1/4 teaspoon red pepper flakes
1/2 cup finely chopped fresh basil
VEGETABLE FRITTATA
1 medium onion, diced
1 medium yellow squash, diced
1 medium zucchini, diced
1 plum tomato, diced
1/2 cup diced mushrooms
2 tablespoons chopped fresh spinach
12 eggs
2/3 cup milk
1/4 cup shredded mozzarella cheese
1/4 cup shredded Parmesan cheese
1/2 teaspoon salt
1/4 teaspoon black pepper
Mickey-Shaped Vegetable Frittata Directions:
FOR TOMATO COMPOTE: Heat oil in medium saucepan over medium heat. Remove seeds from tomatoes and dice. Add tomatoes, salt, black pepper, red pepper flakes, and basil to olive oil. Cook over low heat, stirring occasionally, for 15 minutes. Cool to room temperature before serving.
[Top Chefs Profile: Disney Culinary Director John Clark Infuses Magic Into Meetings Menus]
FOR VEGETABLE FRITTATA:
Preheat oven to 350°F. Place Mickey-shaped silicone molds on a baking pan. Combine onions, yellow squash, zucchini, tomatoes, mushrooms, and spinach in large bowl. Whisk together eggs and milk in medium bowl. Pour egg mixture into vegetables. Add cheese and stir until combined.
Season with salt and pepper. Pour 1/4 cup of filing into each Mickey-shaped mold. Bake for 20-22 minutes until eggs are set. Cool for 5 minutes before removing from molds. 
TO SERVE:
Remove frittatas from molds and place on a plate. Top with tomato compote.
[Related Content: Click here to see Meetings Today's full collection of recipes].