AT&T Stadium in Dallas and The Star in Frisco Show Off Dallas Cowboys Art Collection for Visiting Groups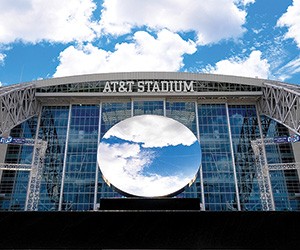 Opened in 2009, AT&T Stadium in Arlington is the dream vision of Dallas Cowboys' owner Jerry Jones.
Among the largest domed structures ever built with 104 million cubic feet of space, engineering highlights include the world's two largest single-span arches; a massive center-hung video board; and at 180 feet wide by 120 feet tall, the world's largest operable glass doors.
Accommodating up to 111,000 people, the $1.2 billion colossus is home field of the world's highest valued sports franchise, the $4.8 billion Dallas Cowboys, and myriad other sporting and entertainment events.
Thanks to his wife Gene, "Jerry World" is also distinguished by a singular assembly of private art. Guided by an advisory council comprised of leading members of the Dallas-Fort Worth art community, she established the Dallas Cowboys Art Collection. Her drive began by commissioning monumental works specifically for the stadium. Notable installations include Win! from Mel Bochner, featuring football-centric exclamations, and outside, the $13 million Sky Mirror, a 35-foot-diameter concave mirror from artist Anish Kapoor.
Guided art tours include pieces not ordinarily seen by the public.
The growing collection extends to The Star, the Dallas Cowboys' $1.5 billion, 91-acre world headquarters and entertainment complex in Frisco. Outdoor highlights include sculptor Tom Friedman's Huddle, featuring nine giant stainless-steel figures united in a football-style huddle.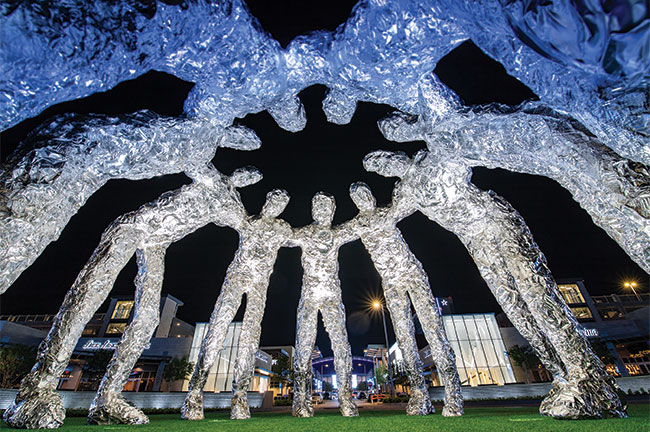 Huddle Sculpture at The Star in Frisco, Credit: Visit Frisco
One of 30 flexible event spaces at the facility, the Grand Atrium features Volume Frisco. Created by artist Leo Villareal, whose celebrated works include illuminating the San Francisco-Oakland Bay Bridge, this centerpiece installation features more than 19,200 white LED lights embedded in 160 stainless-steel mirrored rods.
As Dallas art collector and advisory council member Howard Rachofsky told the Dallas Morning News in 2017, the collection has "broadened an audience. It has presented art in a public way in a public environment that exposes people who would not necessarily even be aware of encountering art in the course of their daily lives.
"Awareness is the first way you make people stop and look at the world around them," Rachofsky added. "And [the Dallas Cowboys Art Collection] is evolving into one that does just that."
Related Dallas-Fort Worth Destination Coverage: