Pechanga Resort Teams Veterans With Service Dogs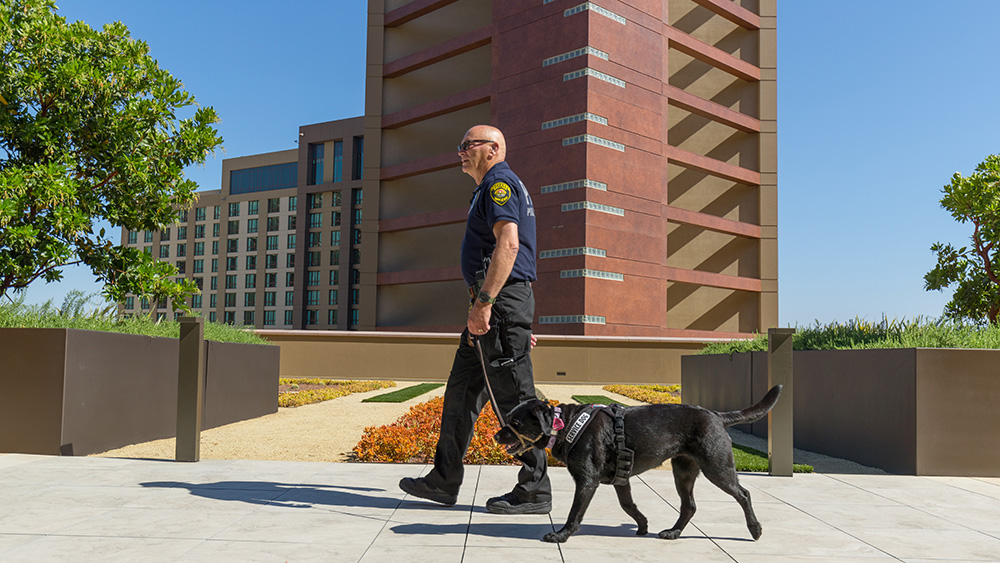 The unconditional love of a loyal dog can soften the hardest edges—and experiences—of the toughest among us. A new program offered by Pechanga Resort & Casino embodies that concept by pairing service dogs with their veteran and first responder owners who are living with PTSD.
The sprawling Temecula, California, property, which wrapped a $300 million renovation project in 2018 that doubled its size to make it the largest resort-casino on the West Coast, is in the process of hiring 10 veterans and their service dogs as Public Safety Specialists.
Pechanga Resort hired U.S. Marine Corps veteran John Tipton to the first position in June 2018, with his dog Daisy in tow. His hiring ended a three-year job hunt by the 22-year Marine veteran who served in combat tours in the invasion of Grenada and the first Gulf War.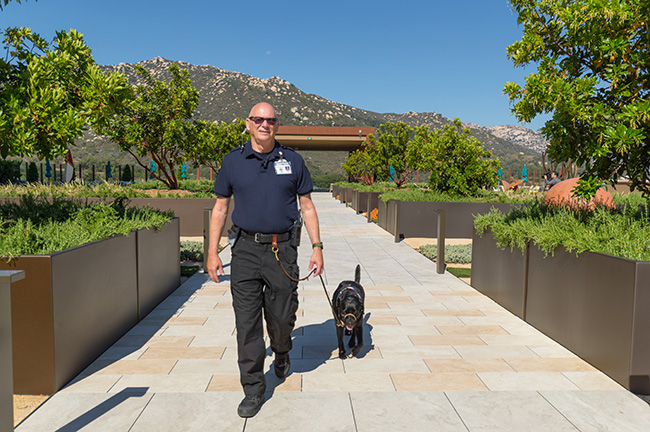 John and Daisy Enjoying the Outdoors at Pechanga Resort & Casino
Tipton also served in Beirut during the horrific 1983 terrorist attack on a Marine barracks that killed 241 U.S. military personnel.
"I knew I was starting to have some issues related to those combat experiences—being grumpy and mean all the time, staying at home and not going to family functions, no large events, especially if there were fireworks involved," Tipton said. "My grandchildren started calling me the 'grumpy grandpa,' and that's when I knew I needed help."
In 2014, Tipton found comfort in man's best friend, a Labrador retriever-terrier mix named Daisy who was given to him through Escondido, California-based Next Step Service Dogs.
The organization trains and provides service animals to veterans and first responders at no charge. A trained service animal can cost tens of thousands of dollars.
"The last time I was ever alone was four years ago when I was with her," Tipton said.
[NGALA Wildlife Preserve: Donovan Smith Shares Stories of Survival]
"After I finished training with her, she became mine in May of 2015, and I continued to train Next Step Service Dogs for two years after that," he said.
Tipton and Daisy's counterpart is the first-responder-canine team of Courtney and Kona, a Labrador-golden retriever mix, with Pechanga Resort planning to hire eight more teams.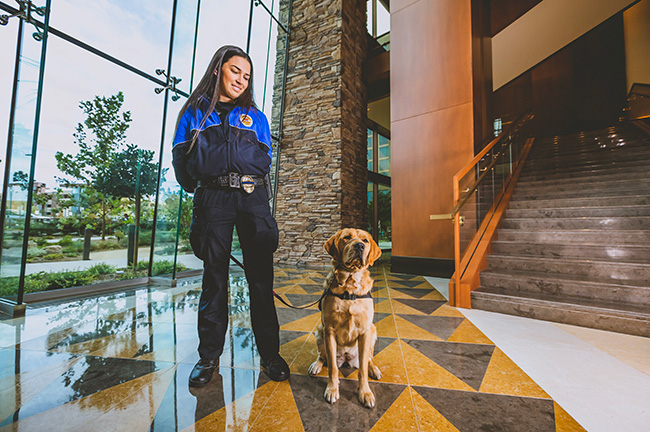 Courtney and Kona at Pechanga Resort & Casino
Pechanga Resort's Service Dog Program
At Pechanga Resort, the human-canine public safety teams roam the sprawling 550-acre campus, greeting guests and answering their questions.
"We stay highly visible on the floor and interact with the public as much as we can and use that to our psychological advantage," Tipton said. "People ask me all the time if she is a bomb dog or a drug dog. I say, 'No, she's my personal service dog.' She has a mellowing effect on guests."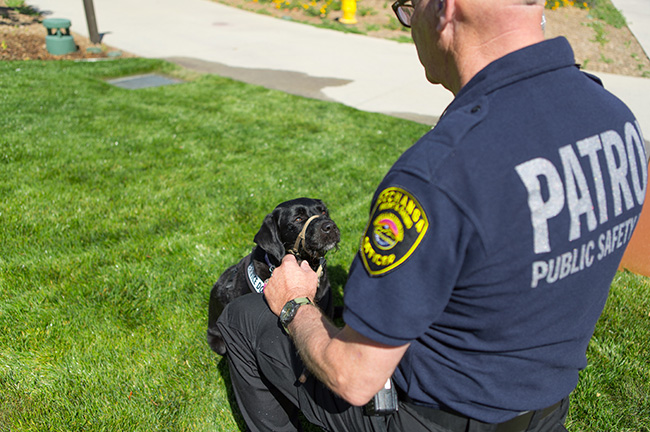 John Interacting With Daisy at Pechanga Resort & Casino
Tipton said children are especially attracted to Daisy, and he lets them interact with her.
"I'm pretty lenient about letting people touch her, especially those with children if they ask me first," Tipton said. "A lot of the children know more about service dogs than their parents do."
[Puppy Love: A Story of Loss, and Being Found, on the Conference Floor]
One touching interaction came when a child was stung by a bee and found comfort by rubbing Daisy's head. Daisy has also been pressed into service when rambunctious or excited children take a fall, as they are inclined to do.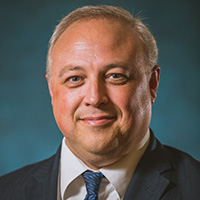 The idea to hire veterans and their service dogs came from Robert Krauss, vice president of the department of public safety at Pechanga Resort, who is also a veteran.
The service dogs also sniff out anything out of the ordinary that may be happening on the campus.
"He got the program up and running because he knew of the hardships of veterans getting employment," Tipton said. "So he can directly relate to it, and that's why he brought this program up to fruition.
"They're mainly looking for veterans and first responders for the program because of the leadership skills, team-player skills and organizational skills they learned from the military and other organizations," he added. "It's hard to teach somebody what doesn't look right, and especially combat veterans know what's out of place and what's not."
For anyone who may fit that description, Tipton said more information on hiring requirements is available on Pechanga Resort's career page.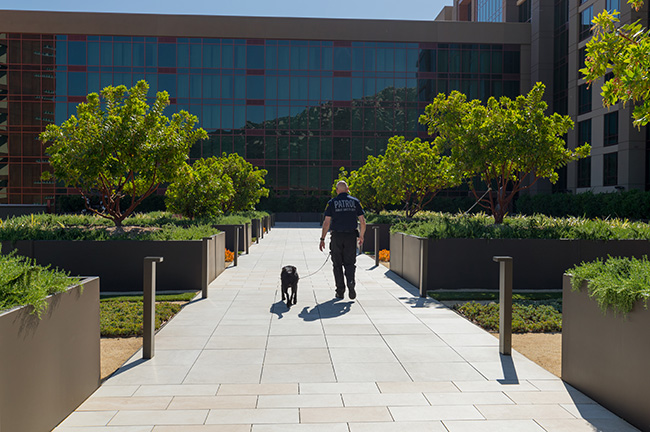 John & Daisy On Patrol Outside Pechanga Resort & Casino
Making a Difference: Read more about those giving back in our industry.