Ohio Offers Electrifying Nightlife Options for Groups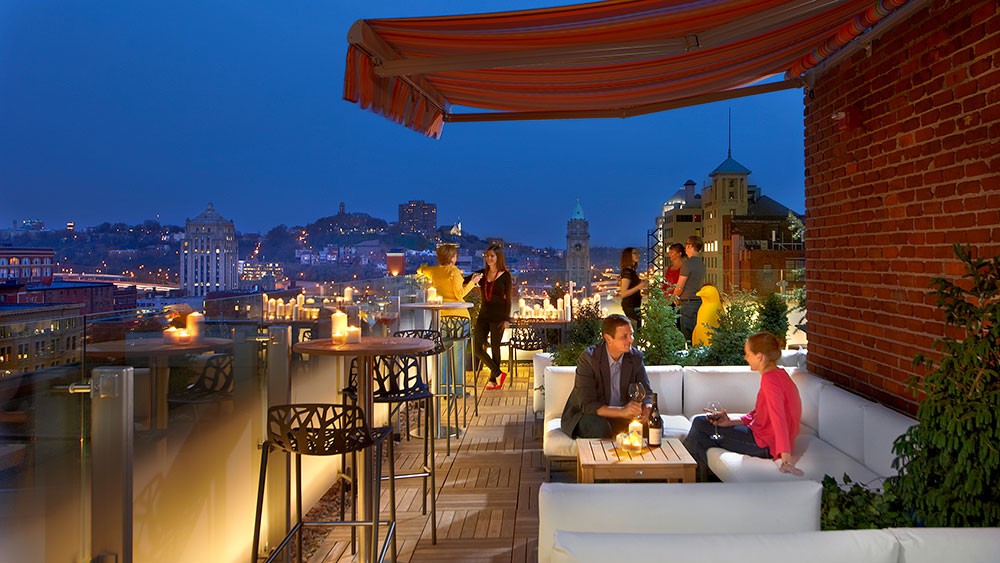 A multitude of entertaining evening experiences await groups meeting in Ohio when time doesn't allow for a fun add-on event during business hours.
At the end of a day filled with back-to-back meetings, groups can tap into everything from local craft brew scenes to team-bonding activities such as axe-throwing and shuffleboard.
In addition, many popular attractions that double as off-site venues for receptions and banquets welcome groups after-hours.
A Rocking Meeting Venue
Cleveland's Rock & Roll Hall of Fame, for example, is a perfect place to unwind after a busy day.
"Meeting attendees could have a once-in-a-lifetime opportunity to truly rock out amongst some of the world's most famous instruments and artifacts," said Mike Burns, senior vice president of convention sales and services for Destination Cleveland.
Similarly, the Canton-based Pro Football Hall of Fame welcomes groups for an after-hours dinner and scavenger hunt.
"Groups hosting their special event at the Hall will love the exclusive experience of having the entire museum available to explore just for them," said Mary Vlahos, vice president of sales for Visit Canton/Stark County.
Cincinnati's Contemporary Arts Center (CAC) is located within walking distance from the Duke Energy Convention Center. Attendees could browse CAC's multilevel galleries and then head next door to the 21c Museum Hotel for a cocktail party and tour of the hotel's public art galleries.
"This experience gives attendees a creative jolt and a chance to socialize, which are essential to a successful after-hours event," said Randie Adam, vice president of marketing and visitor experience at the Cincinnati USA CVB. "To cap off the night, groups can rent out the 21c Cocktail Terrace rooftop bar. There's nothing like drinks at sunset and a view of the city to round out a full day."
Fun & Games
Nightlife action is situated nearby many of Ohio's meetings-friendly venues. The bustling East 4th Street entertainment district, for instance, is steps away from the Huntington Convention Center of Cleveland.
"On any given night, groups can attend a concert at the House of Blues or attend a comedy show at Pickwick & Frolic Restaurant & Club," Burns said.
Similarly, Axis, the largest dance club in Columbus, is located in the heart of the Short North Arts District just a few blocks from the Greater Columbus Convention Center.
"Your attendees work hard, so they deserve a night of fun with their industry colleagues," said Lexi Sweet, public relations manager for Experience Columbus.
To that end, groups could also book an evening of axe-throwing, the latest craze to sweep the nation, at Columbus' Dueling Axes. Here, they'll learn how to safely throw an axe and then engage in friendly competition that's similar to darts.
"This is an especially great option for the budget-constricted planner, as Dueling Axes is BYO beer, wine and food, which allows for much greater control of the budget," Sweet said.
Groups can also try axe-throwing on-site at Canton's Factory of Terror Haunted House, a Guinness World Records-winning attraction for "world's longest haunted house."
Sandusky-based Cedar Point Amusement Park, home to thrilling roller coasters, is in the Lake Erie area and can be visited during the warmer months.
Erie Social Shuffleboard Club & Bar, which features regulation-sized shuffleboard courts and tabletop games, is another option for a nighttime group outing.
"Learn a new game and create a fun tournament-style challenge for your team," said Amanda Smith Rasnick, director of group accounts for Lake Erie Shores & Islands. "Attendees will love the full-service bar, live musical entertainment and vintage board games while relaxing and chatting with friends."
Off-Site Excursion Options
Groups can party on the water via Goodtime Lake Erie Cruises, which can be chartered for private group excursions featuring dinner, dancing, wine-tasting and sunset views.
Likewise, according to Cathy Miller, manager for Destination Toledo CVB, groups can reserve the Sandpiper Boat from May through October for a private party cruise down the Maumee River.
Another example of movable nightlife fun in Ohio is the Cincinnati Bell Connector, which is available for private on-the-go gatherings.
"Groups can work with the CVB to coordinate stops along the streetcar route for attendees to hop off and take in some of the unmistakably Cincinnati experiences throughout downtown's entertainment districts," said Cincinnati USA CVB's Adam.
The Ohio Craft Beer Scene
Groups who want to share a few toasts over a cold one at the end of a day of meetings will be happy to learn Ohio's popular neighborhoods are overflowing with purveyors of craft brews.
In Cleveland is Ohio City, which according to Destination Cleveland's Burns is quickly becoming the city's unofficial brewery district, with eight different options. Among them are Market Garden Brewery, Great Lakes Brewing Co., Platform Beer Co. and Saucy Brew Works.
Similarly, in Columbus groups could arrange a pub crawl along Brewer's Row, including stops at Seventh Son Brewing Co., Barley's Brewing Co. and Wolf's Ridge Brewing.
In both Cleveland and Columbus, attendees can get brewery passports stamped at participating taprooms in order to collect a take-home souvenir.
Toledo boasts beer-centric areas, too, including Hensville, home to Fleetwood's Tap Room.
"Hensville Park, adjacent to Fleetwood's Tap Room, hosts fun evening events throughout baseball season, including concerts," Miller said.
End Game
Speaking of baseball, groups always have fun when they spend time at a local ballpark.
Cleveland has two major sporting venues: Quicken Loans Arena, home of NBA's Cleveland Cavaliers; and Progressive Field, where MLB's Cleveland Indians play. An evening ballpark outing can also be arranged in Cincinnati, which is celebrating the 150th anniversary of the Cincinnati Reds this year.
"In addition to a night under the stadium lights at Great American Ball Park, attendees can take in some of the special promotions that the Cincinnati Reds will offer, including throwback uniforms, commemorative giveaways, fireworks shows and more," Adam said.
Ohio CVB Contact Information
Cincinnati USA CVB
513.621.2142
Destination Cleveland
216.875.6600
Destination Toledo CVB
419.321.6404
Experience Columbus
614.221.6623
Lake Erie Shores & Islands
419.625.2984
Visit Canton/Stark County
330.454.1439